I think that I affectionately need to call this outfit the "handmade" outfit since most of the items are handmade (not by me, necessarily, but someone!). I see things online (other blogs, Pinterest, Instagram...) and decide that I have to buy them right away. This is not a good habit, admittedly. But I do end up with some really cool finds. Like this stuff.
My scarf was something I spotted via
In the Thick of It
,
the blog of Amanda Lee Stilwell
, of
LastCraft
fame. She was
featuring the jessikafancy shop and having a giveaway
and I just thought that it was really cool, so I bought one for myself.
Above: I am mysterious.
Do you like these leggings, too? I found the
Sovrin
shop via Pinterest, of all places (how did it not get recommended earlier for me via Etsy?) and I saved my pennies to buy these. $35 for a pair of leggings is steep in my world, but these are so worth it! I love how when I wear these with my moto boots, the sword tucks right into the boots.
The only thing that I have to get "used" to is wearing a shorter skirt or tunic with these, or they get covered up! There's no point in owning these if you don't show them off!
My skirt is something that I DIY-ed from a thrifted sweater and a pair of old yoga pants for the waistband. It's loosely based off of
this pin via Pinterest
. I originally had the bottom band of the sweater as the bottom of my skirt, but it sort of "bubbled out" weirdly, so I cut it off and used the serger on the sweater to give a straight, kind of ruffly end to the bottom. I like it much better.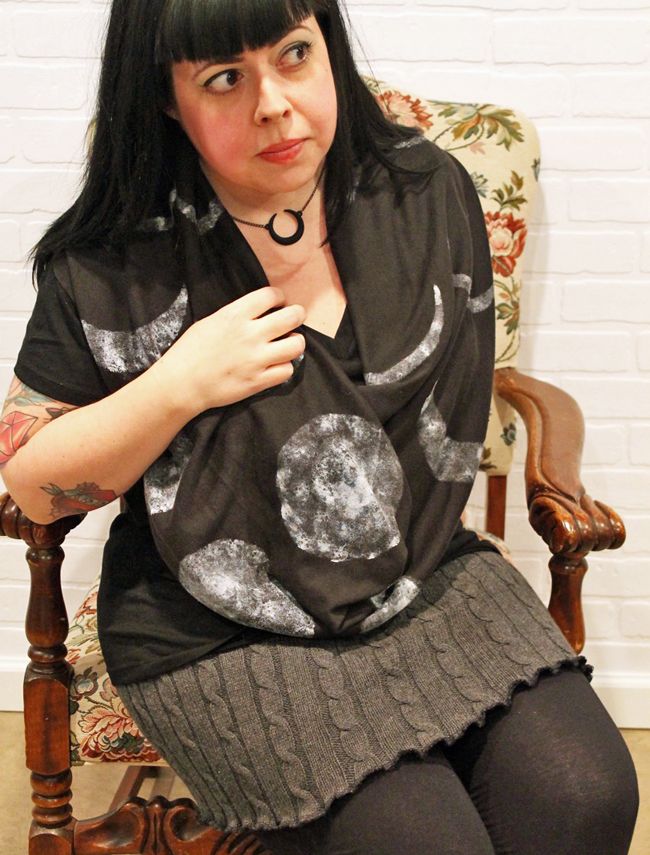 I use the serger at work so much that I think I need to buy my own for at home. Got any recommendations?
Rock On,
Jen @ Hell Razor
now playing: