dress - Domino Dollhouse / leggings - Target / boots - Target / earrings - Etsy
The title of this post is in reference to my photography skills, which I've been trying to DIY some research on how to make them look better and get my lighting more natural and "normal."
I wear a lot of black, so Todd helped me to create this white painted brick backdrop in the basement for photographing against - I thought that it might help to contrast with all of the black, but I was still having trouble capturing the details of the all-black getup. But I think this time worked much better than in the past!
There are three major things that I've done differently here:
I used a remote for the shutter, as opposed to a self-timer. No more running back and forth to get five shots that look pretty much the same, and re-positioning myself each time.
I used the AV setting on my camera, which is Aperture Priority. This means that the shutter speed adjusts for the light settings. I could tell that the shutter speed was slower in my case in order to let more light in.
I photographed at about 10 am in the morning with no artificial light, just what the sun let in. This will undoubtedly be the hardest part of photographing, since during the week, I'm not home to photograph at 10 am. Argh.
So, time of day aside, I think that I have some good strategies moving forward for outfit photography. My "resolution" this year (if you want to call it that) is to stop photographing outfits at work (I want to be reminded and associated with it as little as possible... I need to transition myself out, mentally and physically!), and to improve my photography skills here at home.
You may remember my "resolution" in 2013 to start taking outfit photos (
here's the first post
, if you're interested). It's one of the few decisions that stuck with me, and I think that I've helped myself feel better about myself because of it!
So far, so good. This dress is from
Domino Dollhouse
,
the Halo dress
from the
Science + Visions collection
. I love this collection so much, and I splurged on several pieces when it came out. Worth every penny! Want to see more? Here's the
Cloak Cardigan in Onyx
(photos not as good).
My faux leather motorcycle boots from Target are also the best things ever. I think that it's because they're so easy to get on and off? No laces, not buckles, no zippers. Laziness at its finest!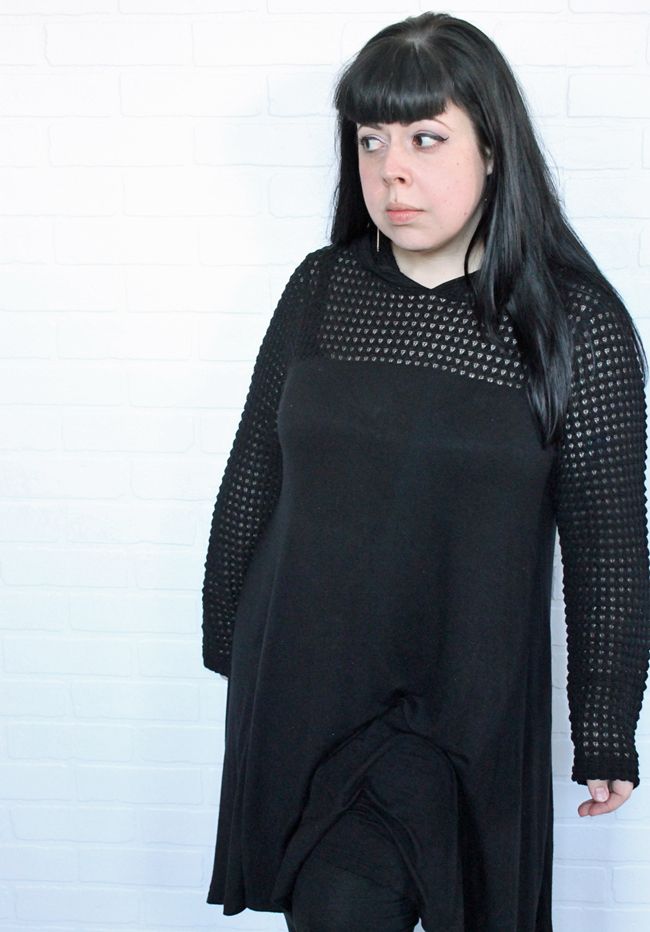 What is she looking at?
I can't decide if I like smiling pictures. I think that I look friendlier when I smile, but something about smiling doesn't seem to fit the aesthetic of the all-black getup.
My favorite
goth all-black
bloggers don't seem to smile much. Wait,
Meagan Kyla does
. So maybe I can, too.
Rock On,
Jen @ Hell Razor
now playing: