I have to admit, qualifying and getting an
Influenster
Vox Box sent to you is kind of exciting stuff. I'm always interested in seeing what gets packaged up together in a box and sent out for review. As always, I have mixed feelings about the selection: some good, some not-so-good, and some very indifferent thoughts. Here's the breakdown of what was shipped to me, and my reviews on each (click on the title of each product for more info):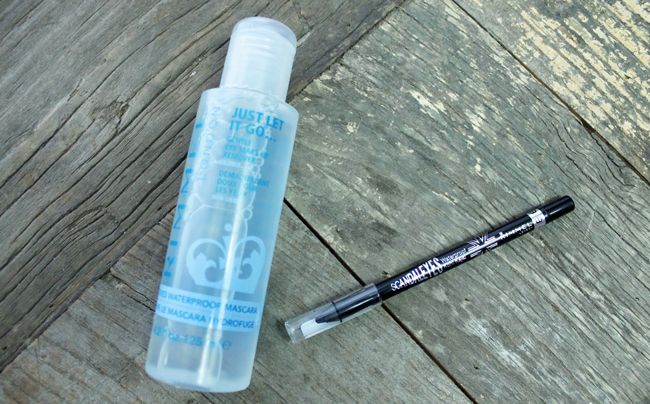 Rimmel Scandaleyes Waterproof Kohl Kajal Eyeliner:
I was pretty psyched when I saw this in the box, because I LOVE eyeliner. Black eyeliner. Yesss. It's an eyeliner pencil, and I'm a liquid liner user for my everyday looks... so although it is a very nice pencil liner, it's not going to replace my current fave by a long shot. I would compare this pencil to an Urban Decay quality, which (in my opinion) is really good for pencils. The "lead" is soft and dark, with really good solid color payoff.
Recommendation?
YAY!
If you're in the market for a pencil liner, BUY IT! I'll definitely use it for my bottom lid and smudgey/smokey looks. Thumbs up! See an example of the nice dark line created below: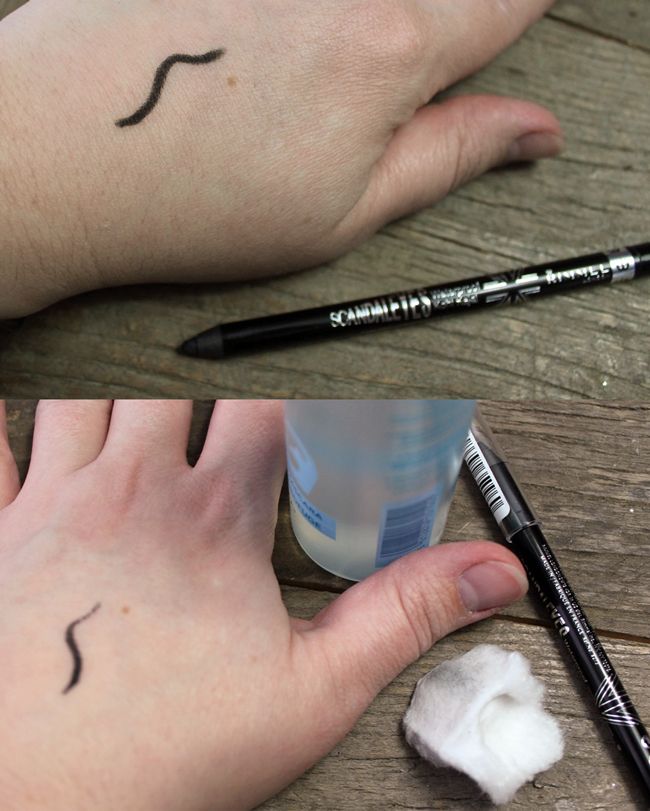 I tested my Rimmel eye makeup remover with the Rimmel eyeliner sent to me.
Rimmel Gentle Eye Makeup Remover:
Makeup remover is a tricky area for me, because I already have a tried and true favorite, so it's going to be hard to get me to switch. But hey, full size bottle of eye makeup remover? Awesome, I'll give it a shot! I wasn't thrilled with the fact that it's a bottle that needs to be used with cotton balls. My favorite kind comes in pre-soaked pads for convenience. #firstworldproblems :) This remover is oil-free, which is nice, and it just felt like water when I rubbed it on my skin via the cotton ball. The bottle even touts the product as being good for removing waterproof makeup.
Recommendation?
NAY!
Unfortunately, no way would I buy this. It didn't remove makeup - the one thing that it's supposed to do. In the picture below, the (only slightly) fading at the top of the line is the result of really vigorous rubbing. Like rubbing my skin raw! And I only achieved this tiny bit of removal? Ugh. I then tried this test with my favorite makeup remover pad, and it disappeared immediately and completely with little to no effort. I was so disappointed in this product.
Really, Rimmel? Boo.
NYC New York Color Expert Last Lip Color in Sugarplum:
This lipstick feels nice... but ugh on the color. It's so very... neutral... I'm sure they picked it for the VoxBox because it is very generic and would please the most people, but it is definitely not for me. I'm keeping it until this review is over; then tossing it. Wah wah.
Recommendation?
NAY!
Well, maybe... I might buy one in another color, but I'm not exactly motivated to try it out. I really think that Influenster needs to do a better job of screening their recipients (for example, "Do you prefer neutral makeup shades, or bold color?") and then tailoring their boxes accordingly - even just between two options. I think more favorable reviews would follow if the products were a better fit for the reviewers. Another option? A coupon to go pick out a tube for myself in whatever color I like!
So. Much. Neutral. It's like orangey brown. Only a hint of blushy red.
Boots No7 Protect and Perfect Intense Advanced Serum:
This was a tiny sample pack. I really have no idea how I'm supposed to review this. I can tell you that the serum made my skin feel smooth? And it had very little to no scent. As far as results go, there wasn't enough product or enough time for me to give a fair review. You tear open the package, and then you're done. One application. Couldn't they have at least packaged it in a mini bottle or jar?
Recommendation?
NAY?
How would I even know?
This kind of sample really frustrates me. I cannot give an honest opinion for a product I only tried once, and that requires multiple uses over a period of time to see results. Proof here in the directions on the back:
Two weeks?!
McCormick Gourmet All Natural Thyme:
I tried out
this green beans recipe
from the McCormick website using the bottle of thyme that was sent to me. It was interesting, and tasty - definitely a flavor I hadn't experienced before with green beans - normally I go garlicky and olive oil, sometimes with almonds - but never with balsamic vinegar, which gave the dish a sour-ish note, but in a good way.
Recommendation?
YAY!
...but only if the price was right. I buy McCormick spices when they're on sale, or when there isn't a generic/store brand version available. The quality is good. I just don't have a name-brand budget when it comes to grocery shopping!
EcoTools Styler and Smoother Hairbrush:
I was very excited to receive a hairbrush in my VoxBox! I couldn't wait to try it out - I go through a hairbrush probably every 6 months or so, and I typically buy an inexpensive drugstore version. I've never had an issue my "cheap" brushes, but I was still excited to try something new. Unfortunately, this EcoTools brush was pretty disappointing. The bristles are very soft plastic, and they bend really easily. I have a lot of thick straight hair, and the brush just didn't seem to go through my hair well enough to detangle and smooth out my mane. Meh.
Recommendation?
NAY.
Sadly, no. I went into this experience expecting to give this brush a glowing review, but I just can't recommend it. I'll stick to my cheap Walgreens brushes instead. :(
Red Vines Fruit Vines Bites - Cherry:
I'm not supposed to eat a lot of sugar. But I tested these out in the name of "research." Ha! I had Todd try these out too. It's not the kind of candy I would typically choose to snack on (hey, it's a long way from peanut butter and chocolate!), but I was pleasantly surprised by how yummy these were!
Recommendation?
YAY!
Adult fruit snacks - YES! These were delicious, so if red licorice is your jam, go ahead and pick a bag of these up!
Celestial Seasonings Candy Cane Lane Green Tea:
This was a 2-pack of tea bags in the "Candy Cane Lane" flavor. It tastes pretty much like most other mint teas. I don't like the tea bags though, because I have to use a utensil to fish it out. If I'm using tea bags, I like the kind with strings. But honestly, I usually make loose teas because I have a nifty pot with a strainer for it. I guess I could use that with these tea bags, too, though. I made a cup of Candy Cane Lane and sweetened it with a few drops of stevia. Mint is not my favorite flavor, but this was decent.
Recommendation?
YAY!
Sure, why not? It was good. The real question is, would you even be able to find this in a store anymore? Seems like something that should have been tested BEFORE the holidays...
In conclusion, I was really excited to be a part of this VoxBox review group, but I'm honestly disappointed in the way products are selected for reviewers, and it seems like Influenster doesn't try to tailor products to get favorable reviews. Had I been sent a different lipstick shade, a different brush (there was a volumizer one sent out I've seen?), or a larger amount of product (and time) in order to properly test the serum, I may have felt very different about my products, and had more positive things to say.
4/8! Out of eight products, I'd buy four again. So fifty percent? Is that a good result? Depends if your glass is half-full, or half-empty...!
*** Please note: I received these products complimentary from Influenster for testing purposes. ***
Rock On,
Jen @ Hell Razor
now playing: