Prior to Christmas,
Gypsy Warrior announced a collaboration with Pacific Sunwear
. Normally, I don't shop at Pacific Sunwear (sizes too small, clothing not my style...), but I follow
Gypsy Warrior
on
Instagram
and I love their design aesthetic. So I casually browsed over to the collection when it was being previewed. What did I see? A freaking Wednesday Addams dress!
You're probably familiar with
my sad experience
where I had to remove the awesome collar on my Domino Dollhouse version of the Wednesday Addams dress. So when I saw
this version
- on sale for $40 (it's now sold out, I seriously apologize!) - I snapped it up right away, regardless of the fact that it only went up to size L.
Then I had buyer's remorse.
I was sure that it would NOT fit and I'd have to return it.
When it arrived, I opened it... looked at it skeptically... and went to try it on. Obviously, you already know that it fit! I was very surprised, but excited!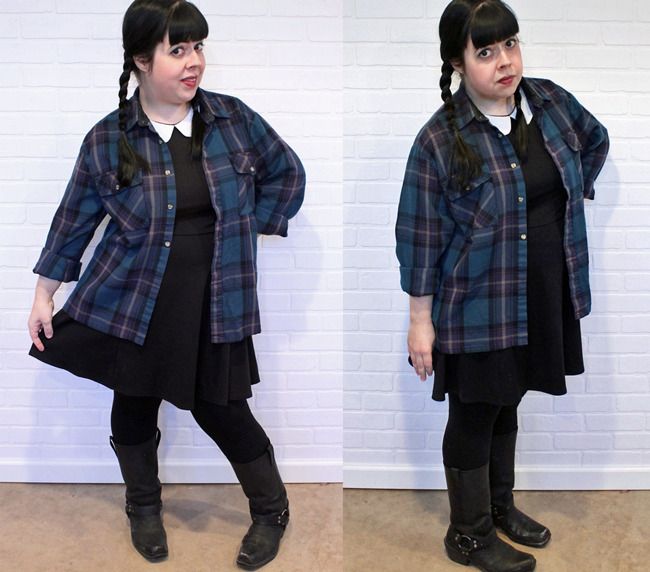 It actually only fits "sort-of." The sleeves have a slim white banded trim, and they're buttoned at the opening. I have to wear it with the buttons open, ain't no way I can get the sleeves over my arms otherwise. (
Seriously though, who's my size everywhere else but has tiny stick arms? Is that even a thing?
)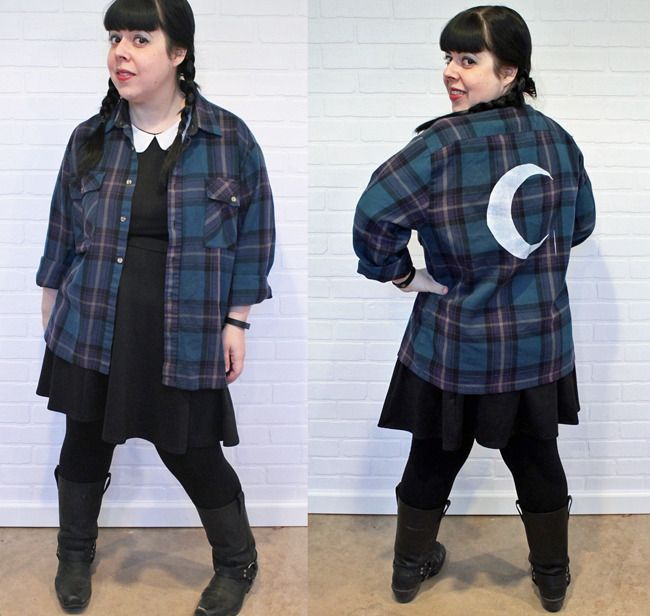 So, because of the arm thing, I wear something over this dress. Not a big deal - I typically layer over dresses no matter what, so that's cool with me. Today I wore one of my
screenprinted crescent moon flannel shirts
.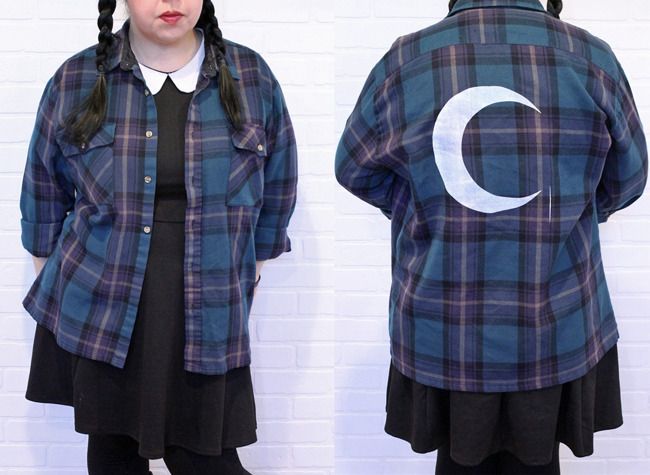 This particular shirt is part of my own personal collection. There's a slight misprinted mark to the right side of the moon. Whoops!
I actually made a whole bunch of these printed flannel shirts, but there's only
one
currently listed in
my Etsy shop
right now. More are coming!
(EDIT: They're all listed! Go here to see the full selection!)
Does anyone else feel like listing on Etsy is a real drag? I've gotta photograph and edit pictures for each individual item in my shop, since everything is OOAK. I sort of dread the process, since it's so long, so I often just save up my stock and sell in-person at events.
If you're interested in one of these crescent moon screenprinted flannel shirts, send me an email (hellrazorart AT gmail DOT com) and I can easily send pics of what I've got in stock! They're $25 each plus shipping. I cut each crescent moon stencil separately by hand, and screenprint them using fabric ink. Washing on delicate and hanging to dry is recommended. Over time, the screenprint will fade slightly to a "vintage" finish.
I can't get enough of this collar! Or of
layering flannel over dresses
. Have you tried this look?
Rock On,
Jen @ Hell Razor
now playing: