boots - MooShoes.com / dress - thrifted / leggings - Target / striped shirt - Target
I've had some pretty good luck lately on thrifting trips! My favorite store is
Savers
- it's a little more expensive than Goodwill or Salvation Army, but it's very clean and organized well, and they don't pick through everything and get rid of vintage stuff (the way Goodwill does - it's frustrating). Salvation Army has the best vintage stuff, but they put EVERYTHING out - even the garbage - so it's frustrating to sift through. And everything at the Salvation Army is organized by color, NOT SIZE, which is extra frustrating.
But Savers is organized by SIZE! That makes sense. I'm totally willing to pay a little more for that convenience. And I often find some Pyrex when I'm there, too. I've been bugging Lisa to write up a post about Pyrex... hopefully soon... she's been in a post-wedding, post-honeymoon coma. I dunno.
Anyways, this DRESS! It cost me $8. Woo hoo! And it's super cute. I ended up wearing it for Thanksgiving, too. These photos are from before that, the first time I wore it. I put the striped shirt underneath because the neckline is low. And my arms stay warm without the need for cardigan action.
Wednesday Addams vibes. Maybe it's the braids. Probably.
Puffy sleeves!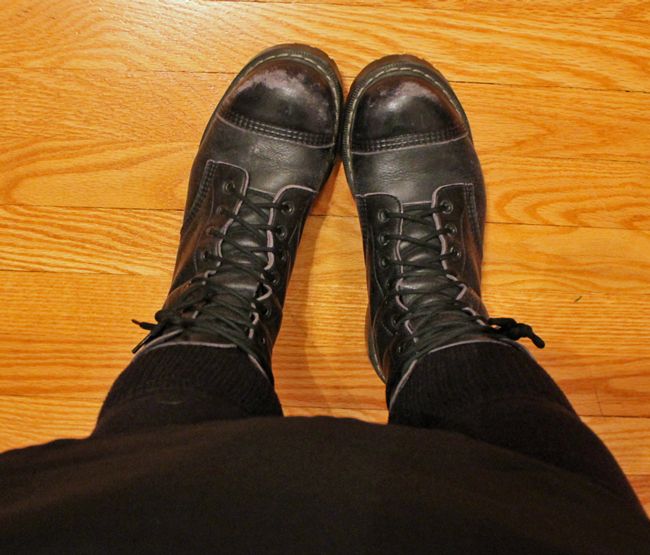 And my non-leather faux-Docs. Combat boots are the best.
Lastly, I decided to wear lipstick for you today. I love lipstick, but I'm horrible at re-applying throughout the day. This shade is called "Go For It," and is MAC Cremesheen, but I can no longer find it on their website. Sad trombone. On a related note, have you seen the
MAC + NastyGal collaboration
coming up? There's a purple shade called "Gunner" coming, and I'd really love to snag one!
Rock On,
Jen @ Hell Razor
now playing: