My weight-loss-surgery journey has me constantly looking for yummy protein ideas, and it occurred to me that one of my favorite PRE-surgery recipes was also a pretty darn awesome POST-surgery meal idea: tuna steaks! (Remember guys, I'm also a pescetarian.)
I use this marinade recipe ALL THE TIME, because it is so delicious. The combination of citrus and soy is delicious, and I love the meat-like texture of tuna steaks. This recipe
originally came from a random marinade search online
, and has grown to be one of our faves.
As I was preparing some tuna steaks for tonight I thought, "Hey, why haven't I shared this on the blog before?" So here you are.
not pictured: garlic. I cheat and use the minced stuff in the jar if I don't have any cloves in the house. Also of note: my herbs are dried. In the summer, I actually have and use fresh from my garden. But this is winter, so blah. Deal.
Ingredients:
1/4 cup orange juice
1/4 cup soy sauce
2 tablespoons olive oil
1 tablespoon lemon juice
2 tablespoons chopped fresh parsley
1 clove garlic, minced
1/2 teaspoon chopped fresh oregano
1/2 teaspoon ground black pepper
4 (4 ounce) tuna steaks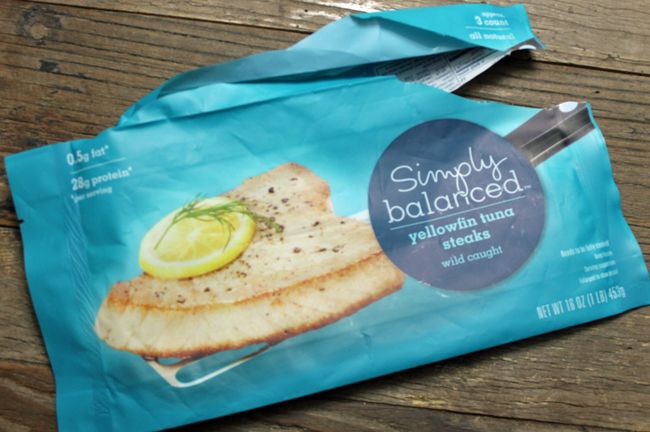 NOTE: I use this marinade on frozen fish all the time, and let the fish thaw at the same time as it's marinating. Also, even thought the recipe calls for 4-4 oz steaks, I use fewer - like the two-packs you can buy at Trader Joe's, or this three-pack I picked up at Target.
Directions:
In a large non-reactive dish, whisk together the orange juice, soy sauce, olive oil, lemon juice, parsley, garlic, oregano, and pepper.
Place the tuna steaks in a gallon-size plastic bag, and pour in the marinade. Refrigerate for at least 30 minutes. (I like to turn the bag at least once during the marinade process, to be sure all parts are coated and get a chance to soak in!)



You can grill these, or use a grill pan on the stove top. (I usually use the stovetop method, and skip the basting step.)
Grill directions: Preheat grill for high heat. Lightly oil grill grate. Cook the tuna steaks for 5 to 6 minutes, then turn and baste with the marinade. Cook for an additional 5 minutes, or to desired doneness. Discard any remaining marinade.
Rock On,
Jen @ Hell Razor
now playing: