hooded cardigan - Domino Dollhouse (Science + Visions Collection) / boots - Target / leggings - Kohls / jewelry - see below
Does anyone else have mixed, melancholy feelings about Christmas? It's like, everyone else around me is OMG SOO EXCITED AND ITS SO GREAT AND CHRISTMAS MUSIC!!!
...but I just feel kinda meh. I mean, I don't dislike Christmas? But I never quite feel the excitement that others seem to feel. Is something wrong with me? I try to get into the spirit. But I ended up getting really stressed and anxious. It's one of those holidays/life events where everyone else's expectations and desires seem to trump whatever I or my immediate family wants, and it just makes me frustrated and mad. I want to throw up my arms and yell "I quit!"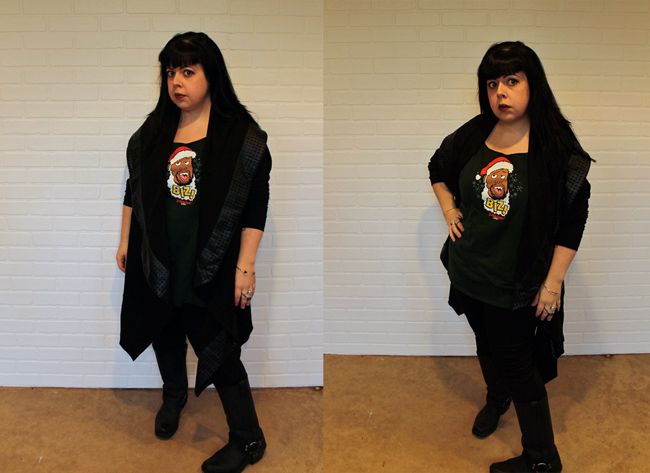 Which I guess brings me to my grinchy attempt at a festive outfit for Christmas Eve at my mom and dad's house. My Biz Markie Yo Gabba Gabba t-shirt is from last year when I took Iggy to see the live Yo Gabba Gabba show with Todd, Lisa, Shane, and Gunnar.
I paired it with all black.
I cannot recommend the
Cloak Cardigan in Onyx from the Domino Dollhouse Science + Visions Collection
enough. Have you noticed that I have a thing for giant drape-y clothing this season? Capes and cardigans and hoods, oh my.
The cardigan has pockets. Also, an awesome perforated faux leather trim all along the front edge and hood of the cardigan: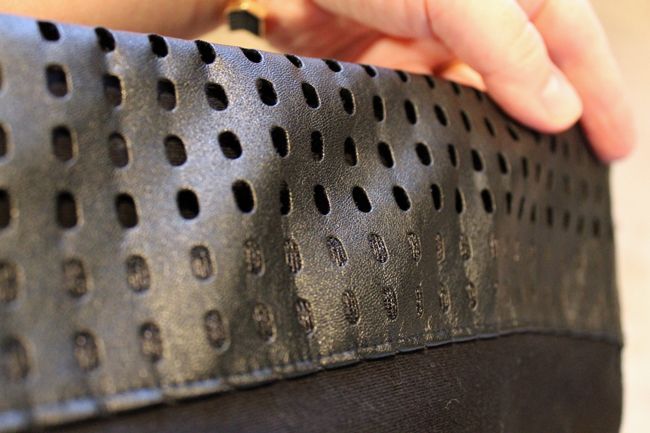 Close up of Santa Biz. It's hard to tell that the shirt itself is actually dark green: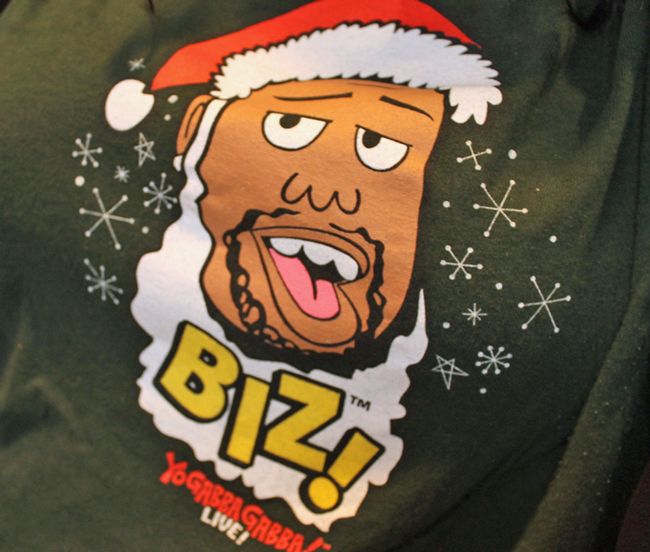 I'm a little disappointed that my new white brick wall in the basement still didn't give me the details in my photos I desired of my black ensemble. I thought that the black/white contrast would help. My resolution for the new year is to master my DSLR capabilities and improve my photos for the blog. The bad lighting kills me.
I've been wearing lots of hand accessories lately. Here's the breakdown for those of you that are interested:
You may have noticed the
Ice Age ring
in a previous
Monday Love
post. Merry Christmas to me! :)
Rock On,
Jen @ Hell Razor
now playing: