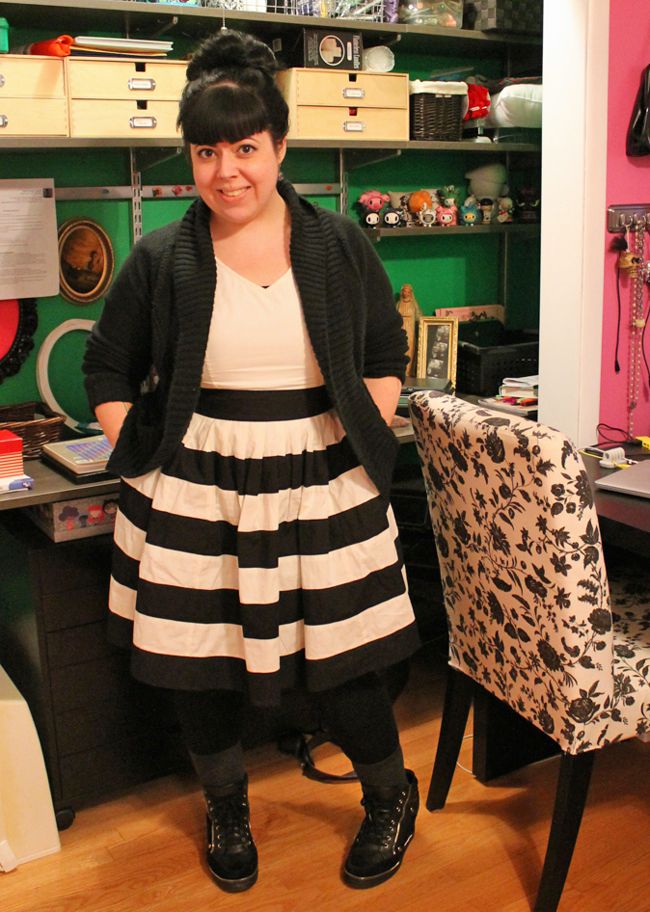 dress - c/o eShakti / shoes - DSWarehouse / leggings - Target / cardigan - Target / earrings - craft show (old)
So, the three girls of Betties N Brimstone were contacted by
eShakti
to review clothing items from their shop. You've already gotten
Steph's take on the experience
, and you've also seen
Lisa's dress
... so now here's mine!
I actually received my dress first, but it was right after I had had surgery, and the dress did NOT fit me. It was too small. I ordered a straight size 16, no custom measurements (other than length and sleeve style customizations). I was sad when it didn't fit, but I knew that eventually, I might be able to fit into it. Well, the day finally came!
A couple of things: the chest is still kind of tight. But it zips and it fits. I get the feeling that eShakti does not have a lot of allowance for the ladies with more up top.
Also, yes, I know that this dress is mostly white, which is 100% out of my comfort zone. But I loved the skirt so much, I figured I'd go for it when I picked out this style, and I wear a black sweater over it, because it feels more like "me" this way. (But I took some photos for you to see the dress anyways.)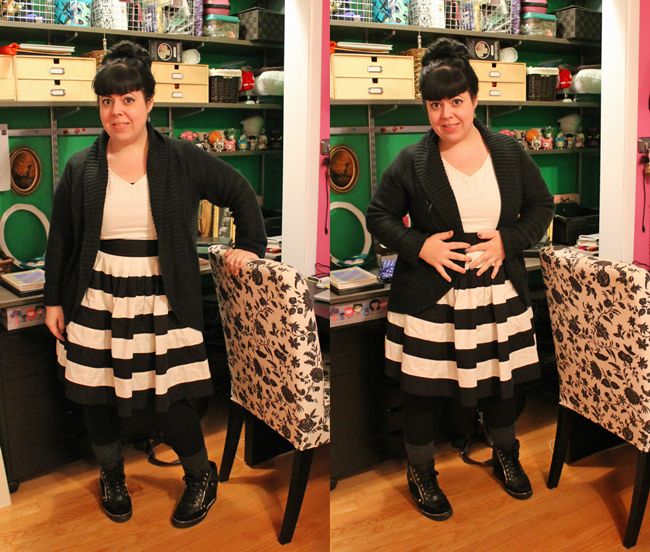 I absolutely love the length for my height. And this dress has POCKETS! I get so excited when I find that out about a new skirt or dress. Can't endorse the use of pockets enough. Every dress should have them. Even the fancy kind of dresses.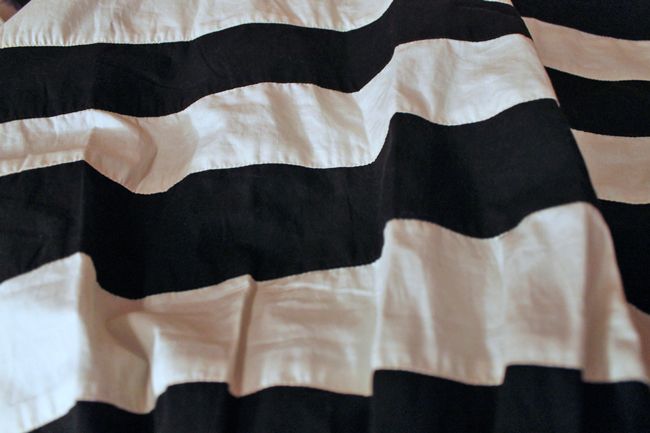 Close up of the skirt details. Each stripe is a new piece of fabric stitched together. And the skirt even has an under layer to make it more puffy. The quality of the dress is very nice, particularly the skirt. The top (being white) was somewhat see through, so I wore a black camisole under the dress.
Something about this ensemble said "wedge sneakers" to me. So I did.
These earrings were purchased at an art/craft show ages ago. Unfortunately, I don't remember the seller's name or contact info. Similar style earrings can be found
here
. The nice thing aboutmy set was that I was able to choose each earring, and could match (or mis-match) them up as desired. I have one "D" and one "B" after nicknames that my husband and I had for each other when we first started dating.
I need to do a tutorial on this hairdo. I get compliments on it a lot, and it's seriously one of the easiest styles to do. And my go-to style (besides
this one
) for dirty hair "I-just-need-one-more-day-before-washing" survival.
Rock On,
Jen @ Hell Razor
now playing: