It should come as no surprise that I am not a fan of "traditional" Christmas decor - red and green and cartoon Santas and such. But I'm not a total Grinch. I just like to do things my own way, and unfortunately, there aren't a whole lot of Christmas decorations for people like us. So I end up making a lot of my own things. Here's one example.
I tried to find a table runner that would a.) look good on our table, made from reclaimed wood, and b.) not be cutesy horrible red and green Christmas style. I decided that a black table runner with some sort of star-like motif would fit the bill. Before I make anything, I typically do a search online to see if anything already exists and is within my price range, because sometimes making something yourself can get a little pricey and/or time-consuming. But I had no luck in this case.
Enter the DIY: I would purchase a plain black burlap table runner (I found my
Burlap Table Runner
on Amazon for less than $15), and stamp it myself!
Step one: You need a stamp in your desired design. Because this will be a very rough print (burlap is not a smooth fabric), you want to keep it simple. You could purchase a pre-made stamp, but I actually just cut my own stamp from a clear-plastic-y printmaking material (it was a
sample of this stuff
). You could easily go super thrifty and cut an actual potato stamp for this and call it a day! (Here's a
quick potato stamp tutorial using a cookie cutter
for the design.)
I used
white block printing ink
to do my stamping. It's not as involved as you might think. Here are my materials:
My stamp
A piece of plexiglass to roll out ink (you can use any smooth surface, or an old cookie sheet even)
A brayer (the thing to roll out and apply ink)
A baren (used to press down the stamp evenly; not needed if you go the potato route)
Paintbrush (for touch-ups)
I decided to use
block printing ink
because it is thicker and stickier than paint. You could probably get away with using
screenprinting ink
if you wanted a more washable runner, but then you probably shouldn't use a burlap runner - get something cotton.
Here's how inking works:
Squirt out a small amount of ink (tablespoon or less) onto your smooth surface, and roll out until it has evenly coated your brayer.
Roll the brayer over your stamp until there is an even coating of ink
I actually allowed my ink to be a little bit thicker since I would be stamping onto a rough surface. I placed newspaper under my fabric runner to protect my work surface. I then "eyeballed" the placement of my stamp so that my pattern appeared more random, and printed each star individually like this:
Place the stamp ink-side down carefully onto the fabric.
Use the baren to evenly apply pressure to the stamp (don't wiggle it or your stamp might move!)
Carefully lift up the baren and the stamp (my stamp actually kept sticking to the baren).
Admire your work. Touch up (if needed).
I actually re-stamped again on top of a couple of my stars, but the shape was so simple that re-aligning wasn't really an issue. Otherwise, I would not recommend doing that.
Every half-dozen stars or so, I would wash off my stamp completely, re-roll some additional ink, and reapply before stamping some more. The whole printing process probably took less than 45 minutes. By the time I got to the end, the first stamps had pretty much dried.
I really like the rough texture of the prints on the burlap.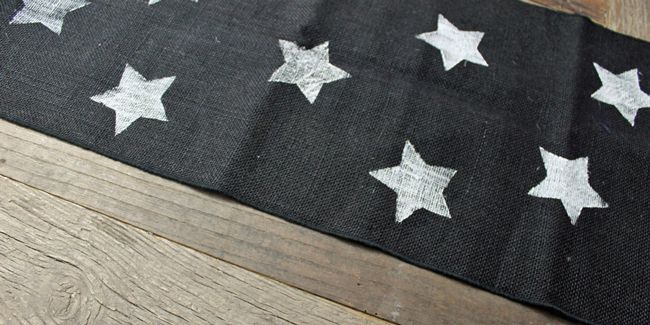 Here's the completed (dried) table runner against my actual dining room table, for full effect.
I am very happy with the end result! My
beaded Christmas trees
look right at home on my new stamped table runner. (Did you miss that DIY?
Check it out here
.)
I especially love that I can now use this technique to create all sorts of motifs for different occasions, not just for Christmas. I might make an everyday version next!
*** This post contains some affiliate links, which helps to keep Betties N Brimstone up and running! ***
Rock On,
Jen @
Hell Razor
now playing: