One of my all-time favorite Christmas decorations is my beaded christmas tree. It's like a little piece of jewelry for your home, and it's pretty easy to make. I am now the proud owner of TWO beaded trees, since I inherited my grandmother's tree (the shorter one in front) after she passed away. It was not in very good shape, but it was a pretty easy fix. Now it's standing proud again!
My grandma's beaded tree is actually the entire inspiration behind my DIY tree. Every year, I'd admire her tree (the story is that it was a gift to my grandmother from a girl that my uncle dated long ago, ha!) and wish that I had my own. So I decided that it was a totally do-able DIY project. I've had my beaded tree for years, and every year I thought to myself that I should share it here on the blog - so woo hoo, I've finally gotten around to it!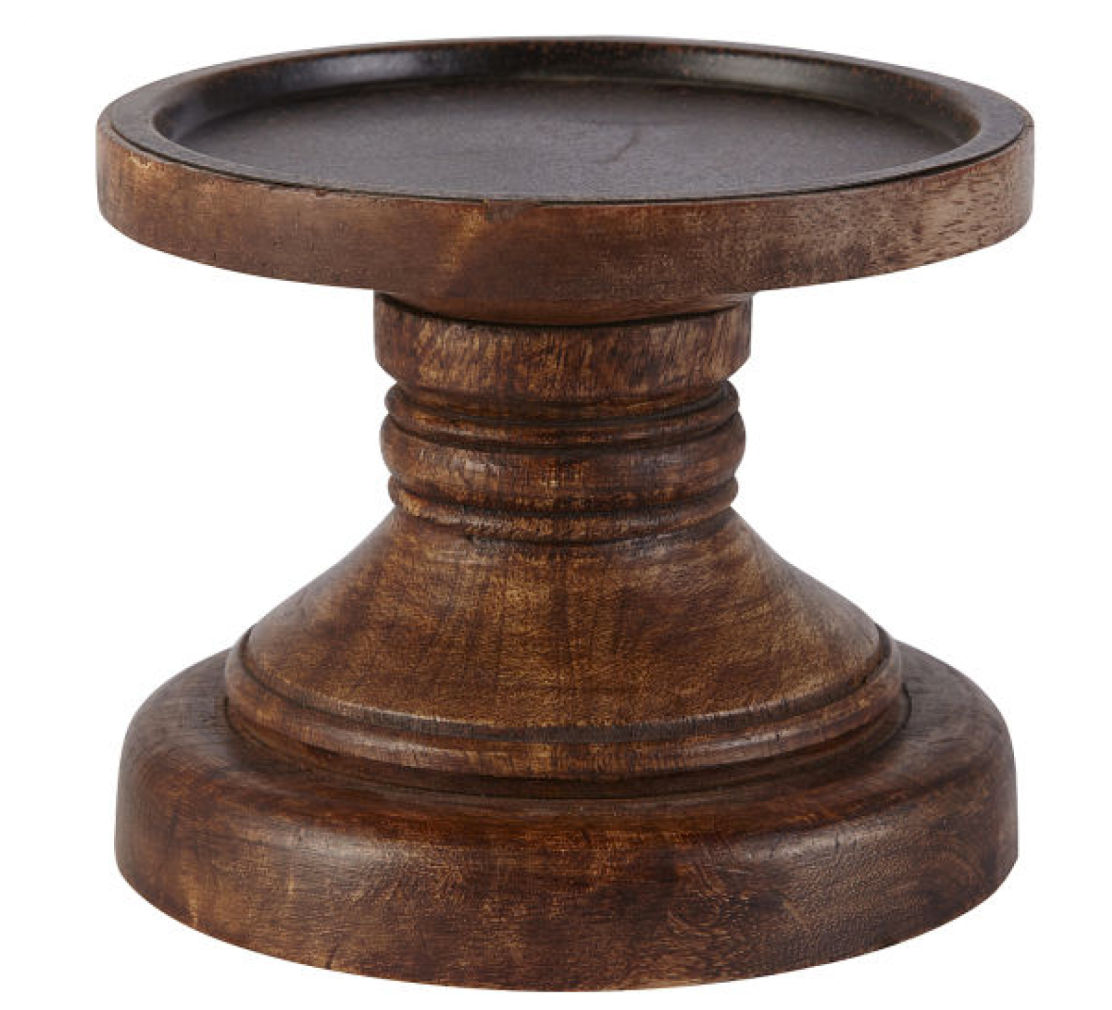 Here is the key (above) to making your perfect beaded tree: a pillar candle holder. There are lots of options out there, so check your thrift stores, craft stores (
this one above is from Michael's
), or even stores like HomeGoods or Target for inexpensive options. If you don't feel like going out shopping, check Amazon, or maybe you already have something at home that you can use?
Once you have secured the perfect tree base, gather up your other supplies:
A styrofoam cone. Get it as large or small as you like, but I'd probably check to make sure that the size looks good on your tree base.
Assorted beads. My favorite source for beads is the thrift store: buy a bunch of inexpensive beaded jewelry (or even raid your own collection!) and break it up to harvest the beads!
Straight pins. Check your sewing stash; if you're like me, you've already got a bunch. You can also get fancy and buy the kind with the pearlized ends if you like. This would be cool for a monochromatic beaded tree in all pearly white shades.
Sequins. These are important because some beads have holes that are too large for straight pins, and you can use the sequin to make the head of the pin larger to block the holes.
A glue gun. Some people just push the straight pins to the styrofoam and call it a day, but I find that the tree will lose a lot of beads over the years this way. Using a glue gun helps secure the pins (in my opinion).
DIRECTIONS:
The directions are pretty simple. Put any combination of beads/sequins onto a straight pin. Add some hot glue to the exposed pin, and then push into the styrofoam cone. Repeat this step until the entire cone is filled in with beads.
My grandmother's tree has a bow pinned to the top. Feel free to add one, if desired.
Once the cone is filled with beads, you need to attach the cone to the tree base. I use hot glue, but I typically have to re-attach the styrofoam cone each year (it cracks off in storage). I would imagine that liquid nails or another stronger adhesive might work better. But I get lazy.
Although this tree DIY is simple, it IS time-consuming. When I made my tree, I think I worked on and off over the course of a couple of holiday seasons before it was finished. But if you're motivated, you could do this in one weekend's time. Grab a beverage, crank up the tunes, and make a sweet beaded Christmas tree.
Rock On,
Jen @
Hell Razor
now playing: