I discovered
Concrete Minerals
cosmetics via Pinterest. Someone pinned
this makeup bag
to their board, and I FLIPPED. It was one of those "omgihavetohavethat!" kind of internet-spotting that you always have when you really don't have $$$ to spend, right?
Ha!
The pin led me to their site, and upon placing the cosmetic bag into my cart, I began to peruse their other offerings (you know, wouldn't want to miss anything...). There is an
offer for beauty bloggers
to try four of their eyeshadows for a set price of $15 (reg. price $28), and I figured, why the heck not? I needed some new standard shades anyways, so I'd try it out.
...And then I only needed to spend like $5 more or something to qualify for free shipping, so a bottle of nail polish somehow landed in my cart, too... :)
I chose four shadows in colors that I use almost every day: a white highlight color, a light pink, a vibrant bright purple (I buy this in pretty much every brand I can find), and a dark grey. These are my "neutrals" that I wear every day.
(Above) Here they are officially with names:
white rabbit, unity, angel dust,
and
ether
. It's hard to choose from online photos and not REALLY know what the colors look like in person! Overall, I picked pretty well.
I'm not super familiar with mineral makeup, and perhaps this is my downfall. I usually buy eyeshadow in pans vs loose. So forgive me if my hangups are the very things that make mineral makeup what it is. I swatched the colors on my hand, and they came out like this:
I used a tiny dense brush to draw more of a "line" with each color, and then I applied color with a fluffy loose brush to show the difference. From left to right is
ether, white rabbit, angel dust, and unity
.
I like how the color applies with the tiny brush, but I was a little disappointed with the way the color dissipated with the fluffy brush (it's the brush I use for my pan eyeshadows every day). I tried loading the brush up with color, only to have massive fallout under my eyes. Then I tried using the gentle recommended application of dipping and tapping the brush to remove excess before applying. This eliminated fallout, but caused the color to be quite light. Is this just the nature of mineral eyeshadows? Perhaps.
The swatches above are applied directly to skin with nothing underneath, but I apply primer and a creme eyeshadow (
MAC paint
) as a base before I apply to my eyelids, which will allow color to last longer. I found that the color did stay all day, but I still would have liked more vibrancy.
Overall, I am happy with the purchase. The price is right - I was able to try four different colors for less than the price of one MAC shadow. So that's cool. I like the colors when they're applied with the small dense brush, so that's how I'll handle it in the future.
In my order, I also received two free samples of other colors, but I have yet to try them out. I thought that was pretty cool.
I also bought a bottle of nail polish. I really wanted to try
dinge
or
black holy
, but both were unavailable, so I settled on a bottle of
dimepiece
. I applied one coat over some black polish, and I was pleasantly surprised with the coverage it got! You could do 2-3 coats with no polish underneath and get a pretty good coverage, I would imagine. As with all glitter polishes, it wasn't fun to remove... but to be expected!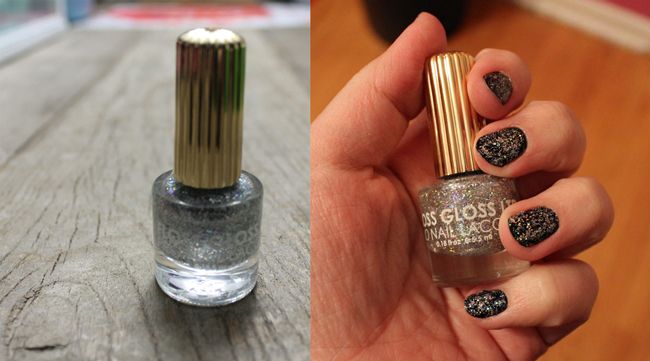 The best thing about my entire order was the cosmetic bag, for sure! The design kicks the butt of all other cosmetic bags I've seen, but the inside is pink and has a clear plastic lining to protect it from spills and make it easy to clean. I love it!
I'm definitely going to use up my eyeshadow and nail polish, but I'm on the fence as to whether I'd order it again. The way I shop for eyeshadow is to find a favorite, and then try to find something that beats out my fave. Until then, I'm pretty loyal. My current white eyeshadow favorite is MAC
white frost
, my favorite light pink is MAC
swish
, and my all-time favorite vibrant purple is Urban Decay
urban
, found in the
Electric Palette
. I don't have a top gray shade, so
ether
from Concrete Minerals stands a pretty good chance of holding the spot!
My honest thought is that I'm just not experienced enough with mineral makeup. Got any tips for me?
Rock On,
Jen @ Hell Razor
now playing: