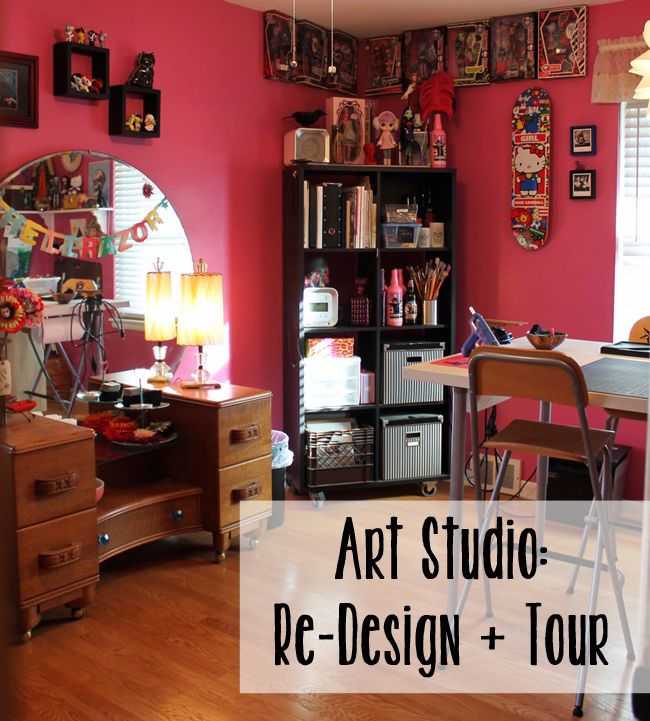 In January 2011, I first gave you
a brief tour of my art studio
. Over the summer, I posted some
tips about organizing your art room space
, but I haven't done a full-on studio tour since that original 2011 post. Over winter break, I did some major re-organizing and reworking of the furniture pieces in the studio, so (only THREE YEARS LATER) this seems like a good time to give you a tour of the space with fresh new eyes!
The biggest changes to the space are the removal of my large dark IKEA desk and four large bulletin boards on the wall. I replaced these with my vintage vanity (formerly shoved in the master bedroom, where there wasn't really space for it). Now the floor plan is much more open!
My computer desk space has been moved 90 degrees to the left to the closet counter space. I painted and put up shelving in the closet nook a long time ago, but only now am I using the counter area to its fullest potential. I did a lot of purging of unused art supplies in order to condense the storage to the closet now that I've lost eight 12"x12" cube storage shelves, but it feels great!
I was able to re-use my existing desk chair and vintage lamp for my new desk area. I also ran a power strip into the closet nook to plug the computer into. My printer is on the lower right shelf, which is super convenient, and tucked out of the way just enough.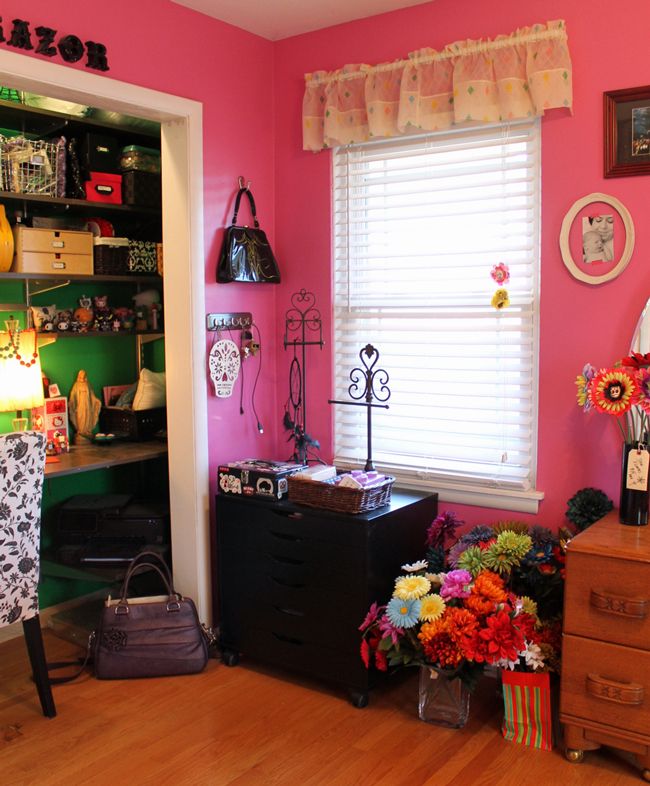 I have this cute flat file rolling chest from IKEA that used to be stored under the counter space. It fits really nicely under the window now, and I have room to stash all of my faux flowers until they're used. I also have to store all of my display pieces/craft show display items in my art studio, so some stay out (like these wrought iron stands) on display all the time.
The work desk area is relatively unchanged. I didn't move the position of the desk. It fits well in the space already, and the artichoke pendant lamp for task lighting works quite well. There is, however, a LOT more "stuff" on the shelf and walls! The art studio is one of the places in my house that I just hang pretty much anything and everything that inspires me.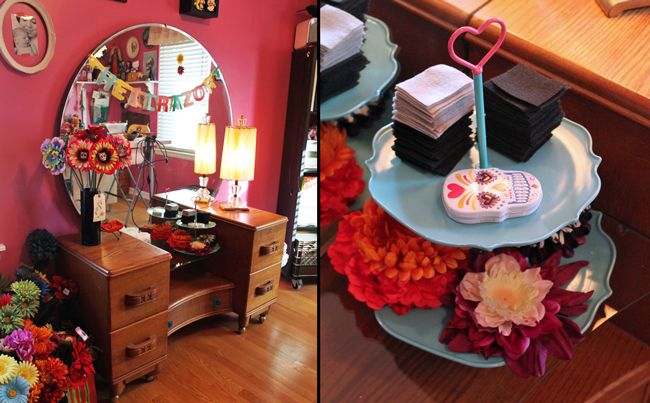 Here's the vintage vanity I was talking about earlier. I love this piece, but it's just too big and bulky for our master bedroom. It took me a day and a half to get the bulletin boards down and patch/paint all of the holes in the wall, but it was worth it to get this beautiful piece of furniture in here!
I used some of the vanity drawers to stash display pieces, like those velvet necklace display stands, and for shipping/wrapping supplies. Some of my display pieces (like this blue two-tiered dessert stand) work well for storing supplies in-between shows.
Also, I now have more wall space for more stuff! Woo hoo! Speaking of stuff...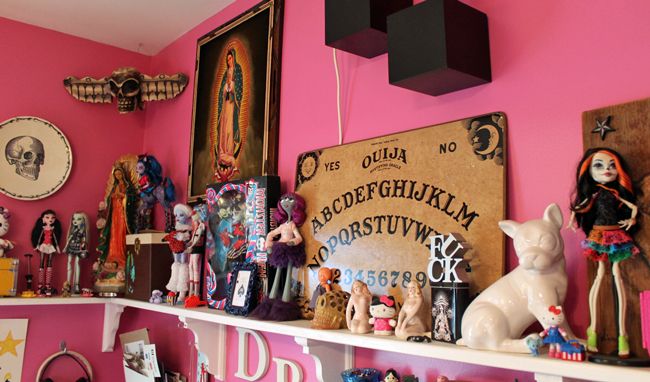 ...so much stuff...
...a lot of dolls. I'm forcing myself to not buy anymore Monster High dolls, because it's getting borderline creepy Barbie collector. And we can't have that. Erp.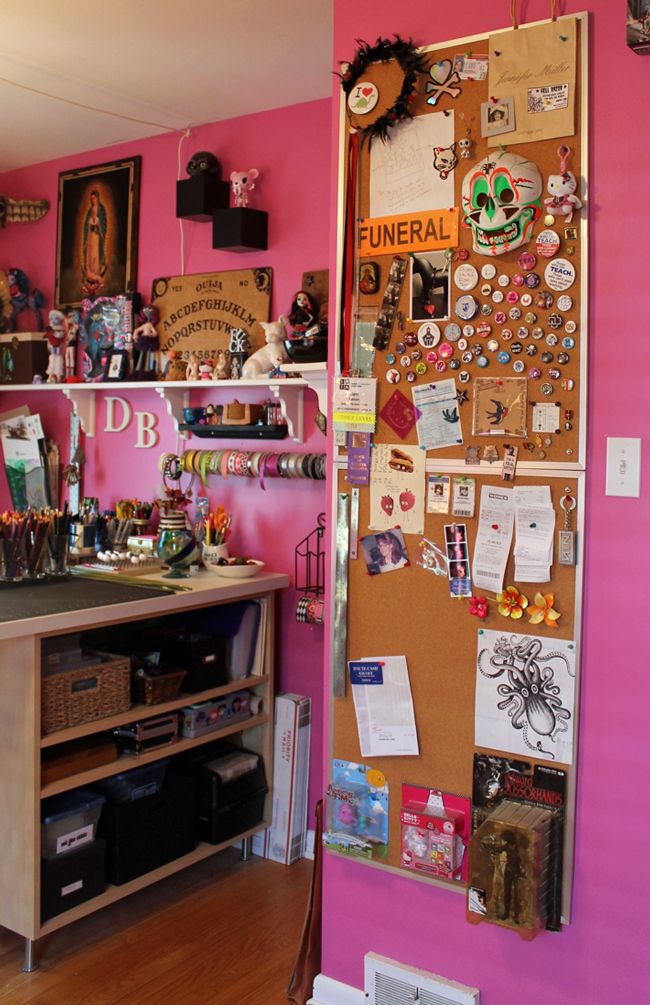 I still have two of my six original bulletin boards up in the art studio. It was hard at first to boil it all down (with my affinity for stuff and all), but I moved one board down to the basement where Todd gave me a little desk space (I'm going to make it my sewing/DIY fashion space), and the other three are going to school with Todd.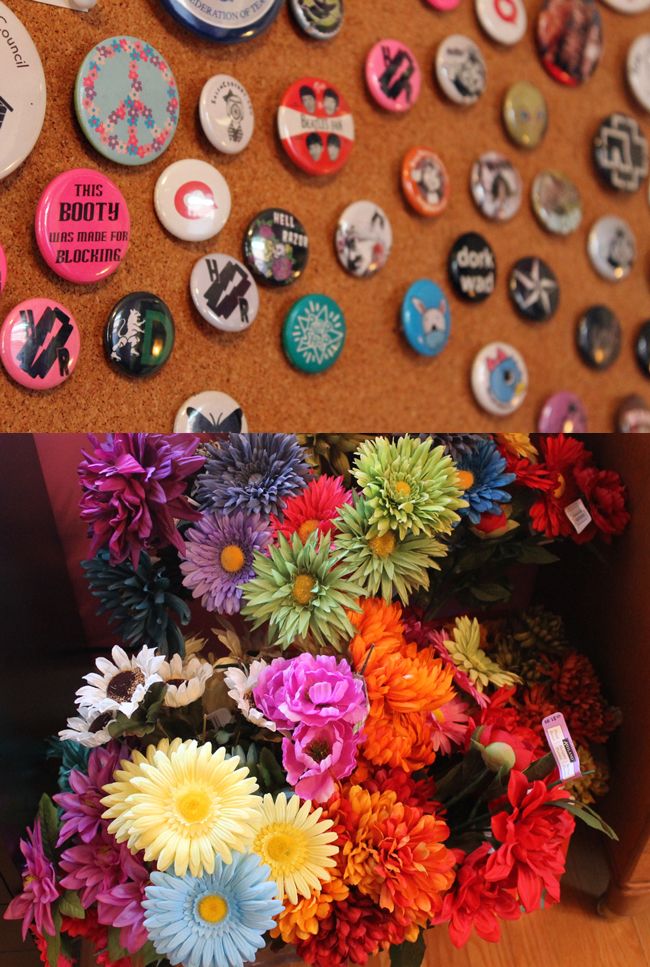 (above) Bulletin board button collection and faux flowers awaiting arts and craftiness.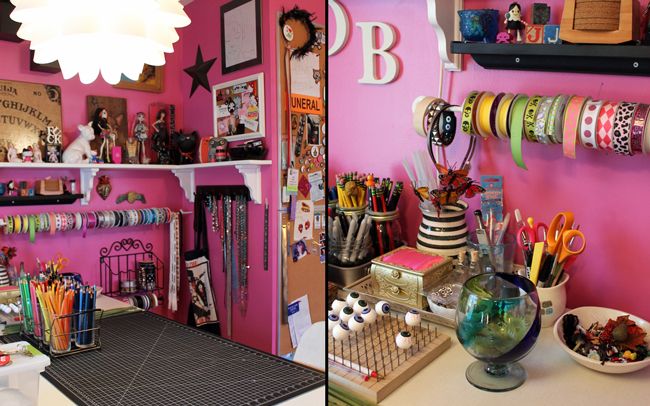 I purchased a new large black cutting mat for my work space, so I'm pretty excited about the fresh look it gives to the work area. Above you can see some eyeballs in progress and lots of other supplies and tools on display.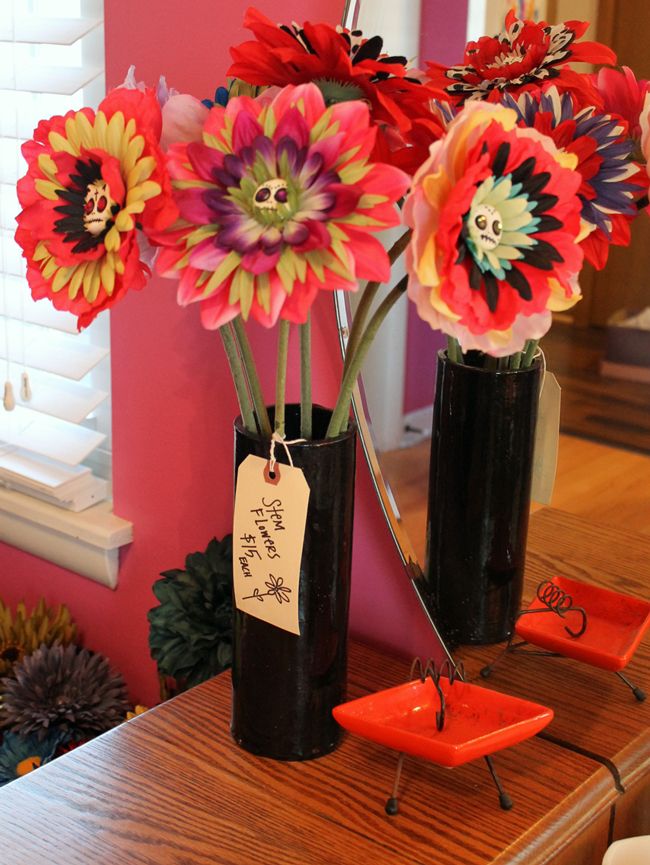 I'm thinking that it's so nice in the studio now that I can invite people to come and visit here to shop directly!
Rock On,
Jen @ Hell Razor
now playing: