denim jacket - Levi's (via hand-me-down) / dress - thrifted / boots - Target / leggings - Torrid / socks - GoldToe / bracelet - handmade (custom) / rings - custom / earrings - Etsy
My outfit for today is very low cost; therefore, I am a "cheap" date. My dress was thrifted, and f
irst made an appearance on the blog in early 2013 here
. This is why stretchy dresses = awesome. They fit across all kinds of sizes!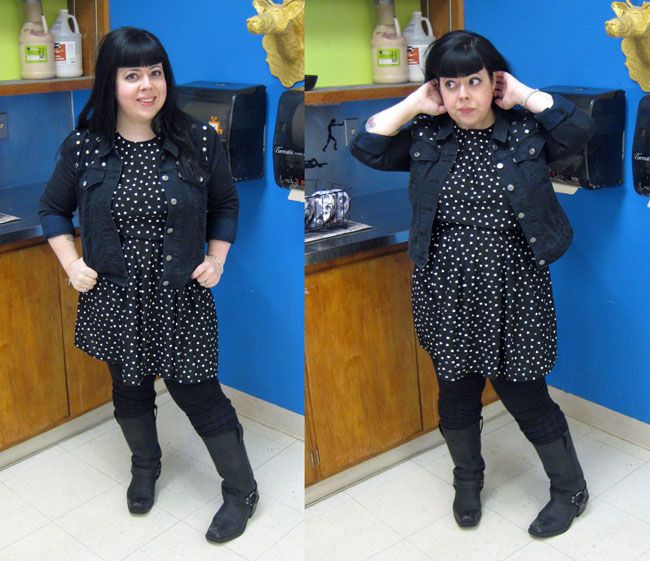 My coat was a great deal, too. It was free from Megan (previously mentioned on the blog as she does my hair) as a hand-me down. My friends' "fat" clothes = my skinny clothes. I'm ok with it. For real.
At first glance, this dark denim coat looks kind of bedazzled and uncertain how it might incorporate into my wardrobe, but I've worn it twice now and it may even replace my blue denim jacket... you never know. I love it!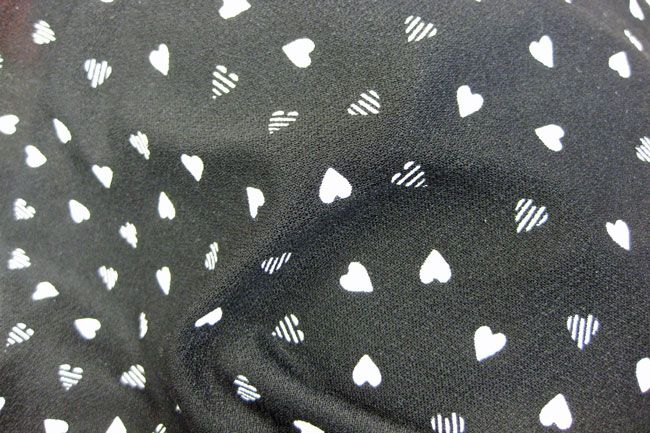 Close-up of my thrifted dress' pattern. Very cute all-over heart print that still adheres to my mostly all-black current aesthetic.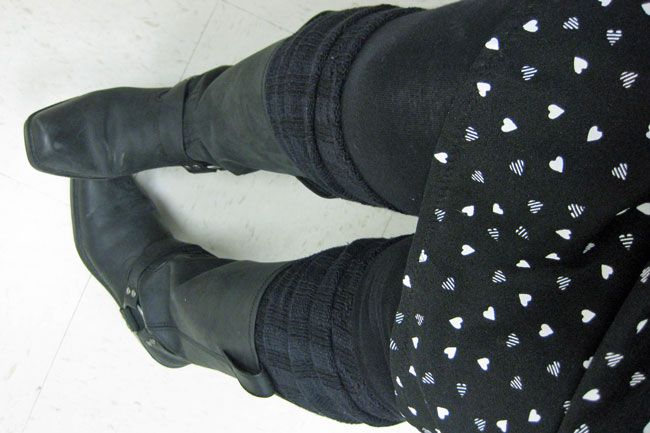 I love these boots. And I have awesome socks on today from Gold Toe. They're
over-the-knee style
, but I folded and scrunched them down so now they're knee socks that don't make my legs look all sausage-y, which is awesome.
I wore my bracelet from Todd today. I've been enjoying wearing more jewelry now - some new, some older pieces that have not been worn in a while. I did talk about this bracelet waaay back when in
my "jewelry box" blog post
.
I don't think I've ever talked about my wedding rings on the blog before. I've been enjoying wearing them lately because they actually FIT again! My engagement ring is a pink sapphire. It's from a jewelry store, but has been customized from the original setting.
My wedding band is made with black diamonds and the abstract/scroll design is modeled after the concept of my mom's wedding ring design, which has a tree branch. My wedding band is one-of-a-kind, and Todd had it made for me by a metalsmith artist friend of his from college.
I love that I have one traditional style of ring, and one non-traditional ring. They're not a set that's meant to be worn together, so I usually wear my wedding band on my left ring finger, and my engagement ring on my right.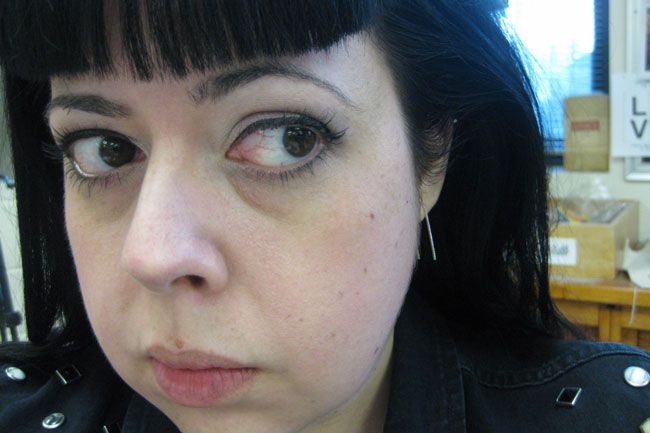 I've spoken of these earrings before on the blog. Still love them.
Similar here
.
Rock On,
Jen @ Hell Razor
now playing: