Ok, let's face it...While they can also be a ton of fun, the holidays are a somewhat stressful time of year. Sure you get to chow down on some delicious food &(in some instances) get presents...but seriously! We don't all have story-book perfectly cooked turkey Thanksgivings & what-have yous in our near future. So, with that in mind, I would like to introduce you to a little recipe that is sure to keep you jolly through the years and this holiday season.
SALTED WHISKEY CARAMELS!
Ingredients
:
5 tbsp. butter
1 cup heavy whipping cream
2 oz. (1/4 cup) whiskey
1 tsp. vanilla
1/4 tsp. kosher (coarse) salt (plus some to sprinkle)
1 1/2 cups sugar
1/4 cup light corn syrup
Hardware
:
9-inch cookie sheet
Parchment or wax paper
Cooking spray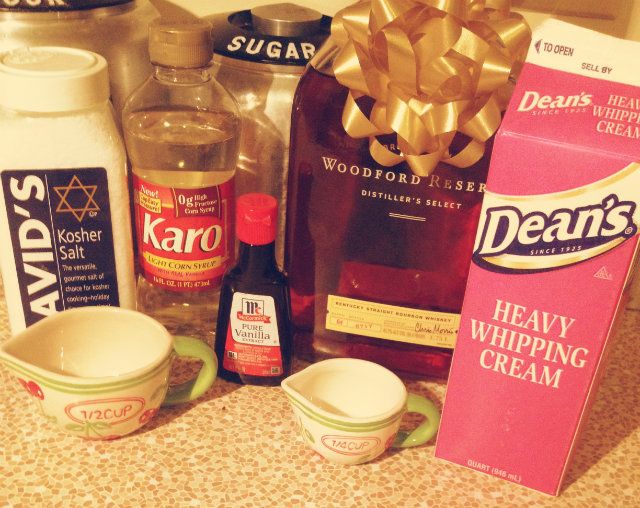 Step 1
:
Line 9-inch square pan with parchment or wax paper, allowing the paper to drape over two sides; spray lightly with cooking spray.
Step 2:
In 1-quart saucepan, heat butter, heavy whipping cream, whiskey, vanilla, and 1/4 teaspoon salt to boiling, stirring frequently. Remove from heat; set aside.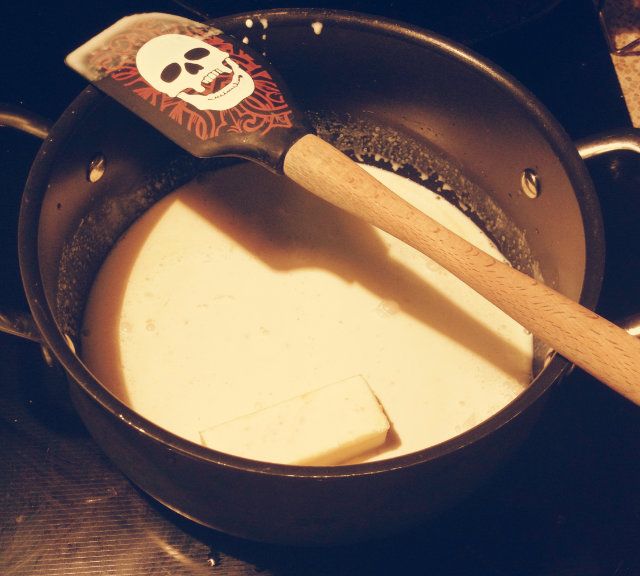 Step 3
In 3-quart saucepan, mix sugar, corn syrup, and water. Heat to boiling over medium-high heat.
DO NOT STIR
(it's hard to resist!!!)
Boil until sugar turns a warm golden brown.
Step 4
When the sugar mixture is done, turn off the heat and slowly add the cream mixture to the sugar mixture.
Be careful -- it will bubble up violently
. Cook over medium-low heat for about 10 minutes, until the mixture reaches 248 degrees F (firm ball) on a candy thermometer.
Step 5
Pour caramel into pan & cool for 10 minutes. Then, sprinkle with up to 1 tablespoon salt. Let it cool completely before step 6.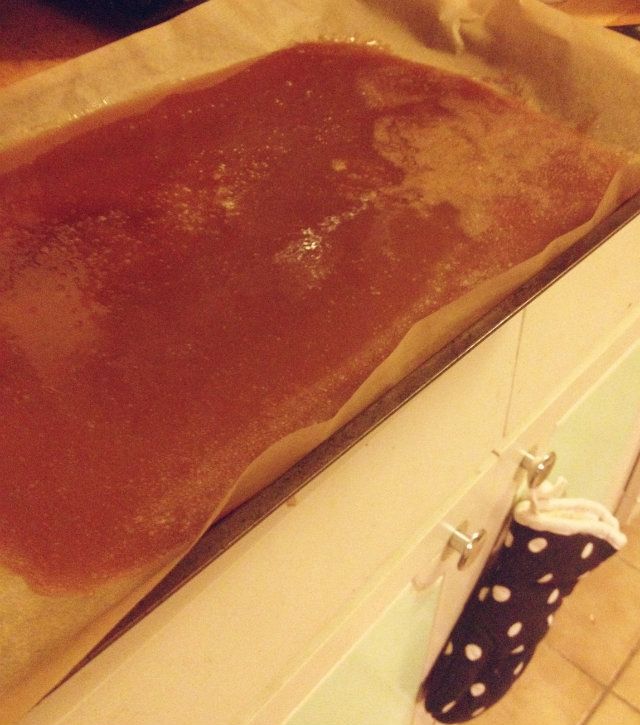 Step 6
Cut into squares & PIG OUT!!!!
Some of mine turned out a little softer than desired, so I used it as an ice-cream topping...JUST as delicious. Of course, if you're not a greedy Grinch like me, you can wrap them in parchment paper or gift bags and give them as gifts....Of course, you may want to try a few batches to work out any kinks before you go crazy! Oh! and...Thanks,
Betty Crocker
...for making our holidays much more manageable.
Until next time!
~Steph @ Calamity Layne
Now Playing:
Whiskey River - Willie Nelson