Hi y'all!
I was excited to catch up with the Sparkle Queens from Moonshine Nettie this week! I LOVE these ladies! They have great style and always have a great story to tell! They recently made the move back to New Orleans from Nashville, TN (my two favorite cities) and they are loving every minute of it! You can check out their amazing merchandise HERE! You'll find beautiful jewelry and accessories, vintage galore, and so much artisan glitz and glitter that you'll never wanna leave!...OH, and did I mention the Rockstars?!? Read on for the inside scoop on Blondie, rhinestones, style, and their new digs!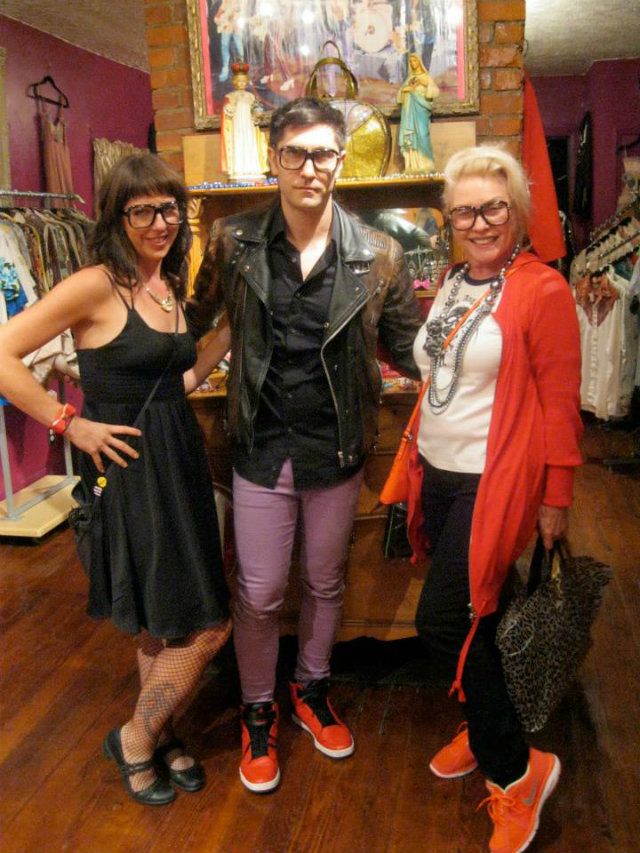 You recently moved back to New Orleans, how are things and where is your new store located?

THINGS ARE GREAT.... WE ARE BACK IN THE FRENCH QUARTER AND LOCATED ACROSS THE STREET FROM ONE OF OUR FAVORITE BUILDINGS..... THE CORNSTALK HOTEL...... LOOKING OUT OUR DOOR EVERYDAY IS LIKE BEING IN A DREAM......SO BEAUTIFUL!!!
Yay!!! I'm so happy for you! And what a great place to see everyday! The Cornstalk Hotel is beautiful! You've recently had some celebrity guests pop in! What awesome swag did they purchase?
RECENTLY WE'VE HAD ELLE FANNING DROP BY AND PURCHASE A VINTAGE MANNEQUIN. JENNIFER COOLIDGE PURCHASED A BEAUTIFUL HEADDRESS , BEBE BUELL HAS BECOME A REGULAR CUSTOMER AND WE JUST SHIPPED HER SOME NECKLACES AND WE MADE HER A CUSTOM TOP HAT FOR HER NASHVILLE DEBUT AT THE BLUEBIRD CAFE AND OUR FRIEND ZACH BLAIR FROM THE BAND RISE AGAINST CAME BY FOR A VISIT WHILE HE WAS HERE TO PLAY VOODOO FEST. WE'VE BEEN VERY BLESSED WITH THE OPPORTUNITY TO MEET SOME OF OUR FAVORITE ROCK AND MOVIE ICONS THROUGH OUR STORE.
ONE OF OUR FAVORITE MEMORIES IS WHEN WE WERE IN NASHVILLE AND OUR FRIEND ERIN WHO WORKS FOR BLONDIE CALLED ME AND SET UP A SECRET SHOPPING TRIP WITH DEBBIE HARRY AND HER BAND MATE. WE HAD TO KEEP IT SECRET AND HAD TO PICK THEM UP AT THEIR HOTEL. NORMALLY WE ARE NOT NERVOUS IN THESE TYPE OF SITUATIONS BUT HELLLLOOO IT'S DEBBIE HARRY. ANYHOO.. IT WAS A AWESOME DAY AND WE ENDED UP WORKING THE BLONDIE SHOW THE NEXT NITE AT THE RUYMAN AND THIS IS HOW WE MET BEBE, EXENE AND CHEETAH CHROME......RETAIL ROCKS!!!!
HOLY CRAP!!!!! That is amazing!!!! I can imagine how terrifyingly fantastic shopping with DEBBIE HARRY would be! Haha! Speaking of shopping, where do you find your AWESOME merchandise?
WE TRY AND CARRY SMALLER INDEPENDENT LINES, AND ARE LUCKY TO CARRY OUR TALENTED FRIENDS' DESIGNS.
CURRENTLY WE HAVE BEAUTIFUL ROSARIES BY LEVEELAND, LEATHER ROCK N ROLL CUFFS BY LUCKYGIRL ELEVEN, TIN TYPE EARRINGS BY MELODY ELIZABETH, UPCYCLED VINTAGE GLOVES BY TWIXT & PIETY, CUSTOM GLITTER VINYL HANDBAGS BY WICKED PURSES, HEADDRESSES, GLOVES & HATS BY STACEY LUVS LIAM,APRONS AND BUSTLES BY MAID IN MARS AND OUR HAIR ADORNMENTS MADE IN HOUSE BY BOUFFANT QUEEN AND LAST BUT NOT LEAST OUR MOM'S CUSTOM JACKET & SLIP LINE "JUKE JOINT GYPSY."
WE ALSO SQUEEZE IN VINTAGE PIECES THROUGHOUT THE STORE. (THATS OUR TRUE LOVE).
Do you sell on consignment and what kind of merchandise do you look for?
WE DO SELL A LOT OF THESE LINES ON CONSIGNMENT. OUR CURRENT LOCATION IS ABOUT 400 SQFT SO, WE TRY AND SEEK OUT ADORNMENTS THAT WE LOVE AND HOPEFULLY THEY BECOME PERMANENT STAPLES IN OUR STORE.
Excellent! As we can all see, your store is gorgeous. Who and / or what influences your style?
WE LOVE ALL THINGS VINTAGE AND ARE REALLY DRAWN TO THE 30'S THRU THE 70'S. WE LOVE VELVET OPERA JACKETS, VINTAGE LEOPARD COATS & HANDBAGS ARE A MUST, BABY DOLL DRESSES,LEVI'S, COWBOY BOOTS, VELVET PEACOATS, PLATFORMS AND EVERYTHING IN BETWEEN. ZIEGFELD FOLLIES MEET THE EARLY STONES ....
How would you describe your own personal style?
ROCK TEES, BIG BEDROOM HAIR, RED OR HOT PINK LIPSTICK AND AS MUCH SPARKLE AS POSSIBLE!!!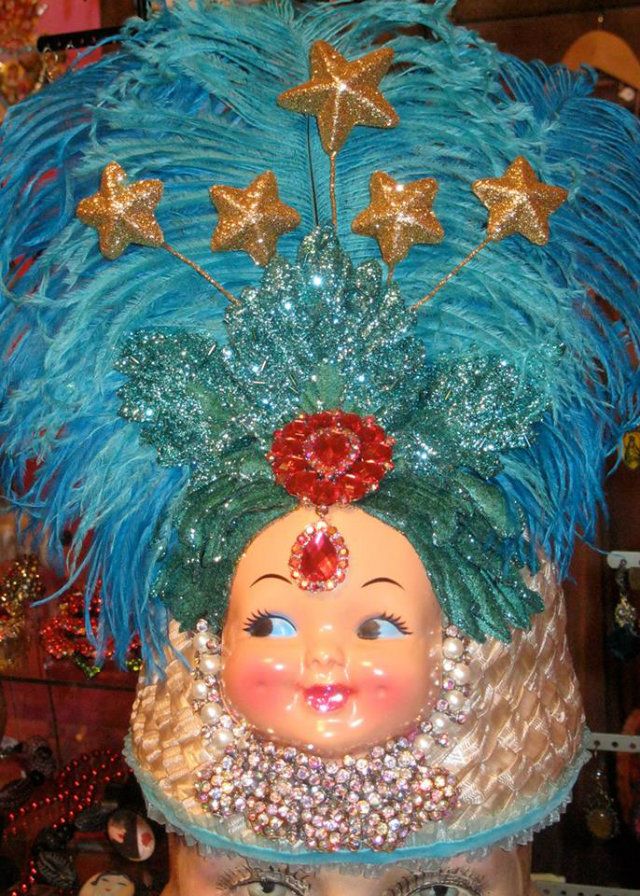 What are the biggest challenges when running your own store?
RETAIL IS A 24/7 JOB SO WE HAVEN'T HAD A NON WORKING VACATION IN TWENTY YEARS.... AND WORKING ALL THE HOLIDAYS SOMETIMES CAN BE A BUMMER BUT THAT'S OUR TRADE OFF FOR DOING WHAT WE LOVE.
What inspires you when you're feeling down? How do you stay positive during hard times?
SEX AND THE CITY NEVER LETS YOU DOWN WHEN YOU NEED YOUR SPIRITS LIFTED. OH AND ......ROCKIN TO THE RAMONES IS LIKE A GOOD DOSE OF B12.
What is your best advice for people who want to start their own business?
DO WHAT YOU LOVE, SURROUND YOURSELF WITH THOSE WHO CELEBRATE YOU, DON'T LISTEN TO THE NAY SAYERS, AND STAY TRUE TO YOURSELF AND WHAT YOU BELIEVE.....
What are you the most proud of?
WE ARE MOST PROUD OF HOW FAR WE HAVE COME AND THAT WE'VE OVERCOME SO MANY OBSTACLES. WE STARTED OFF IN A TINY SPACE THAT WAS $200 A MONTH IN 1993 AND HAD NO CLUE WHAT WE WERE DOING. WE WERE LUCKY ENOUGH TO OPEN NEXT DOOR TO A PUNK ROCK CLUB AND THIS ALLOWED US THE OPPORTUNITY TO MEET ALOT OF MUSICIANS AND THAT IS WHAT SET THE TONE FOR OUR STORE..... THE 90'S WERE A GREAT TIME TO START OFF. FASHION WAS FUN AND CRAZY. YOU HAD YOUR PUNK ROCKERS,GOTHS, ROCK-A-BILLY KIDS, SWING DANCERS, RAVERS AND GRUNGE ROCKERS. WE WOULD NOT TRADE THOSE DAYS FOR ANYTHING.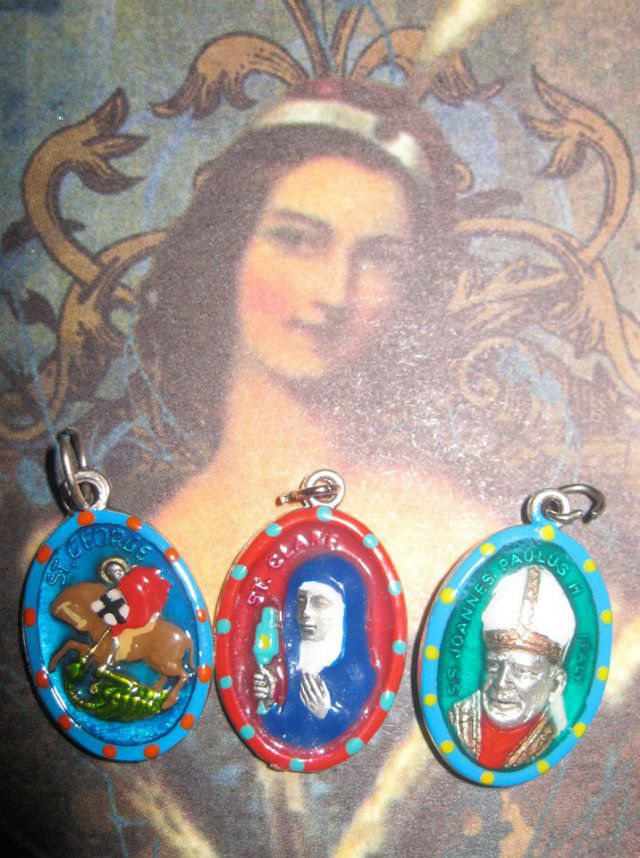 What are you most proud of?
WE ARE VERY PROUD IN THE FACT THAT SOME OF OUR VERY FIRST CUSTOMERS ARE STILL OUR CUSTOMERS TODAY AND WE CONSIDER THEM ALL DEAR FRIENDS.
Do you have any big upcoming plans for your shop?
TAKING OVER THE WORLD ONE RHINESTONE AT A TIME.

I can't wait!!! Can we buy your stuff online?
ONLINE STORE IS IN THE NEAR FUTURE. IT'S TIME TO GET RID OF THE FLIP TOPS AND WEB T.V. AND CATCH UP WITH THE 21ST CENTURY...HEHE
In the meantime...
You can check out Moonshine Nettie House of Glitter, Rhinestones and Rock N Roll Online HERE!
AND HERE!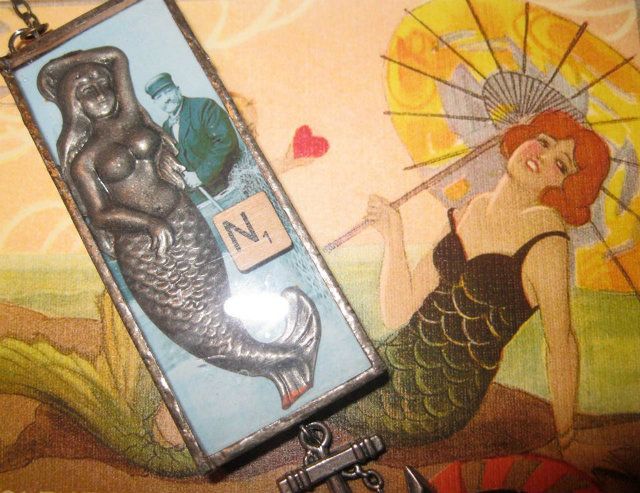 Thank you
so
much for taking time out to talk to me and I'm so glad you're loving your new space! You ladies are truly amazing and an inspiring story to those of us trying to get our projects off the ground. Is there anything else you would like to add before we sign off?
OH...WE WOULD LIKE TO ADD ONE LAST THING:
THANK YOU THANK YOU TO ALL OF OUR AMAZING, COOL, WONDERFUL CUSTOMERS WHO HAVE INSPIRED US THE LAST 21 YRS AND TO OUR BEAUTIFUL TALENTED MOM WHO MAKES US LAUGH AND WHO KEEPS OUR LIFE INTERESTING ON A DAILY BASIS....YOU ALL ROCK!!!!
Until Next Time!
~Steph @ Calamity Layne
Now Playing:
Blondie - Heart of Glass