I hope that you all had an awesome Halloween! It actually SNOWED on Halloween in Chicago. Geez. This year I dressed up as Lydia Deetz from Beetlejuice.
Most of my students did not know who I was, even with this photo up on the computer for them to see. Kind of like
last year's Tina Belcher
. Oh well.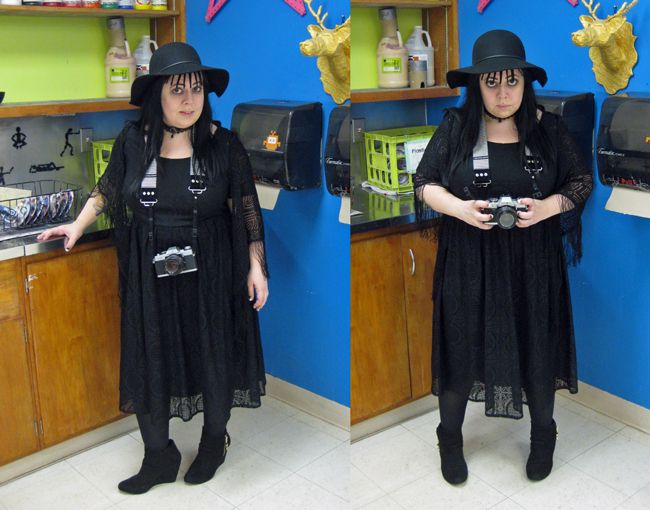 Since Halloween was on a Friday this year, I had to work all day, and then we tried to take Iggy out to trick-or-treat later in the afternoon, like 4:00. We made it about two blocks before Todd and I were just waaay too cold and told Iggy that it was time to go home.
This was a cute vintage camera to wear as a Lydia Deetz accessory, but it was heavy and swung around a lot when I walked. Not the most comfortable costume ever. But I think that I did a pretty good job.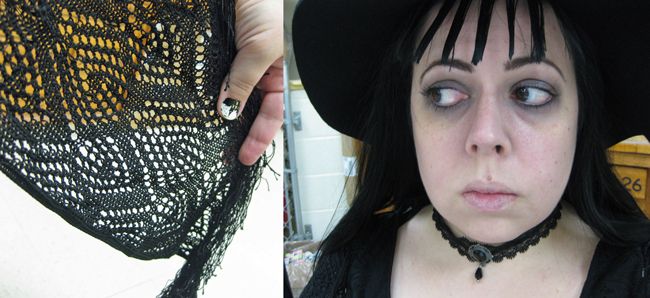 I used Got 2B spiking wax in a jar from Walgreens and super loaded up my bangs to get this look on my hair. I was so worried it was going to be impossible to get out, but a Saturday morning hair wash proved pretty good for removing it all.
I look REALLY tired and washed out in Halloween photos because of this makeup! Ha! I used
this tutorial
to get the look.
I don't think that I've showed you my new
BCBG wedge booties
yet in regular OOTD posts? I've worn them a couple of times, and I can actually last all day in them, which is pretty sweet. I didn't have any granny boots for my costume, so I went with these. No need to buy special shoes just for Halloween.
Totally unrelated to my costume, I did my nails with these rad
Sally Hansen stickers
, even if they only lasted a couple of days - fun for Halloween. And they glow-in-the-dark! I picked these up at Walgreens, too.
On Halloween night, Todd and I went to a party at Steph's house. It was super fun, and we always enjoy a night out as adults! Iggy stayed at Grandma's house, where he fell asleep after an exciting day.
Rock On,
Jen @ Hell Razor
now playing: