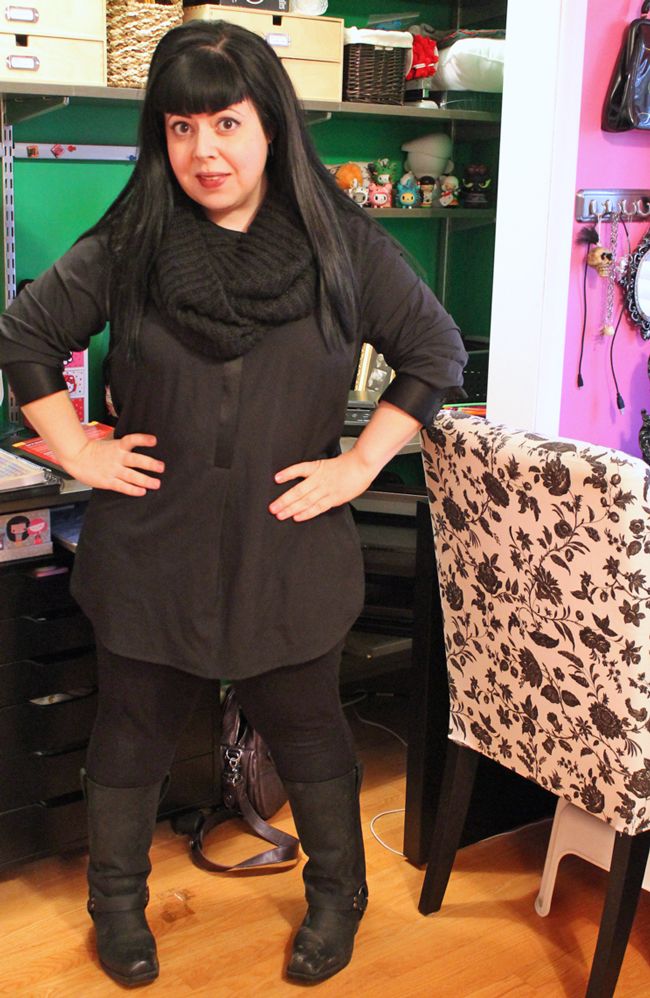 leggings - Target / boots - Target (last year) / tunic - Target / scarf - Target / earrings - Etsy
As I'm typing this post, I realize how Target-riffic this post is. Unintentional, I assure you, but it does attest to how much I spend on clothing at Target. Especially basic pieces, like leggings.
This long tunic shirt was a nice surprise find one day when I made a quick trip with my mom to the store. I wasn't looking for a new shirt, but that's usually when you find one. Then when you really DO need one, no luck, right?
As I had mentioned in my
winter accessory wishlist
, I really wanted a chunky black infinity scarf for this winter. I had been browsing Etsy, and found a few to add to my favorites (
one
,
two
), but when I came across this inexpensive option at (where else?) Target, I knew my search was over.
I wore these boots on
this red and black OOTD post
, and they've proven to be pretty comfortable and a good solution for long days at work. And of course, my favorite new staple earrings! I wear them ALL THE TIME. I was initially worried that they'd fall out, not having a backing or anything, but so far so good!
My scarf isn't as chunky as I had originally imagined I wanted one to be, but for the price, it's sufficient. Maybe in the future I can invest in one of those other beauties.
Rock On,
Jen @ Hell Razor
now playing: