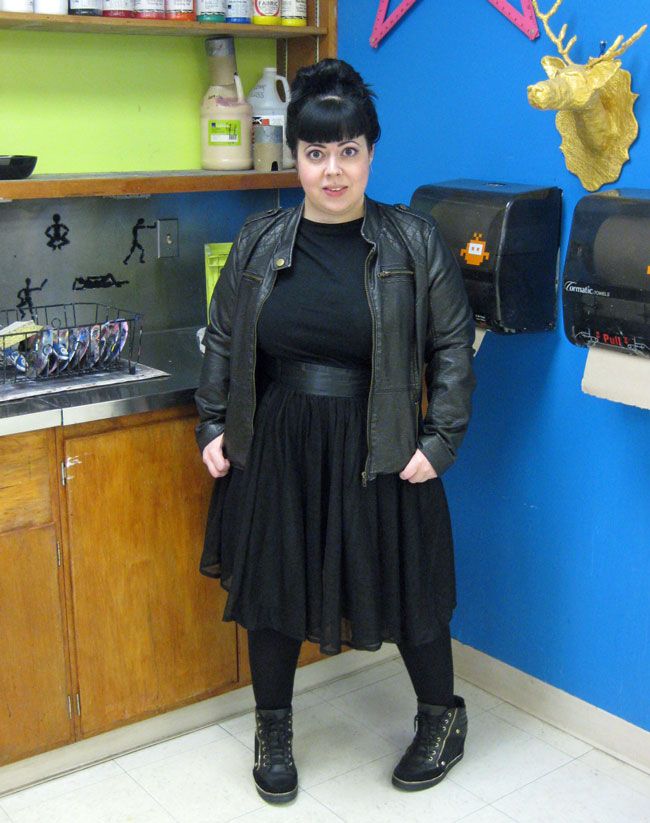 shoes - DSWarehouse / tights - We Love Colors / skirt - eShakti / t-shirt - Iron Maiden tee (turned backwards) / jacket - Target (old) / earrings - Etsy
Ugh, I've got a mad case of the CBE's here: Crazy Big Eyes. Please excuse.
So I was pretty excited to discover that this (faux) leather jacket from Target several years ago (like pre-pregnancy) finally fits again! So I had to wear it today with something. This is how I discovered that I do not have a wardrobe staple: a solid black t-shirt.
Being the resourceful and "refuses-to-take-no-for-an-answer" type of girl that I am, I simply wore another t-shirt (my
Iron Maiden t-shirt, seen here
) and turned it backwards. Hey, no one sees the design since I have the jacket on anyways... so why not?
I can't seem to bring myself to stop wearing all/mostly black right now. The color just feels like a safe hiding place to me right now, and I want to keep hiding in it all winter. I have a lot of stress and "things" going on right now, between the things that I want to do (spend time with family, roller derby) and the things that are necessary evils (grad school, teacher's union, my day-to-day-job) that I really don't want to do, but suck up a huge chunk of my life and mostly make me unhappy overall. There are good parts to those things, but overall, I'd rather not have them. Just feeling down about it lately.
Therefore, black.
I love this jacket. I wish the sleeves weren't so long, though. #shortgirlproblems
Rock On,
Jen @ Hell Razor
now playing: