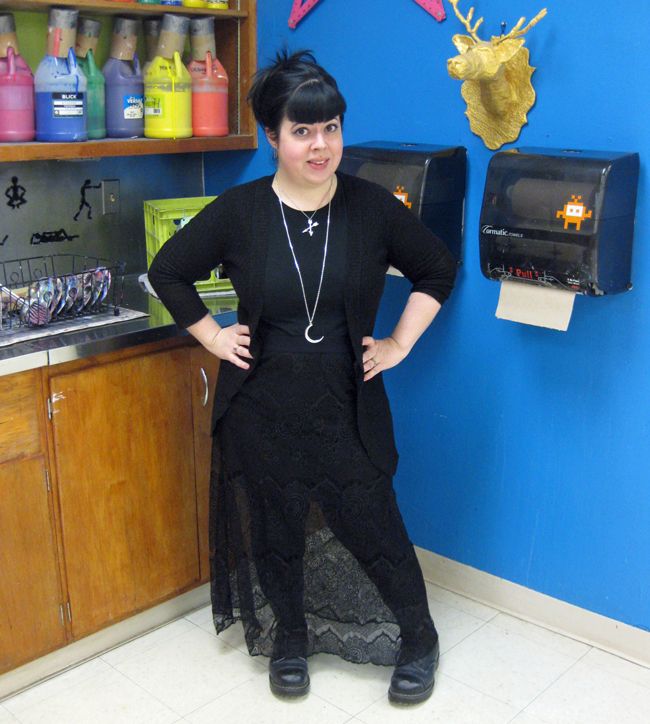 skirt - Forever 21+ / boots - MooShoes.com / leggings - Target / t-shirt - Target / cardigan - Target / arrow necklace - ModCloth.com (old) / moon necklace - Etsy.com
We have these days at work where we're "supposed" to wear a certain color or a certain t-shirt. I know that most staff members love it, because it takes the guesswork out of what to wear each day. I know I'm in the minority here, but I actually like getting dressed each day, and it sometimes bums me out to have to wear the shirt/color of the day.
I actually truly forgot to wear the t-shirt I was supposed to be wearing on this day. I was walking into work and I was like "oh crap, I forgot to wear the shirt-of-the-day" but it was too late to turn around or to change, so oh well. Of course, I got harassed about it later. Argh. Whatever. I wear what I want.
I bought this skirt last spring from Forever 21+ and of course it was too long. I "hemmed" it really badly because it's a really see-through wide-weave lace fabric that doesn't hem well. I tucked my t-shirt in, but maybe next time I'll wear it over? The elastic waistband isn't really fancy or anything. The miniskirt part is attached, but it's pretty see-through, too, so I wear leggings underneath. Also because I wear leggings under pretty much everything.
I put on
my crescent moon necklace
(
first seen here
) and decided that my accessories needed a little something more, so I dug around in my jewelry box and found this ModCloth necklace I was gifted for Christmas several years ago (
similar necklace via Etsy here
). It's silver like the moon necklace, so I think that they paired well.
Combat boots + dresses will probably always be one of my favorite combinations, forever.
Rock On,
Jen @ Hell Razor
now playing: