tights - We Love Colors / skirt - eShakti / t-shirt - ebay / sweater - Target / shoes - ? / earrings - Nordstrom / brooch - Luxulite
A few weeks back you would have read reviews about
Lisa
and
Steph's
experience with eShakti... unfortunately, my eShakti dress is too small and STILL does not zip up completely, despite it being a size 16! Sheesh. The things those numbers do to your mental state!
My point is that I still can't show you the dress that I was given c/o eShakti, but I can show you this skirt that I purchased from them! This is also a size 16, and seems to fit just fine because it's just a skirt. So, busty girls beware - the tops are a little, um, tight...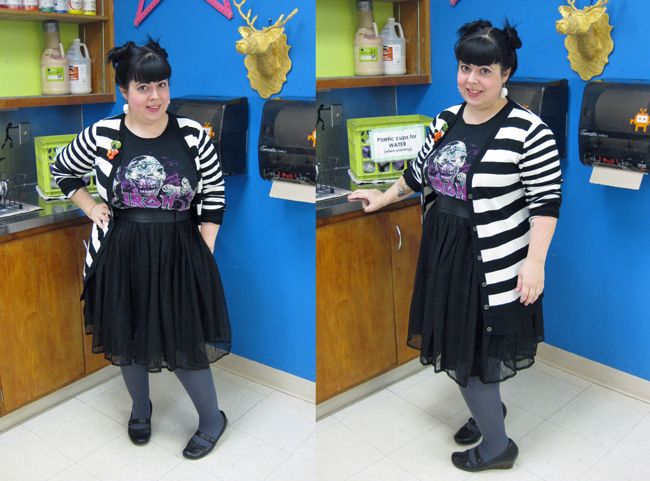 I fell in love with this skirt (the
Dahlia Crinoline
) design because of it's goth-ness and resemblance to a tutu. Also, I was given an awesome discount via the
Junebugs and Georgia Peaches blog
, which made the purchase financially viable.
Rather than dressing up the skirt with a fancy blouse and sparkly cardigan (which you could totally do for a holiday party or something along those lines...), I decided to go in a completely different direction and pair my skirt with a regular t-shirt - my favorite fashion look I gleaned off of
Erin at Zero Style blog
(where have you been Erin? I love your blog!).
Eddie on my Iron Maiden shirt is a skeleton, which I decided to turn into a Halloween-themed ensemble by adding my favorite striped Target cardigan and my NEW
LUXULITE
HALLOWEEN BROOCH FROM LISA!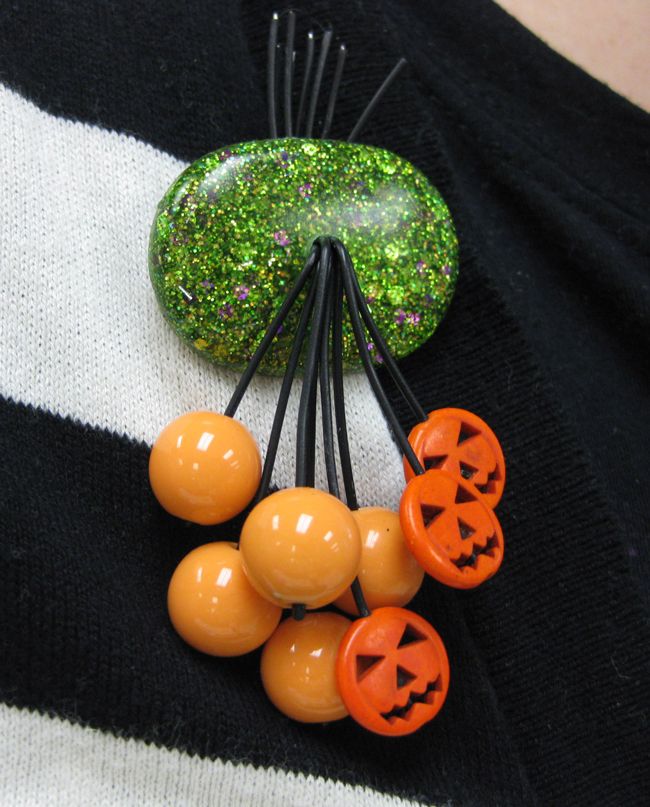 I know I've mentioned my desire for a
Luxulite
Halloween brooch a few times now, so how awesome was it to find out that Lisa snagged me one?! At the time of this writing, there are actually a few brooches in the shop available to buy (!!!), so go go go if you're interested!
Details: wedge mary janes (now that the weather is cooler, I've been able to switch up my shoes more...) and Iron Maiden - I love the pink and purples in this women's cut XXL shirt! I found it on eBay a few summers ago, after I decided that an Iron Maiden shirt was a wardrobe staple
in this post
.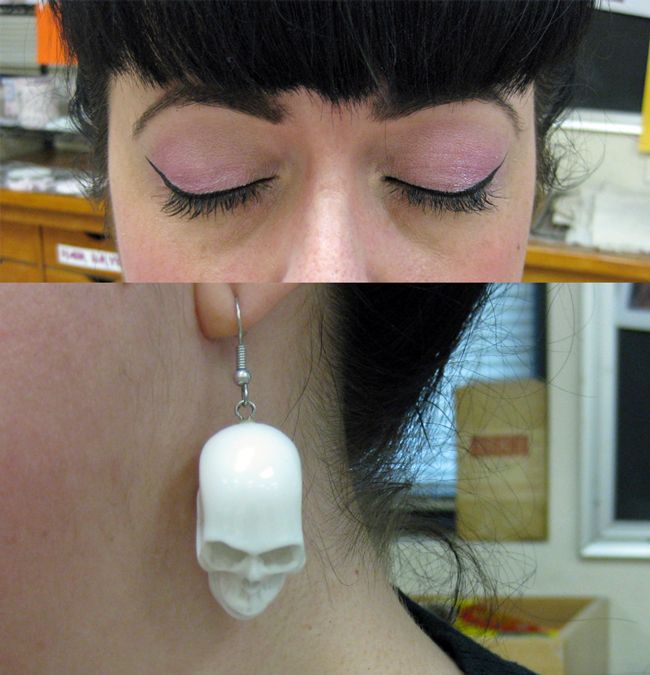 More details: pink eyeshadow, cat eye, and dangle skull earrings that Lisa and I both own.
Side note: I'm pretty sure I was on day three or four of no hair washing, hence the Princess Leia buns in the hair...!!!
Rock On,
Jen @ Hell Razor
now playing: