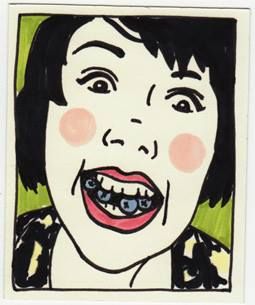 I have been a huge fan of "Betty Turbo" aka Agnes Barton-Sabo for a long time. Her whimsical pictures show her quirk, wit and talent on the pages of the books she has illustrated, the
fabric
she has created and though her fun plush items!. Thank goodness for social media and my being a pain in the butt that I feel like I have sorta gotten to know her....know her enough to hound her for an interview...AND after she drew this glorious picture of me scarfing down a huge piece of NY pizza (you can get yours
here
...she is still doing her $10 one minute portraits!)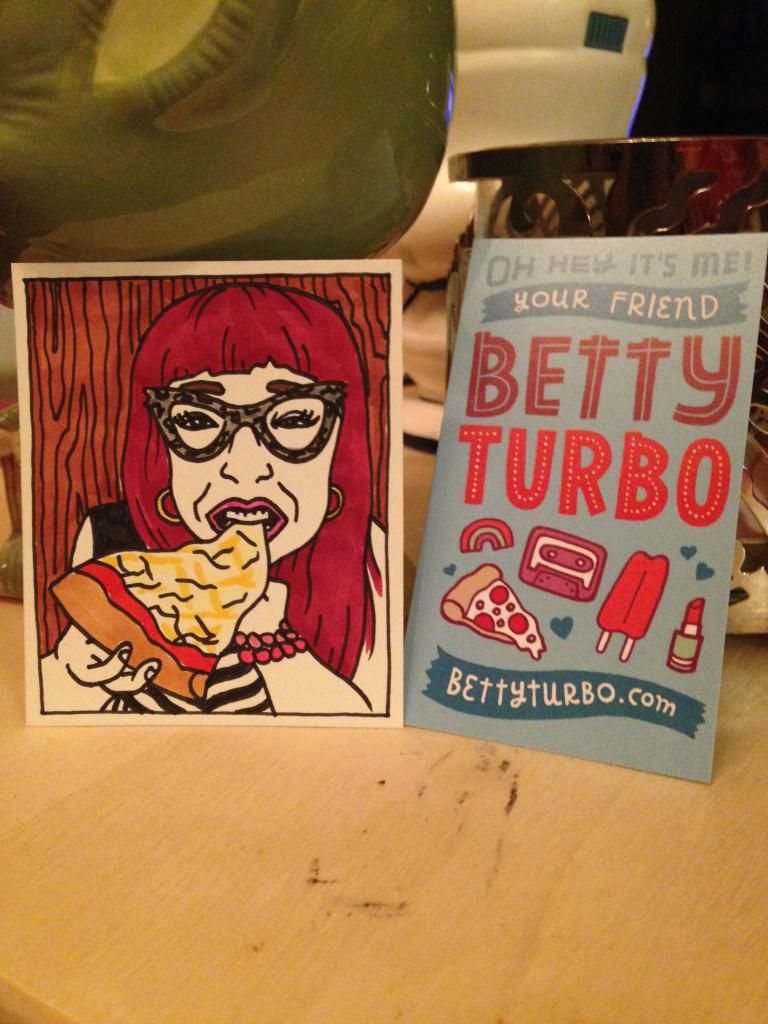 Why the name "Betty Turbo"? I mean, I like the name Agnes...but in my mind I think of you as "Lady Turbo"
Betty Turbo was a character I created in college when I started making illustrations directly derived from photos. It was "me" but "not me" because I used realistic inspiration but allowed the magic of illustration to enhance things to my benefit. As this idea evolved, Betty Turbo became kind of my super hero alter ego, so she was distilled down to only the awesomest and most badass parts of myself. My middle name is Elizabeth after one of my grandmothers, who was known as Betty, and the Turbo part was added on just to make it sound dramatic and triumphant! I needed that push to take it to a supernatural level of radness. Also five letters (Betty) and five letters (Turbo) is fun to work with, design-wise.
Describe a typical day in your studio? What inspiration do you have surrounding you? And what snacks? I know you are a snacker...
My studio is at home, which makes it harder to draw the line between "work time" and "home time" for sure, but I am still navigating that and experimenting with ways to make it work. Whatever the plan is, I need COFFEE first thing. (Mmmm, I'm drinking some RIGHT NOW.) I try to ceremonially "start" the day not being obsessed with the computer, so I take my coffee to the porch and spend a little time reading for pleasure, or just breathing in the fresh air. When it's Business Time I go into listmaking mode to keep myself organized. Only actual handwritten lists on pieces of paper will do. I usually have myself wrapped up in several projects simultaneously, it keeps me from getting too frustrated or burnt out when I am able to switch between different kinds of tasks. On today's menu, I'm just finishing up a pile of retail and wholesale orders, sewing a new batch of
S'Morrissey pillows
, completing some custom wedding invitations, and starting brainstorming on new holiday cards and products. The inspiration surrounding me is... a lot of art, most of which features ice cream. Broken coffee mugs that I refused to ditch because my dad made them, so they now hold pens and brushes on my desk. One million delicious colored markers. Vintage cookbooks and magazines. Tiny cute things that mostly came from Pygmy Hippo Shoppe. And all my lists, lists, lists! My snack habits are usually influenced by shopping at Trader Joe's while hungry, or specials from Abe's Market! I'm pretty stoked on Go Raw Super Chips/Cookies, dark chocolate covered almonds, oh hell, dark chocolate covered anything.
I love all of the pop culture references you have in your work. I'm a huge Star Trek fan and love your pieces that have Kirk and Picard... who's your favorite Captain.
I bet you mean my favorite Star Trek captain, which I don't think I can answer convincingly. I confess to only being a casual Star Trek fan. The only captain for me is
Malcolm Reynolds
!
(GOOD! Piccard is all mine then! Keep your Firefly!)
How does it feel having your art as being wearable..headbands, bows and your amazing chocolate scarf (which I own). Will you be making more? As I'll be first in line for a Turbo Tee.
I love making wearable items and collaborating with other designers to get my illustrations on their garments. I have never been inclined to restrict my work to one kind of venue or audience only, I want to spread these goodies far and wide! Even if someone is just sporting a goofy t-shirt with my design, I always think it's a possible access point to deeper conversations, or sharing other work. Let's all be friends! Art on everything! And yes, there are absolutely more wearable creations in my future. A screenprinting shop is literally appearing in my back yard as we speak. Stay tuned!
Recently you featured your "one minute portrait" contest on IG. I participated and it was lots of fun. You had crazy themes like "selfies with a pet," "stick out your tongue" and more. Which day was your favorite? And what was your favorite entry?
I gotta say the Selfies with Pets day was my favorite, just because I got SO many entries! Doggie and kitty people, they really, really like their doggies and kitties. I kept trying to pick a favorite, but there are just too many that were tremendously entertaining! My favorite was seeing them all in a big collection, or looking at the mini-collections of each person who participated the whole week.
Will you do it again?
I totally want to do it again! It was super fun and I love to do things that are interactive like that and get people playing along with me.
Your man has a cute little stinker that you like to hang around with. How did it feel when he wanted to open his Etsy shop "Taco Tornado"?
Hilarious and awesome! My dude and I actually met because of Etsy, and later realized I purchased something from his
Etsy shop
years before we ever met. (Yes, that fuzzy man-peach skateboarding in a dress is mine, all mine!) When little
Taco Tornado
wanted to get on board, it was a great chance for him to learn how it all works, to see what goes into writing listings and shipping orders, and experience the fun of sharing his work with other people. I'm already thrilled that the kiddo is so into spending time on art, I think it's outstanding that he has the discipline to work on the different aspects of how it can be a business. He loves to pass out his business cards and tell people about
his shop
, and he wants me to be sure to let you know he'll be opening it back up for the holiday season with new art!
One of my favorite prints of yours is the zombie eclair print. Mine is hanging right by our front door for all to see but I do think my favorite illustrations of yours can be found in Natalie Slater's book. How did it feel to do the illustrations for her vegan cookbook and branch your art out to people that may not normally experience your awesomeness?
Wow, zombie eclairs, that's an old one! The Bake and Destroy cookbook was a super fun project, because Natalie and I already had such a sense (and affinity) for each other's styles, so I think the collaborative environment was ideal! I have such a strong food influence in my work, it made perfect sense for cookbook illustration to fit nicely into my bag of tricks. I was thrilled for the chance to reach new viewers in this way, and Natalie is a champion of self-promotion and marketing, so I've learned a lot directly from her as well. More cookbooks, please!!
Last question? When are you coming to Chicago already?
Ha ha, soon, I hope? Plenty of rad folks to visit and art to be seen there, I just gotta make some plans! I'll set up some workshops or get a convention on my calendar to make that happen before too long! If anybody out there in the internetz wants to help make this happen, get in touch! Let me come paint a delicious mural for you or lead a day of food-inspired crafty nonsense!
Stay Sweet,
Lisa
now playing: