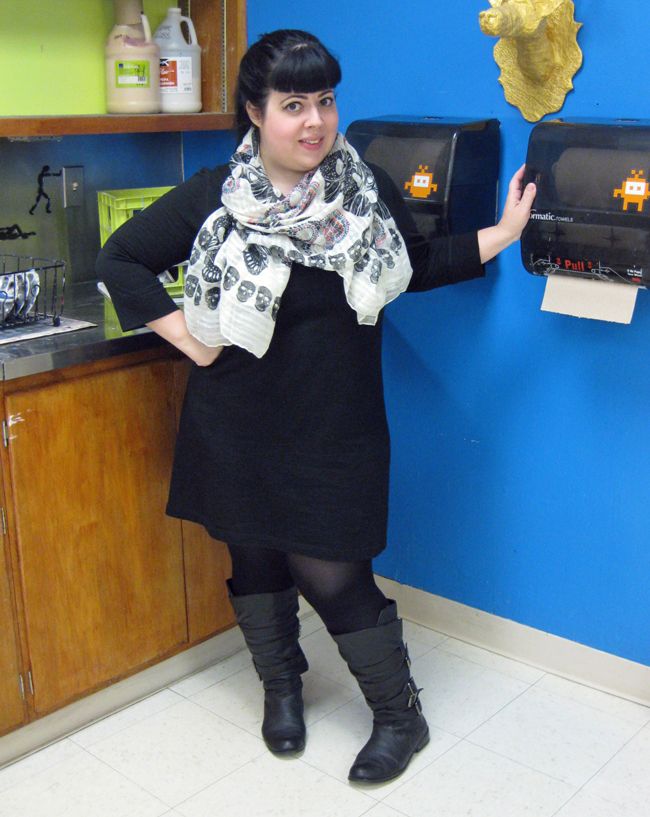 dress - Target / tights - WeLoveColors / scarf - Torrid / boots - old (?)
It's cold enough to wear boots and tights everyday now, which is awesome even though it totally gives me an excuse to not shave my legs ever again. Just kidding. Well, sort of.
I bought a t-shirt dress at Target! I love super easy dressing like this. I just went ALL black EVERYTHING, and then put my skull scarf from Torrid over it. I don't think I've worn this one on the blog before... but Halloween/skull themed anything is my jam.
Oh yeah, and on this day I wore a ponytail. Which is kind of weird, because I'm not much of a ponytail girl. But this seemed to work.
Brazil! Ponytail!
Bonus points to you if you also picture Jairo from Bob's Burgers anytime someone says the word "ponytail."
Anywhoo... here's a close-up of my skull scarf. I liked the colorful skulls, which is what sold me on it even though I
already had a skull scarf
. And these boots... they're really old, and I can't even remember where I got them from. I'm not sure I've worn them on the blog (more bonus points if you can find them on a previous post - I could not!), to reference the source from there? That's what I usually do when I forget. It has been a long time since these boots even fit me. They're still a little snug for my liking, but good enough to wear. I love all the buckles. Buckles = goth happiness.
P.S. Bonus points to ME for not getting too much into the Halloween posts until today! (My house has been decorated for like a month now, but I have been holding back on here, so yay me!
Rock On,
Jen @ Hell Razor
now playing: