A bonus of Halloween-time is that people just accept my fashion as-is, assuming it has a festive, Halloween intent (which I guess it does, really). After Halloween the all-black look doesn't fly as easily under the radar. Ah, whatever.
This is my Maleficent cape (or, I should say, OUR Maleficent cape, as Lisa owned hers first), and it's kind of my favorite thing to wear right now. I want to live in it.
It's big in all the right places, and I can wear leggings and a skirt under it, with whatever long-sleeve shirt I have available. And should I need to cloak myself in a hood, I can!
This cape has pockets, which is bonus amazing. Anything with pockets is good.
But, Jen! Don't you hate Disney? How do you justify this purchase?
Well, inside voice, thanks for asking. I'm an anomaly, what can I say? Really, Lisa had me try hers on, and it was so comfy and perfectly goth that I didn't care. It doesn't look like Disney. But I'm coming clean here to you. Also, not only do I have to fess up to people who compliment me on my cape that it's Disney, but I also have to admit to shopping at Hot Topic. LOL.
Why does that (Hot Topic) feel shameful? Well, I'm 35 years old... I should stop feeling shameful regardless. I do what I want!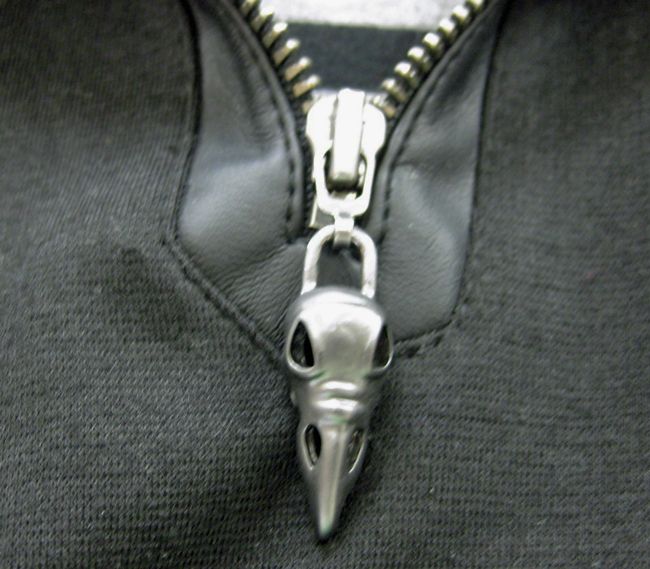 This bird skull zipper (sorry for the bad photo skillz here) is a pretty amazing detail.
Oh - shoes! Check this out guys, I'm wearing HIGH SHOES! Since I'm down about 50 pounds right now (I know, woo hoo!) my foot and ankle issues have really lessened up! Enough to make me try wearing "cute" shoes, like these wedge sneakers. I saw
Alicia wearing them on the Sea of Ghosts blog
, and although hers are $$$, I became fixated on the wedge sneaker style in black. This is
a version from Aldo
.
Because they're sneakers, they're more comfortable than a traditional hard-sole high heel. I can actually last all day in them!
I'm not sure if I've featured these
earrings from Etsy
that I bought, but I've had them for a while. I'd like to find something similar in a silver finish. I bought them because I really wanted these
"Two of Swords Tarot" earrings from Blood Milk Jewels
, but I don't have an extra $200 laying around to buy them :( - therefore something similar, and only $16.
Rock On,
Jen @ Hell Razor
now playing: