I've been window shopping for the perfect Halloween wreath for a few years now, and I had yet to find one that I really loved. My front door has a pretty sweet deep purple feather wreath,
similar to this one
, from Target many years back. But our back entrance needed a little something, and I've always had my eye out for just the right thing.
Then it hit me - I'll just make it myself!
I was inspired by
a few other wreaths
I'd seen (these are both from this year's Target Halloween line):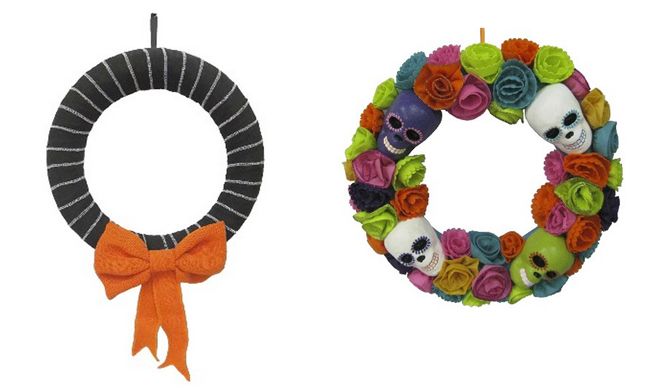 The stripey wreath is $20, and when I saw it in store, I was disappointed by the quality. It was made of what seemed to be burlap over styrofoam, with one lightweight burlap-y bow. Might blow away in a slight breeze!
I loved the sugar skull wreath, and kept looking for it in-store, thinking that I might just buy that one. But it never made it into the stores by me, and now it's already sold out online. WTF?
So, I hauled my butt to
Michael's
and picked up a styrofoam wreath ring for about five bucks, and had at it:
The stripey ribbon is from Michael's, and I used about four rolls, which was more than I thought I'd need, but it was mostly leftover from Lisa's upcoming wedding flowers (details to come in a future post!), so the price was right.
I then made three
Hell Razor
sugar skull flowers with flat backs of felt and attached them to the wreath with hot glue... although I suppose I could have made pin-backs and made the flowers removable for wear! :)
I stuck to a color scheme of black, white, orange, green, and purple. Very traditional Halloween!
Oh yeah, before I wrapped the wreath in ribbon, I did add a loop of wire around the top for easy hanging. Don't forget that part!
Rock On,
Jen @ Hell Razor
now playing: