Hi there!
If you are looking for a stunning outfit, look no further than the
eShakti website
. These guys will customize any item on their site to your own measurements!!! AND they're affordable! If you've never had a piece tailored to your measurements, you need to give this site a try.
Alright, watch out…I'm getting on my soapbox…Never underestimate the power of a personally tailored outfit. When something fits you correctly, you look AND FEEL phenomenal! I have SUCH a hard time finding modern pieces at the store that fit me correctly because (NEWS FLASH) I wasn't made on an assembly line! Most modern pieces are, which is why I tend to look frumpy in most of them. I absolutely HATE shopping for clothes. Searching through racks and racks of sweater dresses, button up shirts, and jeans before I find MAYBE 2 pieces that I can live with…I hate it. Not only do I have to try on TONS of clothing, but I also have to look at myself IN all of this crap. I constantly look like a stuffed sausage or like I'm wearing doll dresses...During this process, it's exceedingly difficult to stay positive about my body and I think it's bullshit because otherwise don't feel like I'm gigantic…Ok, I'm done now.
eShakti
asked us to pick out an item from their website and review it. I got SUPER excited because (if you can't tell) I am ALWAYS excited about a tailored dress.
Their website
is very easy to navigate and their selection is GREAT. I chose a dress cute shirtdress and completely customized the measurements to fit me as well as the length and sleeve style.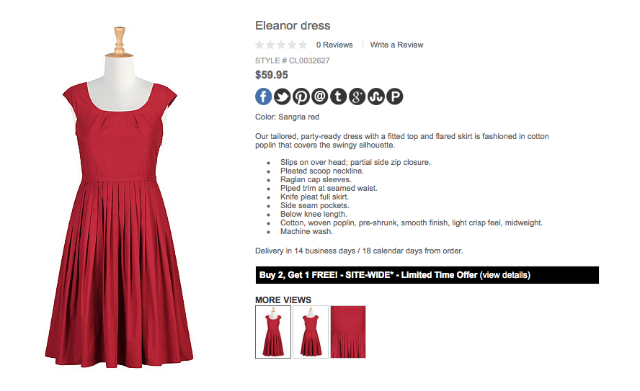 They have made the whole process is incredibly simple. You choose an item, customize the size or measurements, select your height, and add any custom styling (adding sleeves, skirt or pant length, etc…) and add to your cart for check out! If you are nervous about measurements, don't be! They have an interactive customization section that will tell you exactly where and how to measure yourself.
I always make sure to add an extra inch or half inch to all of my measurements so ensure that I will have enough room in my clothing to feel comfortable. Only put exact measurements if you want your item for fir SKIN TIGHT.
Their customer service was great. They even double checked one of my measurements with me via email to make sure it was correct. I received my dress within a week of placing my order. I love it! It fits like a glove!!! :) Check it out!
Until next time!
~Steph @ Calamity Layne