Now that I can't actually eat very much at meals, I've started using a bento box system that allows me to carry several small portions of food that I could eat throughout the day. (Of course, this system also works for regular lunches, too, but it's nice for me how it's all split up!)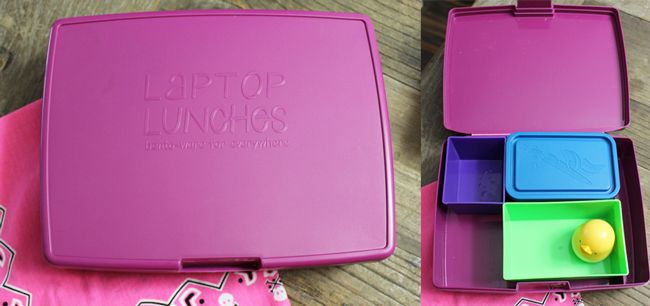 My "regular" bento box is a
laptop lunch box
, which I first learned about on the
World According to Eggface
blog, which is a post-weight-loss-surgery blog. I've started to rely on these types of blogs to give me food ideas and advice for everyday eating and stuff like that. See
more of her bento here
.
I've been interested in the concept of bento for a while though! I just never had the motivation to actually do anything with my interest until now. I even have a fun
pinterest board all about bento things
, if you're interested.
But back to my lunchbox. I can switch out different sizes of containers, so I bought an extra pack of inner boxes, which will depend on what I'm packing for lunch. Also, I don't have to re-wash/pack the same lunch containers every night... sometimes I can be lazy and go two days!
Here are some of my favorite bento accessories/additions:
Silicone baking cups:
These are essential for splitting up larger containers, plus they're super colorful and cute to look at. They help keep items packed more tightly, so there'll be less rolling around and possibility of spilling. I like to use these for cherry tomatoes, pieces of cheese, or almonds.
Sauce containers (sizes vary):
One of my new favorite bento purchases are these tiny sauce cups. Laptop lunches come with the small orange and blue cups (on right), but I bought these Hello Kitty ones recently. They're good for mayo, ketchup, sriracha, or any thicker sauces. Also, those tiny Tupperware guys on the right? They're good for ANYTHING because they're water-tight! But I end up using them typically for my vitamins at lunchtime.
On the left are tiny refillable sauce capsules! Aren't they cute? I think that these work best with thin sauces like soy sauce. I tried tabasco in one, and when I went to pour it out, I had quite a mess all over my hands. I need practice with these.
The bird on the left is a spice container, which I use as a salt shaker! You twist the top to open the hole right where the mouth is. I can't even handle the cuteness.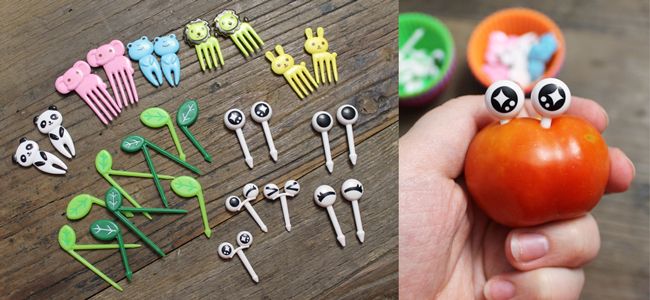 Food picks:
These are basically just frivolous and fun for decorating your food. Unless, of course, you buy longer ones and actually make a skewer or something functional. My favorite are the eyeball picks. They crack me up every time!
Food cutters:
I bought these tiny cutters online - they were advertised for cutting vegetables, but you can also use them for cheese or lunchmeat or fruit leathers. Again, just for fun!
Egg shapers:
One of my favorite "just for fun and decoration" food tools are these egg shapers. You hard boil your eggs, and peel them while they're still warm. They get crammed into these molds, and submerged in ice water until cooled. Then they take on the shape of the mold! And yes, that's a Hello Kitty egg shaper right there...
These molds are also used for rice, but I haven't attempted anything so daring as of yet.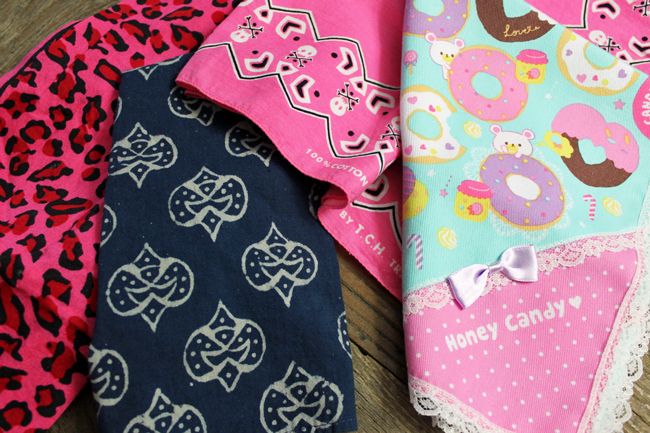 Reusable napkins:
Since everything else in my lunch is eco-friendly and reusable, I figured why not also have some cloth napkins to accompany it? There are some cute ones online, but my favorite napkin tip came from Pinterest: use bandanas! They're very inexpensive, and you can find all kinds of colors and patterns (helloooo pink leopard print!).
On Monday, I showed you my ninja girl bento box. She's a separate lunch container, big enough for a soup and crackers-type combo or a veggie and dip deal. But she was too cute to pass up! So I'm saving her for a light lunch day, or an event where I'll need just a snack.
Where can you buy all of these awesome items? I have a few favorite places to look:
All Things for Sale - tiny accessories, picks, and just about everything!
Amazon - laptop lunch box and containers, silicone baking cups
Ebay - egg shapers galore!
Rock On,
Jen @ Hell Razor
now playing: