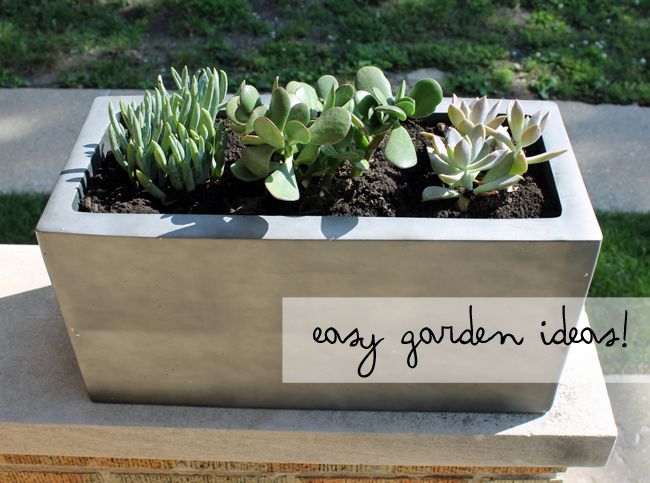 I usually like to document my garden each year, and I realized that I hadn't done any sharing yet about this year's progress. And since I'm not exactly a "green thumb," I thought that I'd share some of my best tips for "easy" gardening... meaning that it requires little effort, but looks good or grows well!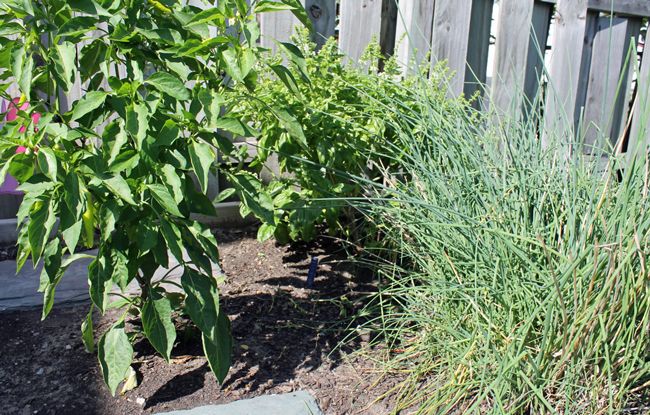 My first general rule is that I've pretty much given up growing any kind of actual vegetable. Almost every time I try, I fail pretty miserably. I have an idea to try cherry tomatoes in a big pot next year, but I'm not convince it'll pan out. So I typically stick to an herb garden. So far, chives are taking over the land... those come back every year, bigger and bigger...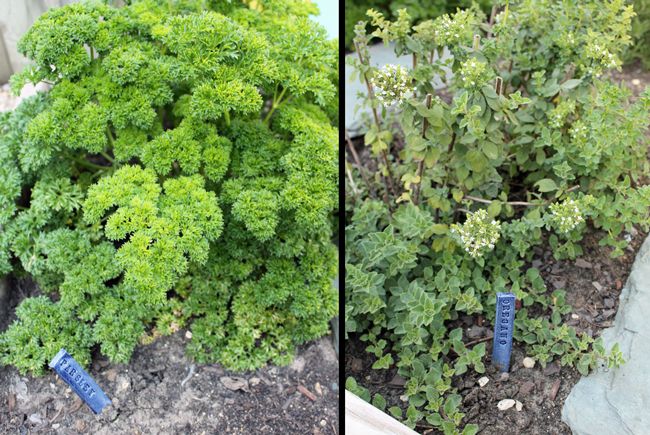 My parsley is doing quite well, and I have a boatload of oregano because I didn't realize that it's one of those plants that comes back every year! Woo hoo, free plants! I love that. But it does get insane - I dug up like half of the plant because it was getting out of control.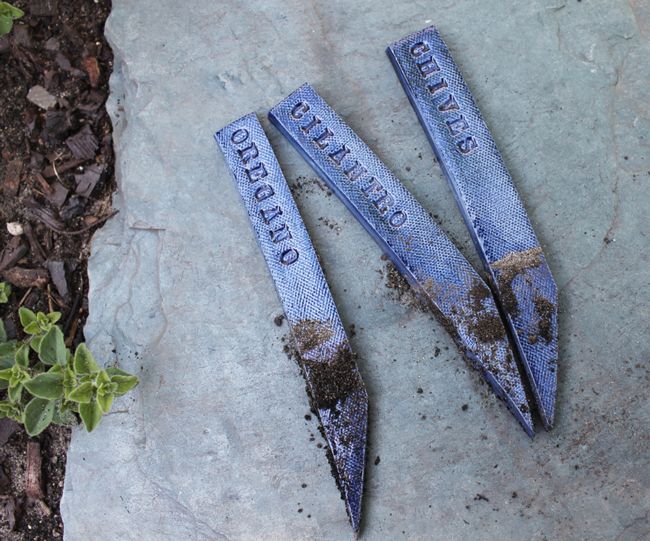 Do you like my ceramic plant stakes? I made them myself out of a clay slab that I cut, and then used alphabet stamps to put the names of herbs on them. I glazed them with blue because I had some at school, and blue glaze turns out nice. I made these last spring, so I'm excited to finally get to use them!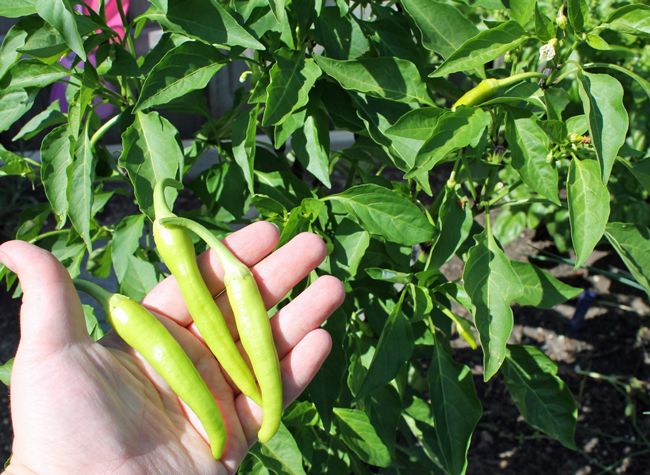 One vegetable that I DO have good luck with are these banana peppers. It's going insane. And these peppers here are the tiny ones. They get even bigger. And this is just one plant. That's all I bought.
So, my "garden" consists of oregano, parsley, chives, basil, and some cilantro that went downhill real fast. It bolted, and there was no stopping it. Maybe I'll try again next year. Oh, and the solo pepper plant.
I actually attempted to grow stuff from seeds: mint, broccoli, basil, cilantro... and NONE of it got past the baby shoot stage. I'm a plant killer.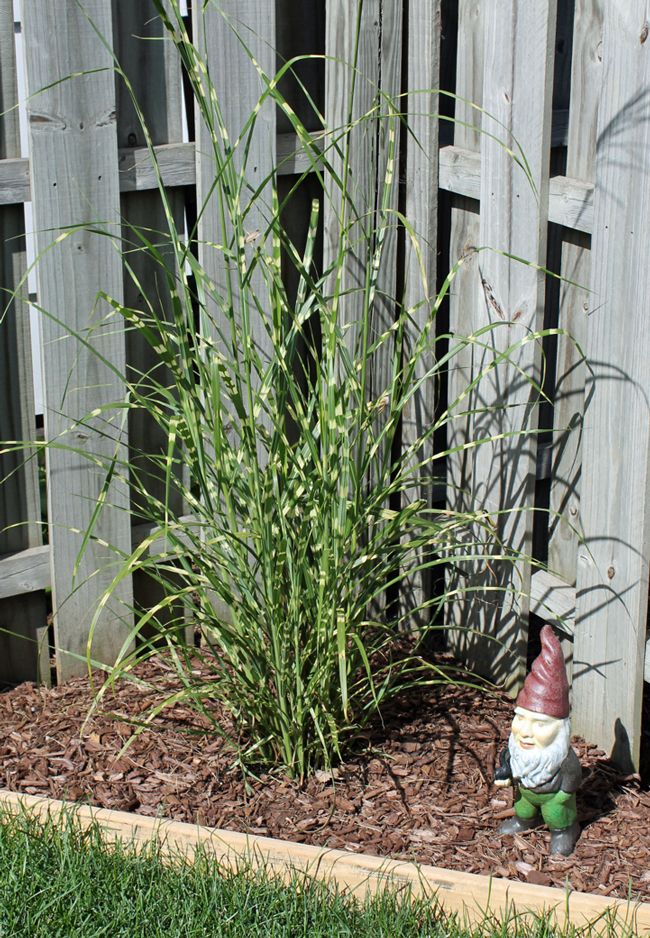 Here's a new plant I bought for the yard and it seems to be doing very well. It's a decorative grass that has horizontal yellow-ish stripes. We planted it in the back corner of the yard, and now my gnome has a place to live. In the grass.
This was an amazing dutch oven cast-iron pot... until it cracked and peeled on the bottom. WTF?! So I turned it into a planter for these cute little cacti that I had on the porch. I really love the color of this pot, so I was glad to be able to find a new use for it.
And this square planter held a flower arrangement at a family funeral. You never quite know what to do with all of those flowers afterwards... so I volunteered to take this particular arrangement home with us, specifically because I pictured an aloe plant living inside the square pot. I'm a big fan of this.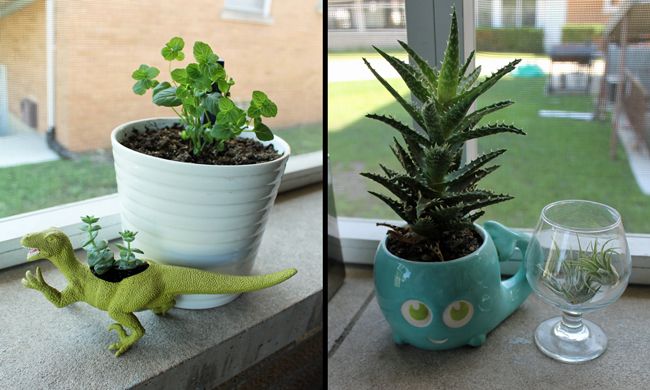 More unusual planters! My "Vic the Velociraptor" dino planter (first featured in
my home/bathroom tour
) has been re-planted with a new tiny succulent. Since my mint seeds never grew, I bought a plant and put it in this pot on the porch. I'm currently teaching myself how to trim it so that it gets more bushy, like you can do with basil. So far, so good.
My succulent on the right is going insane! I planted it in my whale teacup that got weird and cracked and crazed and would no longer function as a teacup. Again, I loved it too much to toss, so I found a new use for it. Next to my whale cup is a couple of air plants that we're trying not to kill.
Lastly, here is another cute little succulent arrangement from our front porch! This planter is actually plastic! I bought it from Target several years ago, and only now thought to put these cute little guys in it. It looks so nice on our front porch ledge when you walk up. I'm hoping that my succulent gardens will transition indoors in the wintertime and last through the cold...
Rock On,
Jen @ Hell Razor
now playing: