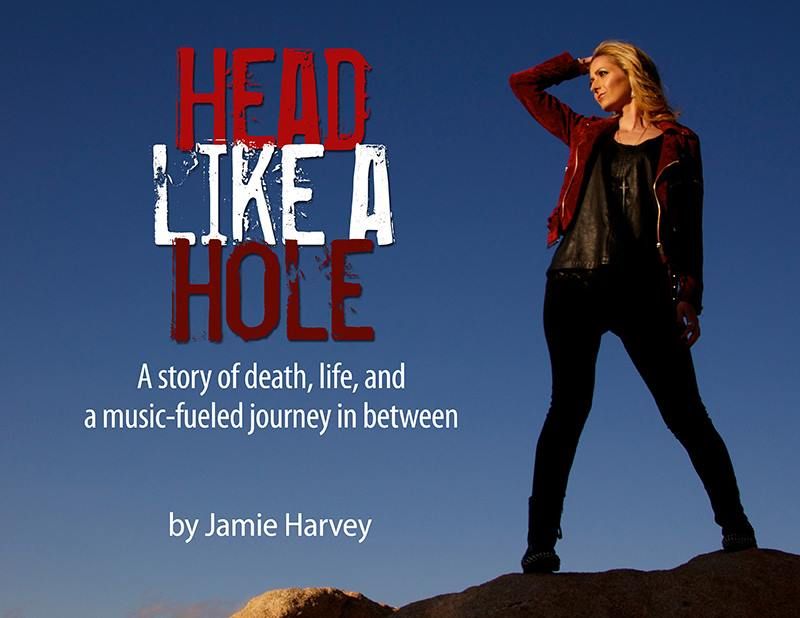 Hard Rock Chick
is Jamie Harvey, a blogger who attends a ton of shows and writes all about them. So many, in fact, that the GRAMMYs recruited her in an official capacity to cover their events! She is a regular contributor to GRAMMY.com, and also their
official Rock Blogger
.
I was pretty psyched when she agreed to be interviewed for the Betties N Brimstone blog, as I've been a fan of hers for a few years now, and just finished reading her book. You can also find Hard Rock Chick on
twitter
,
facebook
, and
instagram
where she posts from shows in real time if you're into that kind of thing.
Check out our interview below!
Jen: First of all, congratulations on your book! It must be really exciting to complete a major project like this. Being that you go to so many shows, how did you choose which concert experiences to include in your book?
HRC:
Thank you! It was a multi-year endeavor, and when you're used to blogging and having your words 'out there' within minutes of writing them, it was a very different and challenging process for me. For the shows I chose: I worked within the timeframe of the book, and then just sat down and thought about what shows came to mind as important ones in that time period from my memory. It's unfortunate that an Insane Clown Posse show I went to as a 'joke' will forever be engrained in my memory. Then I went back and read my blog pieces for those shows and made sure they fit well within the context of the book. These are the shows that played a key role in my digestion of what was happening to me. I then edited them further for the book.
Jen: My husband lost his father six years ago within a very short, unexpected period of time, right before we got married. Your struggle with the death of your mother was very real, as I vividly remember my own personal experiences with death. I can still see the effect it has on him each day. Besides music, do you have any other outlets that keep you sane when you're feeling overwhelmed with it all?
HRC:
I'm sorry to hear that, but very glad you have each other. The other huge component of the book is that I traveled extensively. A change of scenery- whether it be the other side of the globe or another zip code- has always been a huge help for me. I re-realized how big the world is, how my problems paled in comparison to others, and, in retrospect, kept my mind incredibly busy trying to navigate and tackle my itinerary and marvel at my favorite artist- Mother Nature- rather than wallowing in sorrow in my bedroom. Having a good group of friends helps, too. I've always been a loner, but during the time during and after my mom's death, I found myself in a great circle of friends. They provided a lot of good distractions.
Jen: Your working relationship with the Grammys sounds like a dream job! I've always wondered though, how do you remember everyone's names? Have you ever had an embarrassing moment?
HRC:
Haha, great question! I really lucked out to have this role as the Rock Blogger for the GRAMMYs for the past 5 years. The short answer is that it is impossible to remember everyone's names. However, over time I have learned the cheats. If it's a red (or black) carpet situation, you are provided with cheat sheets a lot of the time, and press people also walk the artists down the carpet with a sign or verbally tell you who it is, and the last line of defense is to simply ask the outlets next to you who it is. I'll be honest; I have interviewed people before who I had no idea who the hell they are, especially in GRAMMY situations where I am working outside my core genres. As for calling out names when doing social media, a funny story comes to mind. I was seeing Motörhead in the early days of tweeting, and my iPhone autocorrected 'Lemmy' to 'Lenny'. It's funny how (almost) no one replies to you to say nice things; but when they think you've made an idiotic mistake, they are sure glad to point it out!!! Obviously I know who LEMMY is.
The HRC blog!
Jen: (What seemed like) shortly after your book was released, I saw via Instagram that you got married! Congratulations again! (I almost felt like an addendum to your book was in order!) Care to tell us a little about this new adventure?
HRC:
Thanks! I thought about that. Truth is, I got married a week before my book was released. It just worked out like that! Because it was self-published, by the time I finished the manuscript with the professional editor I hired, and had it professionally designed to fit my vision of what an e-book should be, it was approaching a year after I had finished writing it. My husband and I were set up by my Pilates instructor/friend... once we got around to dating, right when I finished my book, it was a pretty fast courtship. We're older and knew what we were looking for. But, considering the end of the book, it's kind of poetic!
Jen: Your husband is a musician. Do you still get to see each other a lot? Do you get to travel together?
HRC:
I snagged the rare form of musician who doesn't tour much! So we'll have to cross that bridge when we get there. He's had a couple of bands- formerly the GT350s and currently
Bryce Wayt & The Silver Wolves
. He also plays with some other bands and records with others at times.
Jen: One of the things that you and I share is our love for all things Nine Inch Nails-related. Which NIN show was your all-time favorite, and why?
HRC:
It's hard to pick a favorite!! Part of me wants to say the Webster Hall show where they surprised us by playing The Downward Spiral, part of me wants to say the Bridge School Benefit (which isn't exactly a NIN show), part of me wants to say the GRAMMY's performance earlier this year because *flicks hair* I got to be right there for it and nobody else did (even those trying to watch it on TV)... BUT the show I probably enjoyed the most was the 'Wave Goodbye' (HA!) Fonda Theater show. Grrrreat setlist and special guests, and it was a whirlwind day as I scored a ticket last minute, booked a flight leaving in an hour, walked into my VP's office at the time and told him I had to leave, and barely made the show. I used to do crazy things like that!
However, NIN fans- and even non-fans- generally like to hear
my story about Mr. Reznor sneaking up on me in the San Diego airport using the NIN app
. It's a great demonstration of how current technology has lead to fans meeting their musical idols!
Left: HRC meets TR and NIN. Right: Todd and I had our own NIN adventure, too, right before we got married! But that's for another blog post...
Jen: Do you have any advice for anyone who wants to get involved in the music blogging world?
HRC:
Yes.... in my opinion, it is hard to start fresh these days, as an independent writer. I lucked out and was doing this very early on, so I didn't have a lot of competition when I started. I would recommend finding a blog you like and try to write for them. If you're going to blog on your own, I think it's key to just keep writing a lot, and putting it out there. And edit!! I see so many badly written things out there- you've really got to take the extra time to make it readable, or take a course or two about writing/copy editing. I know a lot of people who have tried to start blogging and just simply don't have the drive to keep it up. People will say 'you're so lucky!' to me, but just take a look at my site: I've maintained it for almost 8 years by myself, and have written about over 700 shows. You do the math. One blog a month won't cut it. Secondly, you need to have your own unique voice. I am fully aware that a lot of the time I sound crazy... but I have branded my own crazy voice and it contrasts immensely with the form and style of other bloggers in my genres, who tend to go the humorous/snarky route, the technical/music geek route, or the elitist route. Also, it helps to work within a defined genre, or have a very specific focus. I run the gamut, which is why my site has never been super successful. That and it's just me, and it's just my hobby- I have 2 day jobs! Also, don't expect any money. Free shows, yes- and tons of great memories!
Thank you so much for answering our questions! Don't forget to visit HardRockChick.com for all of HRC's latest adventures, and to snag a copy of Head Like A Hole via Amazon, Nook, or iBooks!
Rock On,
Jen @ Hell Razor
now playing: