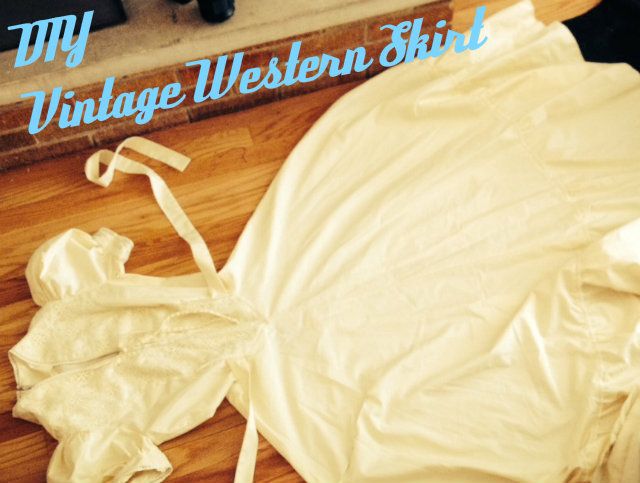 Howdy!
I've recently been trying to sniff out a cheap, but cute country inspired vintage skirt for a country wedding I'll be attending this weekend. Unfortunately, my search was not a success (in the "cheap" department anyway).
However, on a recent Salvo trip, I came across this AWESOME cream-colored 70s prairie dress. It was TINY, but the skirt was long and flowy…Instead of putting it up for sale, I decided to dust off my sewing skills and make my own skirt! It turned out to be much easier than I expected AND I'm not down $50 - $100.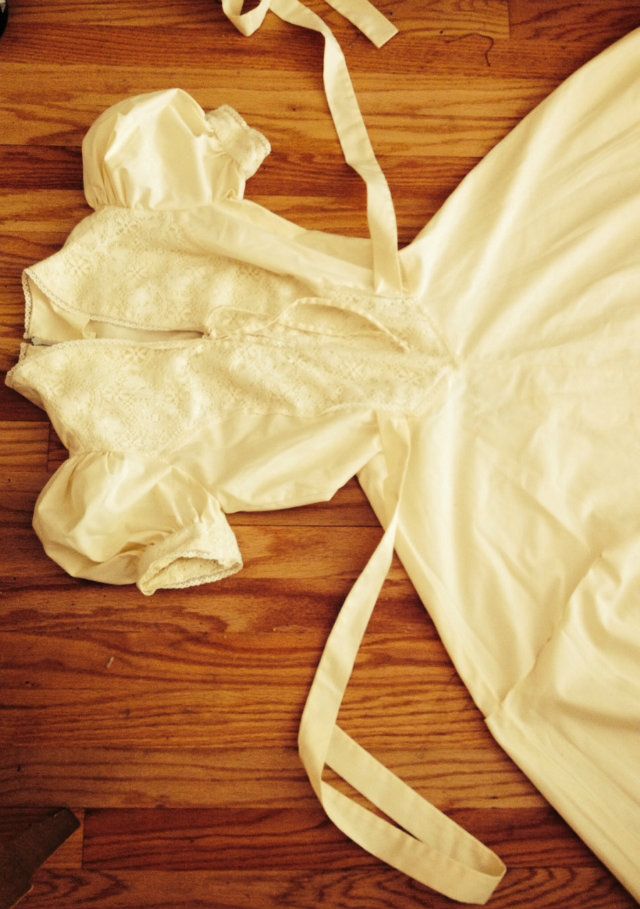 First, you have to find the dress in which you want to make your skirt out of. You can find MANY long dresses at your local thrift store or even in your closet!...That old bridesmaids dress in the back of your closet collecting dust…GRAB that sucker! When choosing a dress, make sure that the skirt on the dress is wide enough to go all the way around your waist and long enough to comfortably cover your nether regions.
Next, you have to measure your waist (don't be afraid, it's easy). This is the area where you want your skirt waistband to sit. Grab a measuring tape and wrap it around your waist and take note of the number where the end meets the tape. Make sure it's comfortable and don't make it too tight or your skirt will squeeze the life out of you. It's also a good idea to add ½ an inch or so to your measurement in order to giver yourself some breathing room. Once you have your number, divide it by 2. For example, if you have a 40-inch waist, then your number would be 20in.
Now, you will need to measure the top of your dress skirt in order to figure out how long it should be and where you should cut for your waist hole. Measure from the bottom up to make sure it is going to be long enough and add an extra ½ to 1 inches. At the top of your length measurement, you will measure across and check that you have at least enough fabric to cover ½ your waist measurement. So, going along with the above example…for a 40 inch waist number you would measure to 20in. If you have more than enough fabric don't worry, you can bunch the fabric up to make pleats. Once you're comfortable with your measurements, you can either trace out a slightly curved line with a pencil or just make the cut with sharp scissors.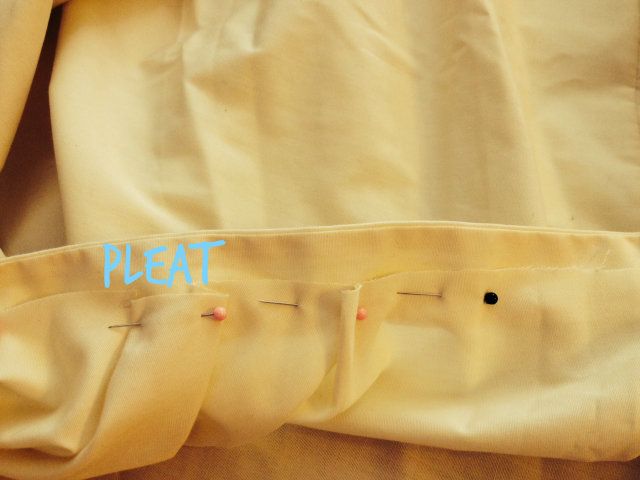 After that, you will need to make a waistband. I used the ties from the top of my dress, because they were already doubled and sewn together, but you can also use a rectangle of fabric leftover from the remnants of your dress that you can double over and sew together. The length of the waistband will have to be equal to the number you got when you measured your waist…So, if you have a 40 inch waist your waistband will have to be 40in long.
Now, it's time to sew! You can hand sew (which I'm not very good at) or you can use a sewing machine like I did. You're going to start by sewing your waistband together. I sewed the ties from my dress together as my waistband, but if you're using a rectangle of fabric, you'll just need to fold it in half long ways (pretty side together), straight pin it together, and then sew it together at the bottom so that you have created a tube. You will also want to sew ONE end together. Once you've finished sewing, you will want to turn it inside out (so that the "pretty side" is showing now) and you will want to tuck the ends of the open tube in just a little and then sew it together. Now, you have your waistband!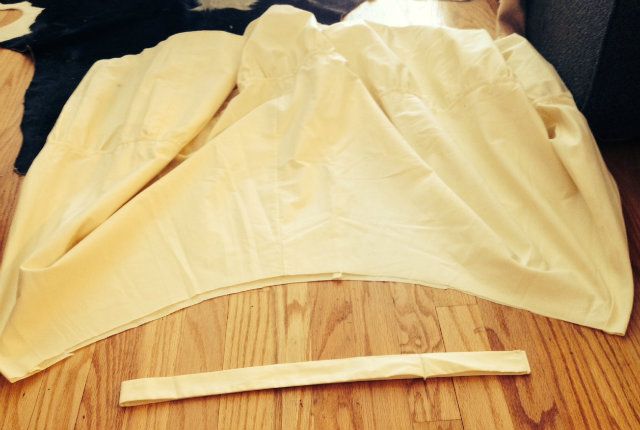 Next, it's time to sew your skirt and waistband together!
Straight pin your skirt and waistband together. If you have more skirt than waistband, just fold the access fabric into
pleats
and pin it onto the waistband.
It doesn't have to be perfect, as long as you like it, go for it!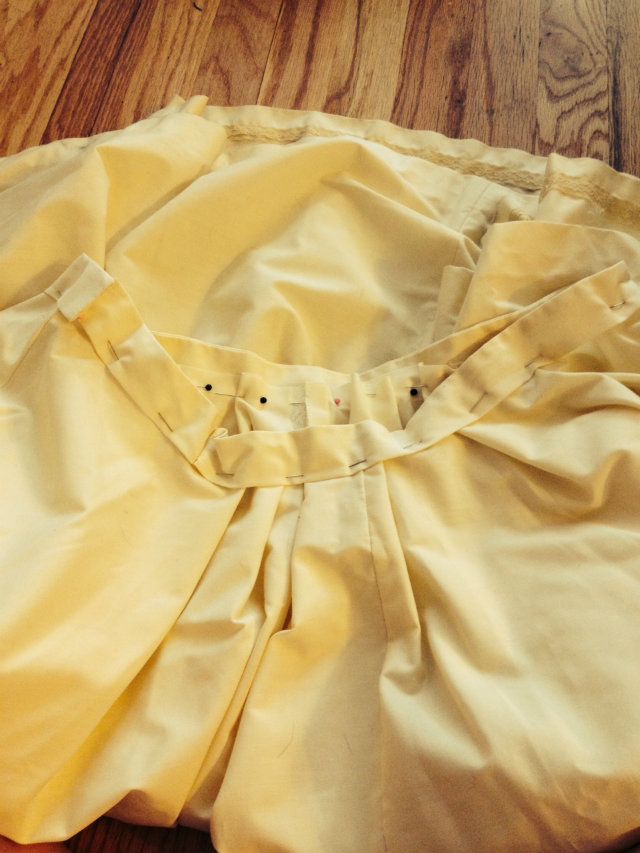 Once everything is pinned go ahead and start sewing your skirt and waistband together. Use a thread that is the same color as your skirt or a different color if you want to see a colorful stitch along the bottom of your waistband) and sew the skirt onto the back of your waistband taking your pins out as you go. **DO NOT sew your waistband closed. You will need to keep your waistband open in order to slip in on and off (and if you want to add a zipper...which I didn't do).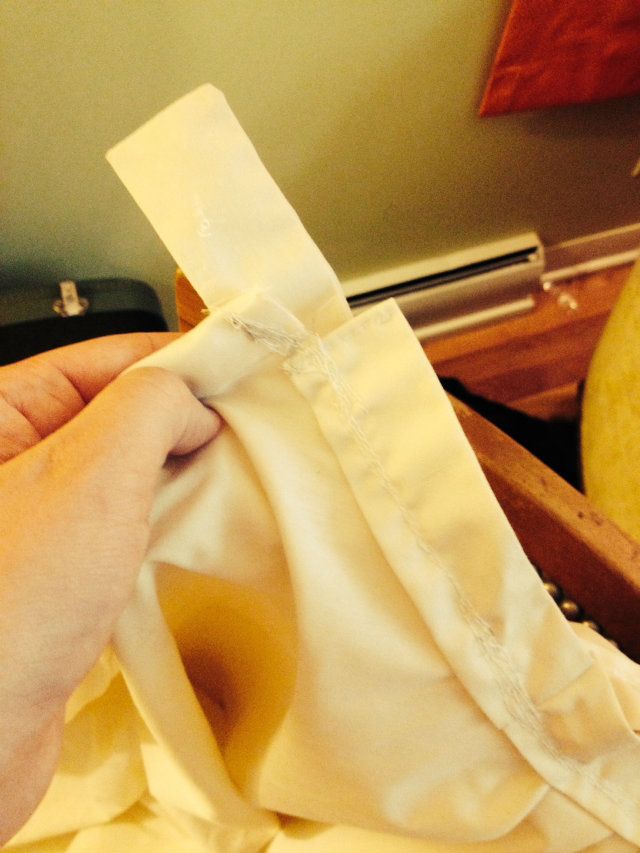 Now for a fastener mechanism. Some of you may be adventurous and will want to sew in a zipper. if that sounds more your style
click here for directions
! It's super easy, I just didn't have a zipper in my sewing box. I used a vintage button and hand sewed a button hole into my skirt's waistband.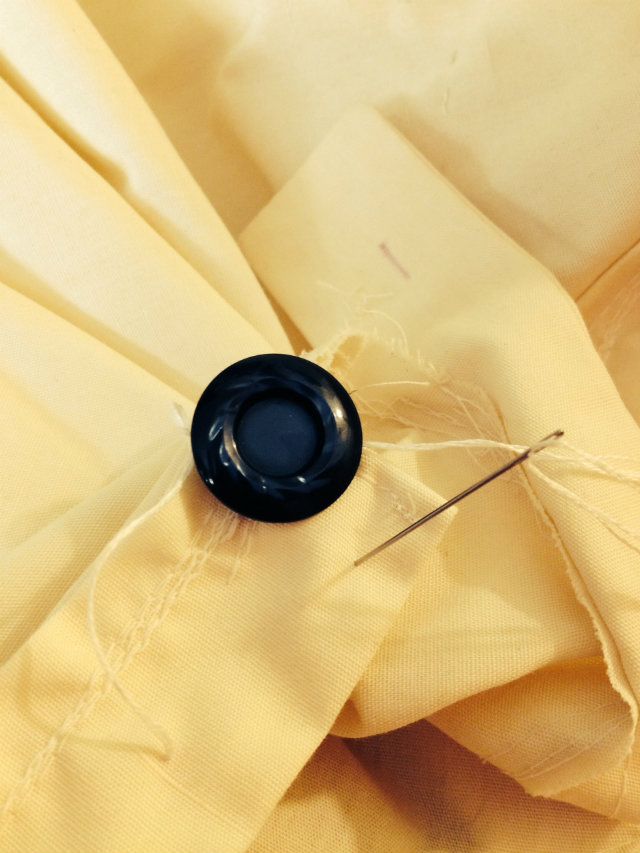 I hand sewed my button into place and then hand sewed a really interesting Stephanie-style button hole...But it works! If you wanna do it
like an actual pro click here
!
Here's the finished product!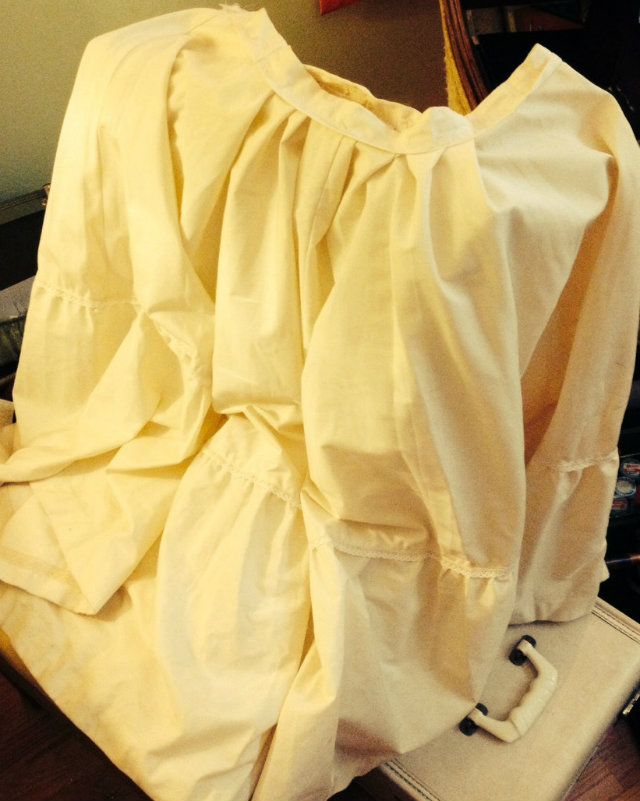 Until next time!
~Steph @ Calamity Layne!