While out in Las Vegas with Todd, I was contacted by a content director from
Vegas.com
to participate in the #MyVegasStyle blog challenge. Since I actually DID stay at the
Aria
while in Las Vegas, they asked if I'd share my take on a day at the
Aria
, and show how I'd transition my outfits throughout the day...
Now that I'm back from Vegas, I think I can look back and show you what experience has taught me, and give you a good idea of how I'd do it all over again, and what I'd change, or keep the same!
One of the things I love MOST about vacation is not having to do anything, and getting LOTS of lounge around time at the hotel! Todd like to keep the room nice and chilly, so I'd pack a long comfortable dress, like these maxi dresses (still acceptably goth in black, of course!), and a pair of flat comfortable shoes! When we were in Vegas, I didn't bring a pair of "lounge-around" shoes, and I ended up buying flip flops from the
Elements gift shop
, just to hang around the hotel! I like these sweet skeleton loafers WAY better though, don't you?
We spent a lot of time just hanging out, playing games on our phone, and even had a Facetime call back home to Iggy. I think that this awesome knuckle phone case (pictured above) would've been perfect for all the phone time I had!
As you all know already, our big event in Vegas was our vow renewal with Elvis! I made a little collage of items inspired by (and some the same as!) what I wore to our ceremony. I wouldn't change anything about that! After our ceremony, we went out for dinner and walked around downtown Vegas.
see how I included some awesome Hell Razor stuff up in here?
My favorite restaurant in the Aria was
Javier's
! They has awesome Mexican food and really cool decor with skulls and skeletons that had kind of a goth flair. We sat in a round booth in an alcove-like space, and our waiter was really friendly. There's great mood lighting inside, too. I'd go back again in a heartbeat! I think Javier's would have been a great place to hang out in my rockabilly wedding getup after the ceremony!
We did not spend any time
at the pool
while at the Aria (what a shame!), but if we did, I just bought a really cute polka-dotted retro-esque suit from
Swimsuits For All
that would've been perfect! It's not too different from the one pictured below, actually. And check out those rad mermaid wedges!
When we were in Vegas, we went to see a
Cirque du Soleil
show (the
Beatles LOVE
), but the Aria has a Cirque show of their own right in the hotel! If I got the chance to go back, I'd wear a little Wednesday Addams-inspired getup, sort of like this, for a night out with a show like
Zarkana at the Aria
: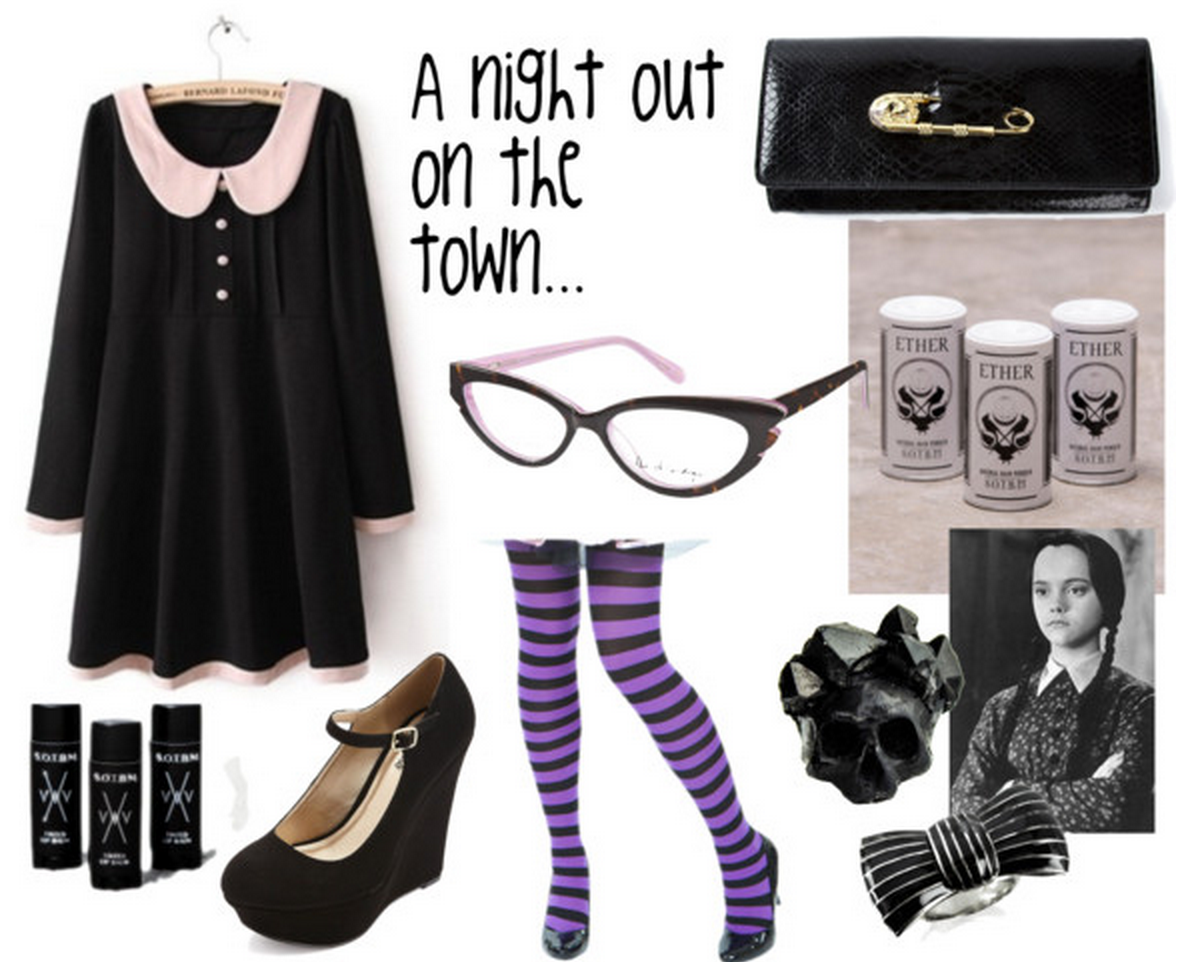 So there you have it! My vacation outfit wish list! I might have to use some of these ideas (especially the hotel lounge-around getup) for my next actual trip... like Lisa's wedding in New York in October! Hmm, I'll start saving my pennies now!
Rock On,
Jen @ Hell Razor
p.s. For full details on all of the individual items in the boards pictured above, please visit my profile and boards at Polyvore.com!
now playing: