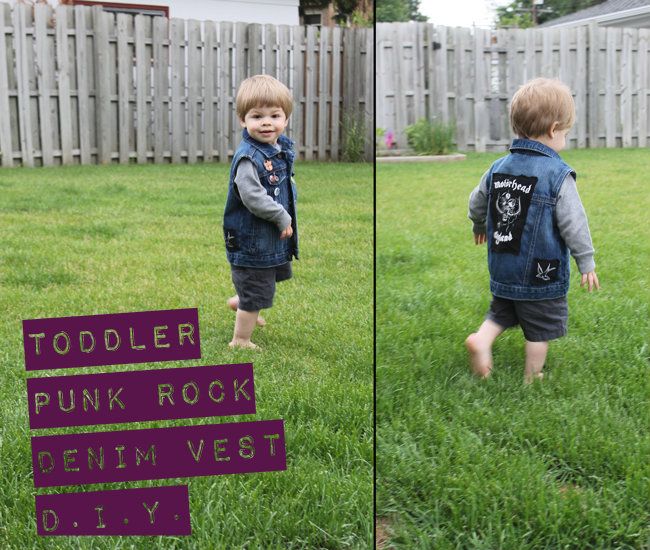 I LOVE this DIY project! I've been wanting to make a denim vest for Iggy for a while now, and summer finally afforded me the time to do it, although to be honest, this isn't very hard, and doesn't take much time. It's the gathering of supplies and actually sitting down to do it that caused me to postpone my plans a little. I can be kind of a procrastinator like that.
So, if you're not feeling crafty, you can actually find ready-made punk rock vests for kids on Etsy, but wouldn't you rather CUSTOMIZE your own with exactly the things that
you
your kids like?!
STEP ONE:
Get a denim vest. Ok, that's not actually so easy. They're hard to find, and if you can, they're expensive?! What I did instead was buy a denim jacket, like at Target online, for around $15-$20. Then, cut off the sleeves! Let your kid run around with the sleeves while you're working on this project - it'll keep 'em busy... I also bought the jacket in a size 3T, even though Iggy currently wears a 2T. If I'm putting this much effort into it, I'm going to make sure that he's gonna be able to wear it for a long time.
STEP TWO:
Gather up your supplies. I had to ask Todd to go up in the attic and pull down a bunch of Iggy's infant onesies, so that I could choose which one would become the "back patch" of his vest. It was a choice between Motley Crue, Slayer, and Motorhead. We went with Motorhead, since it's also our dog's name. I found his NIN onesie, which was actually a patch ironed onto a plain black onesie, so I snagged that for his vest, too. The buttons I had on my bulletin board in the art studio, and the little swallow design was cut from an old t-shirt of mine. Originally, I planned on adding the Superman patch, too, but decided against it later on. I kind of liked the black and white theme on the back...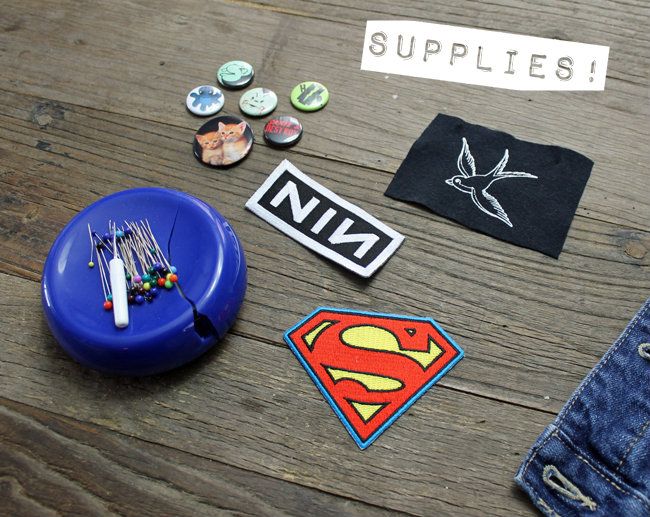 STEP THREE:
Pin and sew! After cutting up Iggy's Motorhead onesie, I pinned the design onto the back of his vest before using my sewing machine to stitch all the way around the edges of the design. ...Okay, actually that's a lie. My machine thread sucked and kept breaking, especially over the denim seams, so I gave up after three sides and just hand-stitched the rest. Your choice. (
Mental note: buy better machine thread...
)
STEP FOUR:
Repeat step three for your other sewn-on decorations. Again, I went with the hand sewing for the NIN patch. Too thick for the machine. I was, however, able to machine stitch the swallow using a zig-zag stitch. Because zig zag stitches are fun.
STEP FIVE:
Arrange and pin your mini buttons to the front of your vest. I would also love to add studs to Iggy's vest, but I just didn't have them at the time. So I reserve the right to add them in the future, as well as other buttons and patches. It's a wearable work-in-progress!
Below:
detail shots... I was too lazy to even switch to white thread to sew on his NIN patch. And yes, a kitten button. Because, kittens.
THE FINAL RESULT:
You know I had to bribe Iggy with going outside shoe-less in order to get him to wear this and let me take a picture... ughhh adorable...!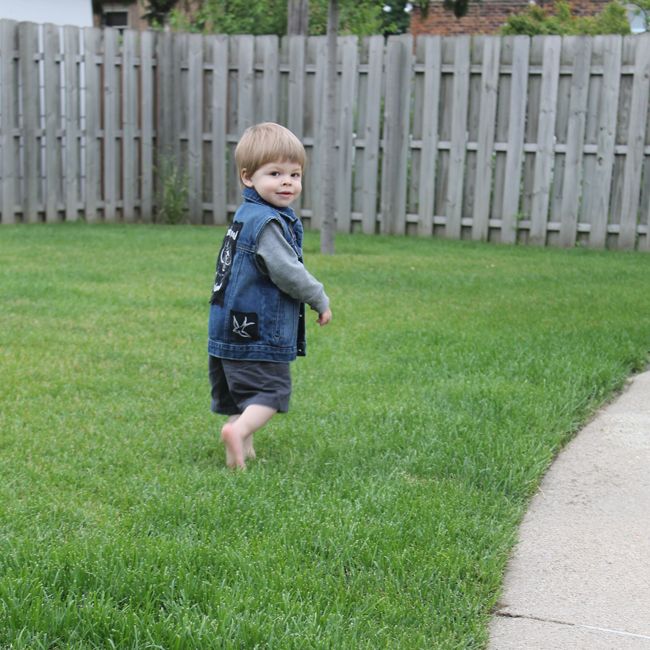 I'm glad that I made this is a slightly larger size than needed, so it'll not only last him a long time, but it'll allow me to add decorations to his vest as time goes on, too!
Rock On,
Jen @ Hell Razor
now playing: