dress - Target / cardigan - Forever 21+ / earrings - via Etsy / flip flops - Cheeks
Hey! Long time no see! After a long hiatus from outfit posts, I'm back! During the summer, I can rarely drag my butt outta bed and shower, let alone put on an outfit even slightly worthy of taking photos. I can't even make any guarantees as to when you'll see me again, either. But let's just enjoy this time we have, ok?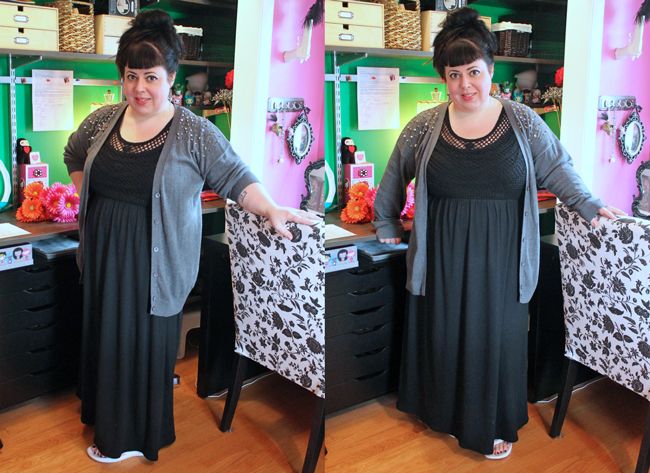 I fell in love with this dress after seeing
Meagan Kyla of Coffin Kitsch
wear it
on her blog
. Of course, she has a very different body type than me, but I bought the biggest size available and was pleasantly surprised at the fit! What you don't see here is the approximately 4 inches or so that I had to take off of the length! But since it was a pretty inexpensive dress with fairly simple t-shirt material, I DIY-ed the hem using a zig zag stitch. Hooray!
The crochet top detail on this dress is what really won me over. So much goth-y goodness.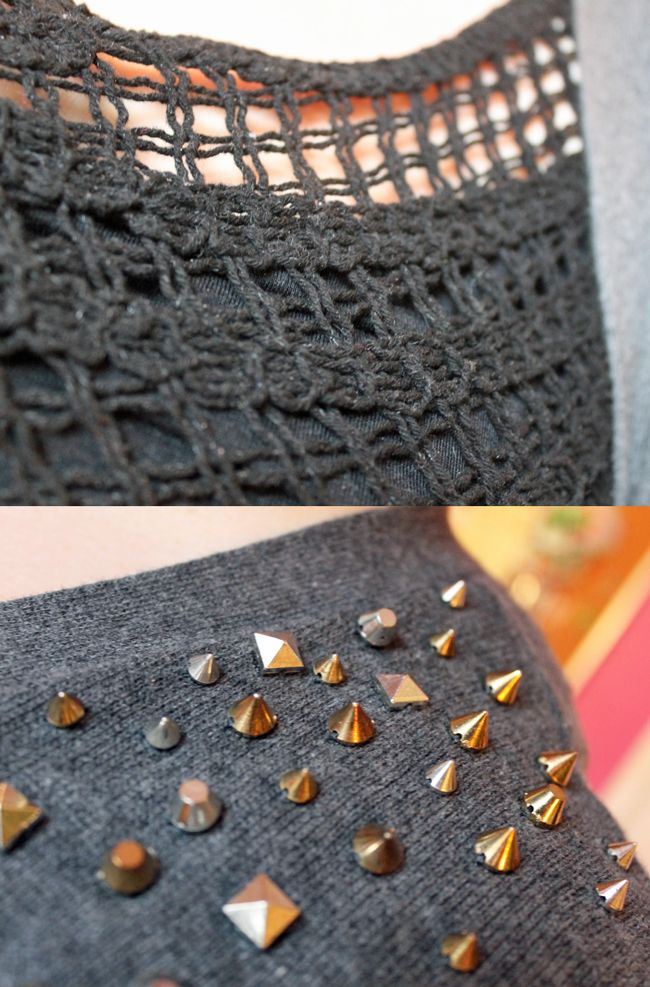 The dress is sleeveless, and we've had a pretty mild summer (yay!) so far here in Chicago, so I wore my studded cardigan. I seriously considered wearing a black cardigan and going full "all black, all the time" on this, but in the end I went with a little more contrast.
By the way, I cut my hair! Well, just my bangs. Later this week I'll give you more details on that, but it deserved mentioning. And summer hair typically calls for putting it up and off of my neck as much as possible, even when hanging out at home, so I'm rocking the messy bun a lot. Another advantage of this hairstyle? Less hair washing. Woo hoo!
Have I showed you these earrings on the blog yet? I bought
these on Etsy
as a less-expensive substitute for
these lust-worthy ones from Blood Milk
... maybe one day...
Ahh! My toes are on the blog
again
! These less-than-fashionable shoes were a hand-me-down from my mom. I'm kind of embarrassed to admit that they're
HSN Tony Little flip flops
. LOL. But the price was right - free. I know, I know, white shoes are SO not ME. But I just go for it. They don't make my feet hurt so much. At least I got around to painting my toenails!
Rock On,
Jen @ Hell Razor
now playing: