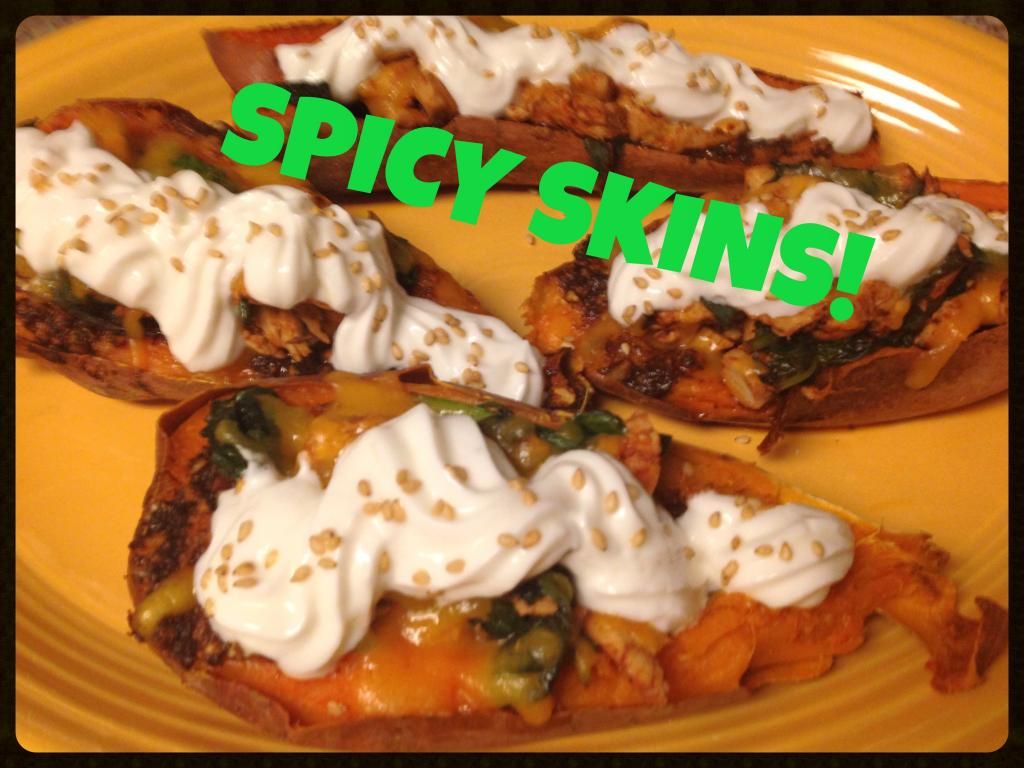 I am in love with Jenny and Aaron from "
Everyday is a Holiday
". I started following them on
Instagram
and then on
Facebook
. They are two incredible artists that have been in love for many years. In their cute home on the Jersey Shore they create beautiful art that they
sell
and together they create amazing dishes and post the drool worthy pics all over social media. Lately I noted their post's had a ton of sweet potatoes and influenced I picked some up on my last shopping trip. Not sure what I wanted to do with them I went through the
recipe
section of their blog and found
this
tasty recipe.."Chipotle Chicken, spinach and cheddar sweet potato skins." Since this recipe was posted last year the "Holiday" duo has now been cooking more vegetarian and vegan so I know they would be OK with some of my switch outs. This dinner came out so good that Shane told me it needed to go into our regular rotation.
For my take you will need: 3 sweet potatoes (get fat ones, I learned the hard way), 1/4 cup olive oil, salt, pepper, 1 tsp chili powder, 1 tsp cumin, 2 tsp minced garlic,1 tsp oregano, 1/2 cup shredded cheddar cheese, Greek yogurt, 2 cups kale, 2 cups shredded chicken or like I used "Chicken-less" strips from Trader Joes, AND this incredible
chipotle pepper paste
! It is from
Roland foods.
My friend is their talented packaging designer and she spoils me with treats from her company. This paste is amazing! I cannot wait to use it on many dishes...you need about a tsp or to taste as its HOT!
First thing you want to do is preheat your oven to 350. When it is nice and hot get stabby on your clean sweet potatoes and let them bake for an hour so they get nice and soft. While they are cooking prepare your chipotle sauce. First I took my garlic and minced it in my
mini food processor
, I LOVE this thing as I hate chopping garlic and or onions and this lil baby does the work for me...its a must have tool! Then in a small bowl take your spices, olive oil, garlic and give it a good swirl! Then add your chipotle paste and salt and pepper to taste.
(Note my super cute pot holder? Since this post is full of shout out's to awesome friends..I will share where it is from which is "
Psychobaby
". They are an awesome kids store here in Chicago and have branched out to some fun items for the home. I just HAD to have the
pot holde
r...got a cutting board too!)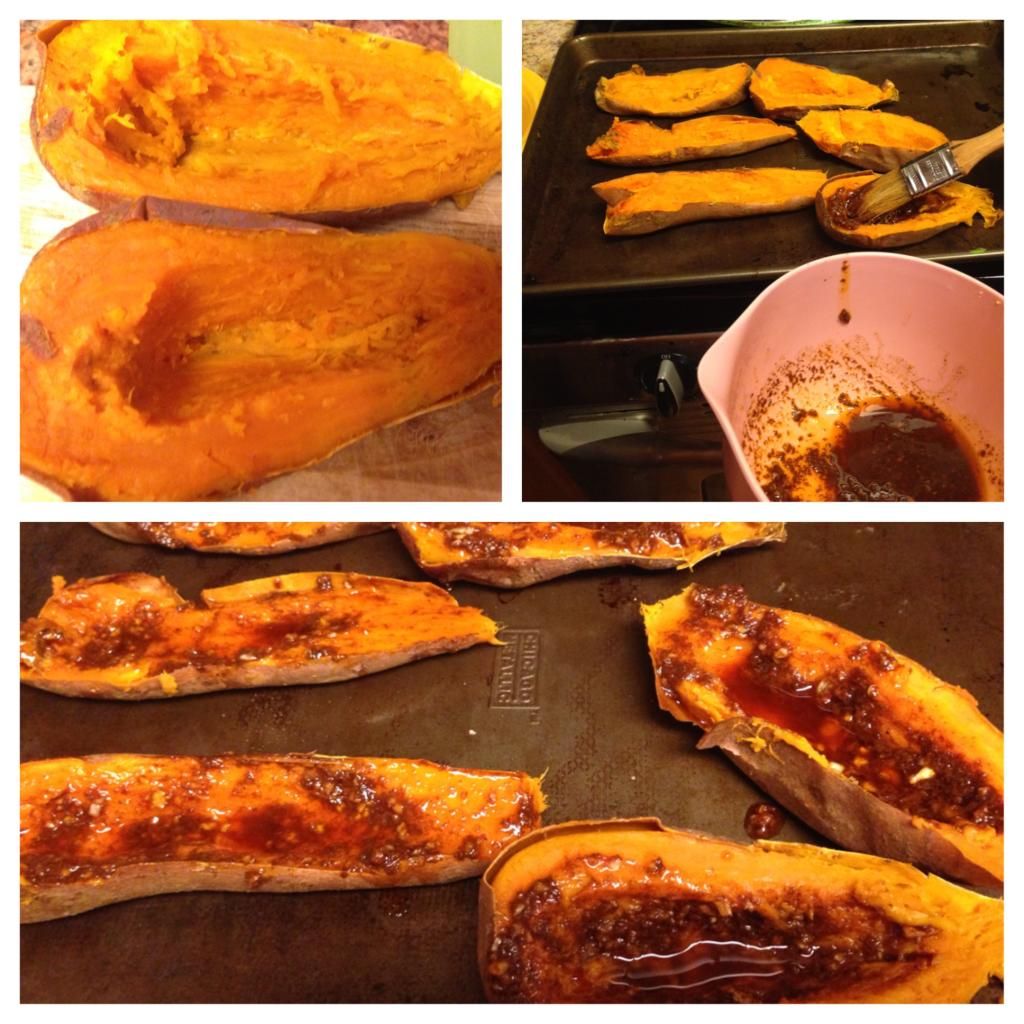 At this time you also want to chop up your "Chicken" and Kale. This way you have it all prepped. When the potatoes are done, take them out of the oven and let them cool for about ten minutes. Then you will cut them in half and scoop some of the insides out (put the extra's aside, I sneaked some of mine into Gunnar's mac and cheese!). What you need is a shell with just enough potato but room for the goodness you are preparing. When that is done, take a pastry brush and paint those potatoes with your chipotle sauce, and put them back in the oven for about 8 minutes.
While those are cooking, take your kale and wilt it on your stove top, add the "chicken" to that and about 1/2 a tsp of the chipotle paste and let it cook for about a minute. When those are cooked, and the potatoes are cooked...add that yummy filling to them. Then take your shredded cheddar and put a nice sprinkle on top. Back in the oven they go for about 5 minutes.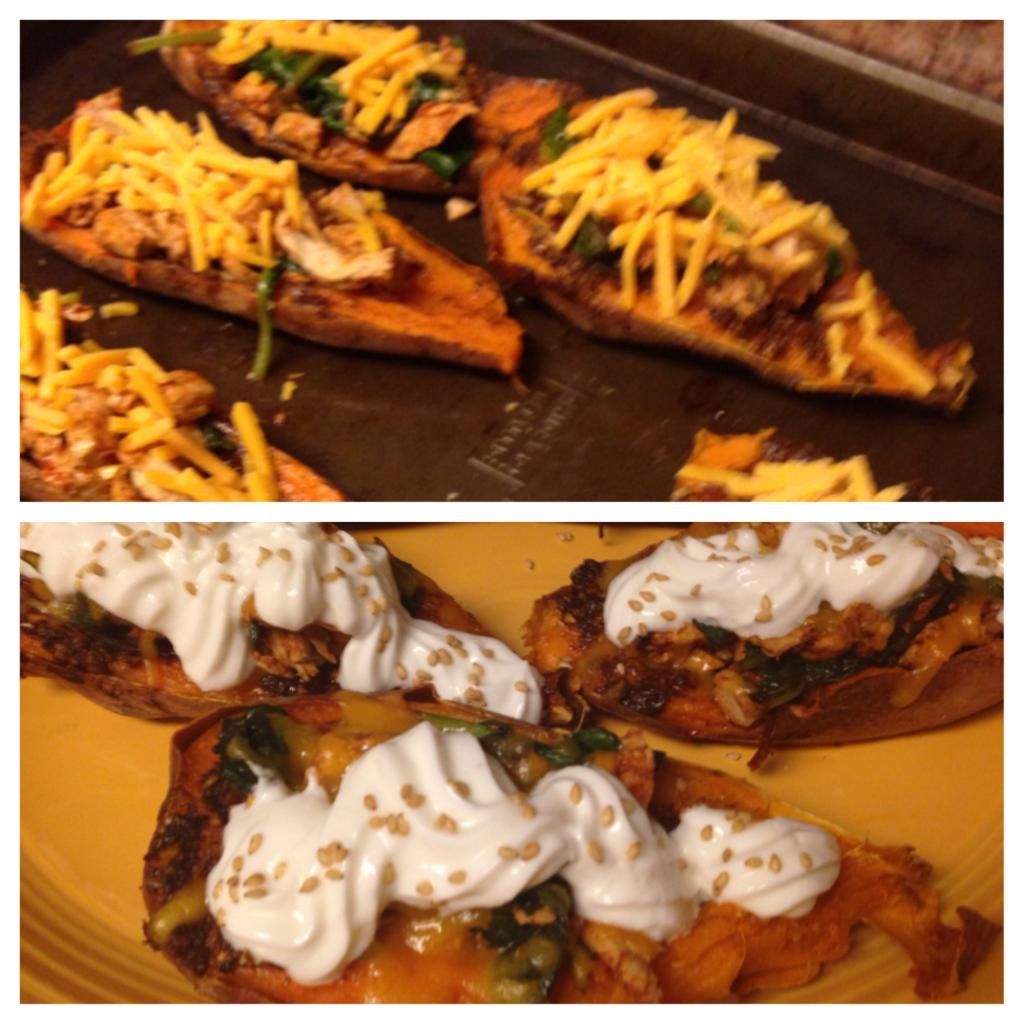 When they are done (and smell so heavenly!) take some of your Greek yogurt (or sour cream if you like) and give a nice plop..or be fancy and use a pastry bag like me! I then garnished with some
garlic sesame seeds
from
Roland
again because everything needs a little sprinkle!
Stay Sweet,
Lisa
now playing: