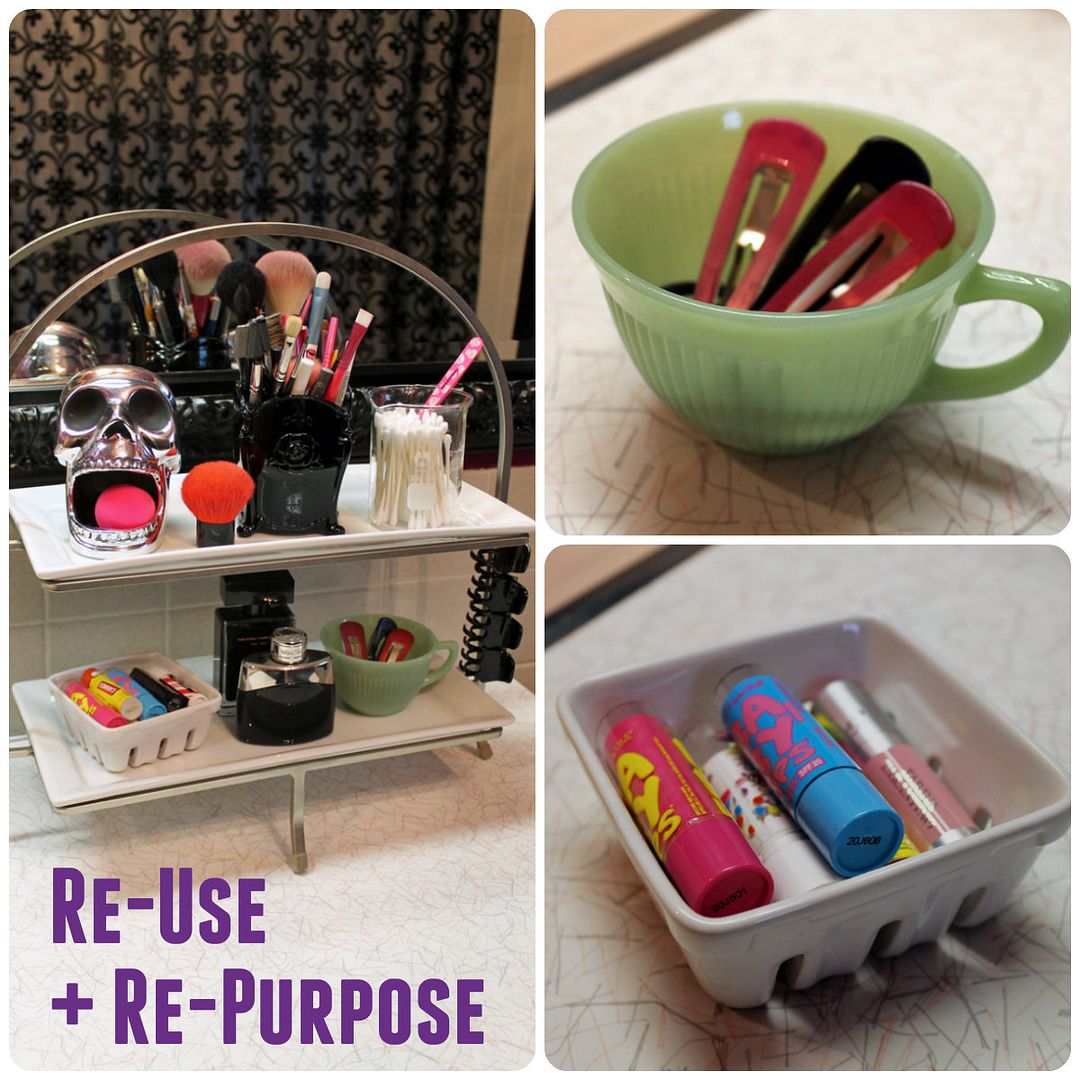 One of our favorite decorating/organizing tips at Betties N Brimstone is to use items for purposes other than originally intended! If you see a piece that you really love at the store, snatch it up and utilize your piece in a creative way - which is often not the original intended use.
I'm going to share some of my favorite (some vintage, some not) pieces here, and highlight how I've used them in different ways. In the top photo, you can see my
two-tier server with plates from Crate and Barrel
. We were gifted this cool piece five years ago as part of our wedding registry. I love it, but it fits NOWHERE in terms of storing it when it's not in use. My solution was to put it in use 100% of the time in the bathroom as a storage/display piece - and now I love it even more than ever. (For more of my bathroom,
check out this post here
.)
Within this storage piece are several other interesting items I've repurposed, too! Starting with my favorite vintage Jadeite teacup. I only have one. It sat in my cabinet, alone, forever. I was too afraid to actually use it for tea, thinking that I might break it when washing. It's also kind of small compared to my giant cups of tea. No one ever saw it! So, I pulled it out of the cupboard and now it stores hair clips, elastic bands, and bobby pins that are frequently used. Yayy!
Also on this shelf is a shallow ceramic raspberry basket from
Sur La Table
(
similar here
) that I had to have because it was so cute... but I wasn't sure what to do with it once I got home. I don't actually keep raspberries around, and if I did, I'd probably stash them in some Tupperware (if I took them out of the original plastic at all). But again, cuteness! So here's a cool discovery: it's the perfect size for lipstick and lipgloss tubes!
Lastly is my favorite
skull sponge holder
. It's meant for the kitchen, you know, to store your scrubby sponge when you wash the dishes... but I use mine in the bathroom for my
Beauty Blender
makeup sponge. Now it has a special place to dry out properly after using, and it looks awesome on the counter!
Another cool option for storage of pretty much anything are these glass beakers (we got ours at
American Science and Surplus
). Right now I've got one for cotton swabs, and one for floss picks in the bathroom. This idea came from the MAC makeup counters, where I saw that these were being used for eyeliner pencils and such. These would make great makeup brush holders, too!
Just like the stand I used for other items in the bathroom, a cake stand works wonderfully for items next to the sink. Here you can see my toothbrush mug being displayed on ours (it's a vintage piece from our local antique shop), but you could use it to hold soaps, a hand towel, or even candles in your space!
Lisa, our friend Jessy, and I are all big fans of Pyrex. We all have our special pieces that we seek out. Since you can't cook with all of them at the same time, I figure that you might as well put some pieces to other good use! This dish holds my large eyeshadow palettes and helps me stay organized. Coincidentally, after I took this photo for the blog post, I found a white Pyrex loaf pan, which is a tad wider, but more narrow front to back, and holds eyeshadow even better than this one! Aw yiss!
Sometimes, just sometimes, a piece will actually work best in the way it was originally designed! For example, my vintage kitchen canister for tea. I actually use mine to hold tea, although Steph wrote a
really cool post all about how to use these canister sets for a whole bunch of other uses
!
My point here is to not exclude a vintage item if you don't have the whole "set," like this tea canister. It's the only one I have. But it still looks amazing all on its lonesome in my kitchen. I use other containers in another area of the kitchen for flour, sugar, and such anyways. You can often find one-off pieces like this at your local thrift store, so if you see one in a design that you particularly love, snatch it up!
Check out some of our other ways we've showcased creatively re-using items in the posts below:
New Uses for Vintage Items
- a good overall primer
Creative Re-Use in the Office
- Steph shows how to bring vintage style to your office desk!
Update for Vintage Planters
- using an item for its exact specifications - tips on planting cacti in vintage ceramic pieces.
Rock On,
Jen @ Hell Razor
now playing: