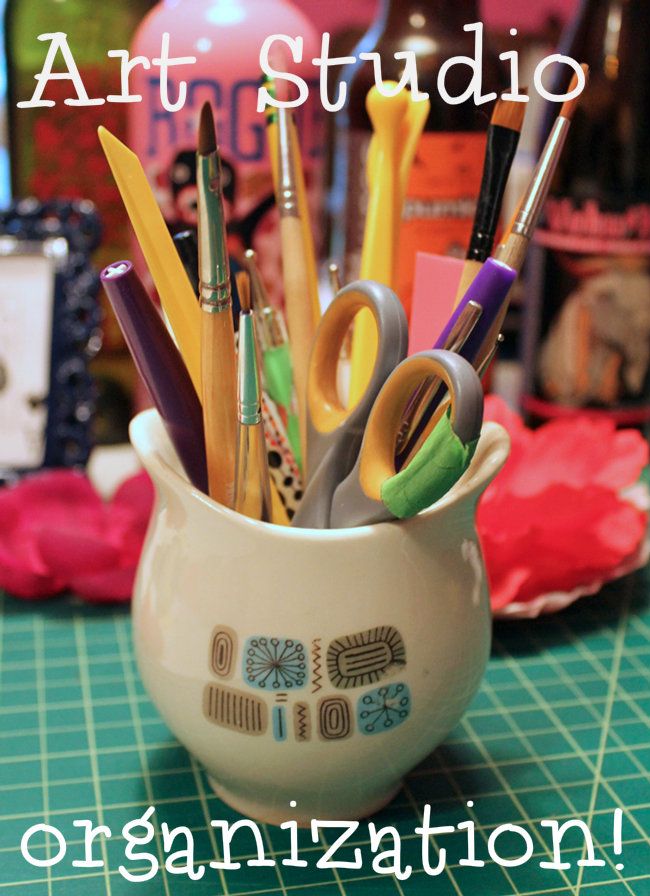 My art studio (the Hell Razor studio) is in a spare bedroom of our 3-bedroom house. I love this room, because it's painted pink, and I have all of my favorite things on display to keep me motivated and inspired when I work. A long long time ago,
I posted some photos of the studio
(hmm I should probably do an updated post!), so for now you can check that out (apologies for the tiny photos - I tried re-sizing them, but the original size is what you see - they'd get pixely if I enlarge them...).
My focus today is on some of my organizing tricks and fun ways to keep my items on hand and on display, so that you can personalize your own work space with some of these tips you think that they might work for you, too!
My first tip is to display and store ribbon on an inexpensive curtain rod
: this large one is from Ikea. I also have some overflow ribbon spools in/on a wire basket/paper towel rack that hangs on the wall... By the way, I have a bunch of black and white striped ribbon on hand right now because I anticipate using it for Lisa's wedding flowers in October! Exciting!
I have little racks with hooks in a couple of places in the art studio. I get these from places like Target, or even Home Depot. What are they usually for? Potholders? Dog leashes? They're not quite large enough for coats, but too big for keys... Hmm... Well,
I use hooks for beads, chains, necklaces, rosaries, and my sweet DIY Motley Crue apron.
One of these sets of hooks (not pictured) is used for finished necklaces, as opposed to the work in progress/parts & pieces that you see on this one below:
One of my very favorite organizational tools is to repurpose an old vintage beverage set!
I purchased an inexpensive wire holder for glasses (probably used to have a super awesome vintage set of glasses in it) at a thrift store, sans glasses. I kept it for a while until I could find 8 glasses that fit, but it was worth the wait! I found these plain glass ones at Ikea for only a buck or so apiece. Now, it's my amazing colored pencil holder! I opened up ALL of my sets of colored pencils, and sorted them by color... see below...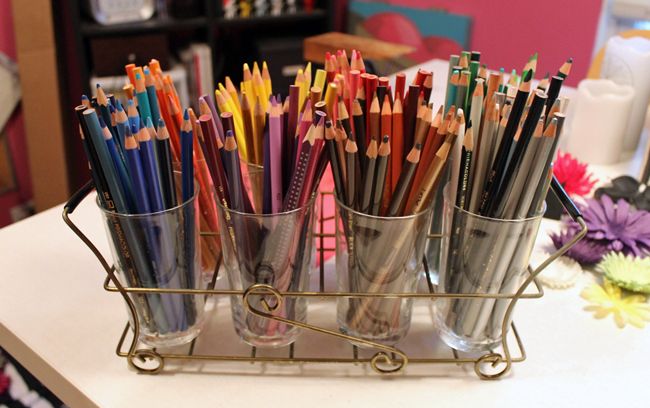 When I work in colored pencil, I was always opening up a bunch of sets anyways to get the colors that I wanted, and I hated having to fit them all back into their boxes afterwards, and trying to re-locate my colors again later on. This is the PERFECT solution. Color families all organized together, and easy to use and clean up afterwards. And bonus - it looks really cool on display on my art table! This would be a really fun centerpiece for a family dining/craft room table, too.
Another organizing tip that I use ALL the time is to
make use of your favorite vintage pieces from the thrift store, especially if it's a slightly damaged and/or mismatched piece that you wouldn't be able to otherwise use.
Above is my sole piece of
Franciscan Starburst
dinnerware. One day, when I am a millionaire, I will own a full set. Until that time, my little bowl houses random pieces of jewelry findings that await being transformed into something new. There's a tiny milk-glass-ish bowl from Todd that holds my stash of skull beads, too.
My
Temporama
sugar bowl has no lid. And it's slightly discolored. I'm not sure that I'd actually use it for sugar. But it DOES make an awesome vessel for holding all of my skull-painting supplies!
Long ago, I splurged and had the closet in the art studio re-done using
Elfa shelving
from the
Container Store
. Expensive? Yes. But worth it. One of my goals this summer was to try and reorganize/clean up the closet a little bit more, as I had stashed stuff onto the shelves that had been just sitting there for a long, long time.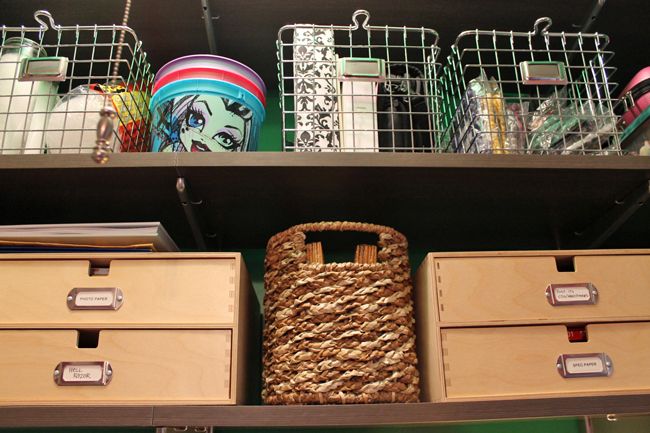 One way that I cleaned up the closet shelves were with these wire baskets from Amazon.
I love how they look, all lined up on the shelf, and I can easily see what I've stashed in them, too!
Another great vintage item that can be re-purposed in the art room are ash trays! You weren't going to use them for ashes anyways, so use them like small bowls/organizing vessels.
Super expert tip: you can use an ash tray as a water dish for painting - there's even a built-in brush rest!
My last fun organizing tip is to
use flower vases for extra long/tall items, like my "bouquet" of pipe cleaners.
It's one of those craft-room supplies that I keep pushing around, not sure where to store them. But they are less annoying (dare I say, fun?) to look at when they're put into a glass vase on the desktop!
So those are my art studio organization tips... although now, I realize that I need to write an updated art studio tour post, so I guess I've just made more work for myself? No matter. Hope that you found some neat ideas that'll work for you!
Rock On,
Jen @ Hell Razor
now playing: