So, we've been back from our Las Vegas trip for a couple of weeks now, and I've finally gotten around to sorting through the mounds of photos that were taken! I'm actually a really bad photographer during events, trips, concerts, and the like... but Todd is AMAZING! Thanks to Todd for taking so many great photos that I can share on here!
The best way I could figure out how to share this totally photo-heavy post was to split it up by day, and just give a narrative of what happened on the trip.
WEDNESDAY:
We flew into Vegas late afternoon on Wednesday. I'm not one to say that I'm afraid to fly, but I definitely have nerves going once we finally take off! We were fortunate to have seats next to eachother in a row of only two seats, both going there and back. Yay!
Once we arrived in Vegas, we checked into our hotel (
The Aria
) and walked what felt like forever to our room. I was NOT prepared for all of the walking involved in Vegas. I guess I assumed it was all moving walkways, like the airport? Not so.
Our room did have an awesome view, and the hotel has a really cool water wall feature all across the front of the hotel facade. Touristy photo op!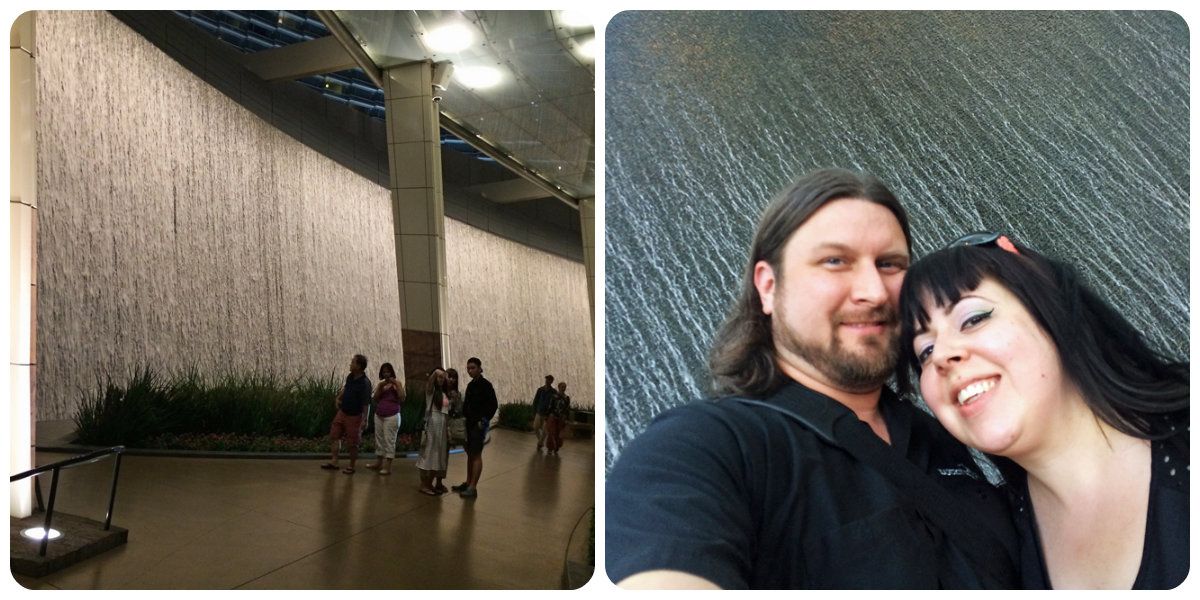 Our hotel also happened to have a super cool art collection, so we had fun wandering around in our downtime to find them. A couple of my favorites are pictured below: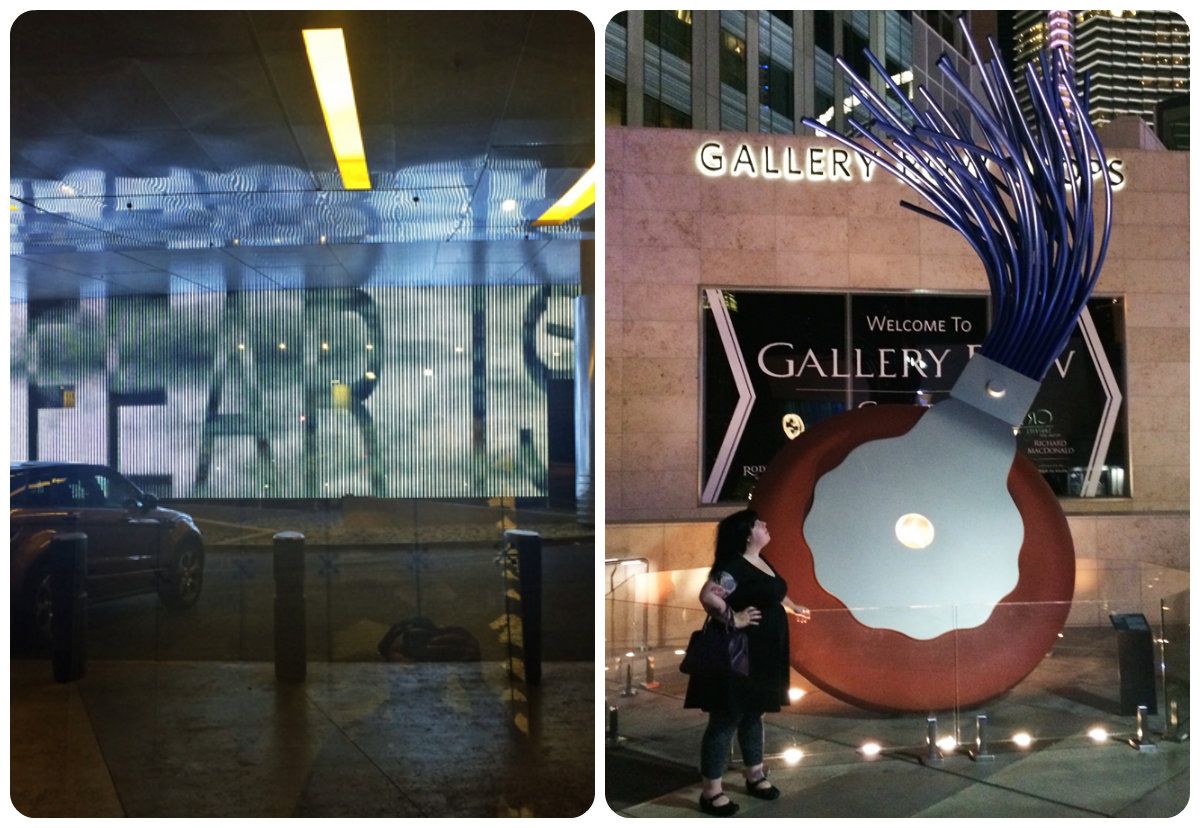 On our first night, we walked outside onto the strip, and I realized just how much walking I was in for during the trip. Uh oh.
The lights were so cool! And there were a few other really unusual things to see, like outdoor escalators, people dressed up as characters at ever corner (Bumblebee!), and the fact that you can walk up and down the street with open alcohol - how weird!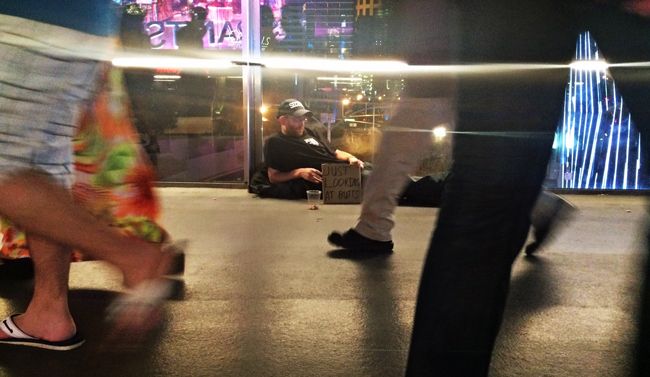 There were also, unfortunately, a lot of homeless folk asking for change. Several of them seemed to have a sense of humor about it, though, as you can see in this photo above.
THURSDAY:
Todd and I discovered what just might be our favorite place - the
Polaroid Fotobar
! Apparently there are several in Florida, but the Las Vegas location just opened up in February 2014, and it has a second floor Polaroid museum space, which is pretty cool! We had a coupon to get into the museum part for free (normally $5/person), and it was neat to see how Polariod has evolved over the years, and to see the Andy Warhol "Capturing Celebrity" exhibition, which are Polaroid photos that Andy Warhol took of celebrities (I learned that he typically took two photos, and gave one of the photos to the person afterward).
The Polaroid Fotobar allows you to print out photos from your phone, Facebook feed, Instagram, or most other places (we had a CD of our wedding photos, and an employee of the Fotobar plugged in an external drive for us to use!) onto heavyweight board (think baby board books) that look like Polaroid photos for $1 each. What a great (and inexpensive) souvenir to remember your Las Vegas trip!
Of course, wax Andy Warhol needed to take a photo with us. We are art teachers, after all.
Fotobar also has a ton of cool framing/display options for your photos. We bought a few of the
magnetic shadowbox frames
(couldn't resist), and a set of
tiny wire hangers
to display photos!
After we geeked out at the Polaroid Fotobar, we ventured out into
The Linq
, where the Fotobar is located. I looked up at the giant ferris wheel, known as the "
High Roller
," said "heck no," and we ventured over to the
Yard House
for a beverage. I was super excited to find a place on the west coast that had
312
on the beer list!
(Thursday night was fun when we got to face time with Iggy from our iPad! I had to snag a screenshot of his cute little face watching us.)
After hanging out at The Linq, we took a cab off the strip to go over to
KISS Monster Mini Golf
! This was pretty fun, because it was not crowded at all (it was probably around 3:00 in the afternoon on Thursday) and we had most of the place to ourselves. The entire 18-hole mini golf course is lit via blacklight, and only KISS tunes are played! Like the rest of Las Vegas, they offered alcohol while golfing, which I can imagine must make for some pretty interesting groups on certain evenings!
After mini golf, we walked across the street to the
Hard Rock Hotel
. We had so much fun, just walking around and checking out the music memorabilia on display! We were super excited to see several Def Leppard items there!
FRIDAY:
Friday the 13th was our big day! For our 5-year wedding anniversary, we decided to renew our wedding vows with Elvis! We went with
A Elvis Wedding Chapel
after I had looked up some reviews online.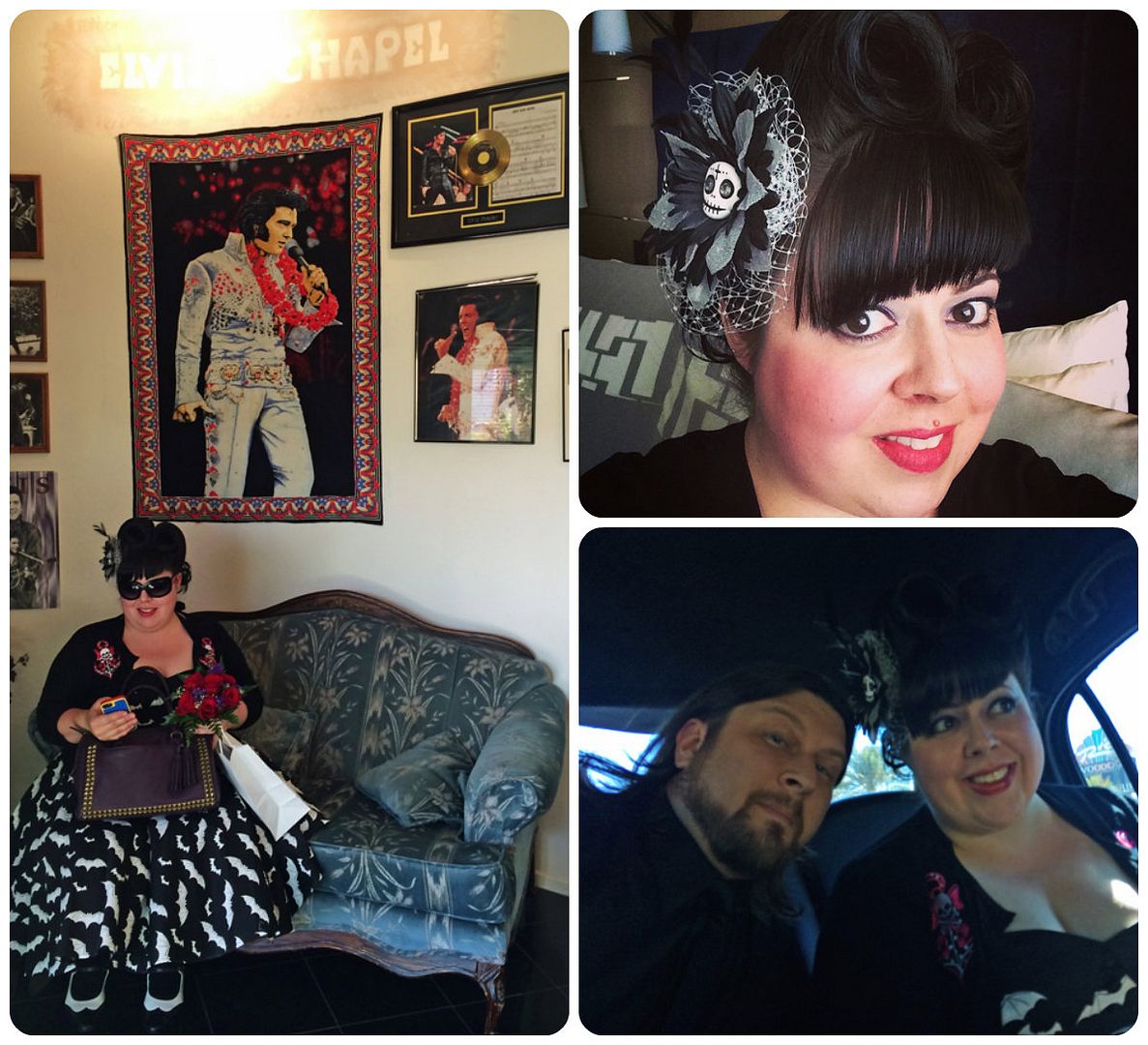 Todd and I decided to splurge a little and visited
the salon at our hotel
before the wedding. I had my hair styled in real victory rolls by a professional stylist for the first time ever! Todd got a trim as well. Our wedding package included a limo to and from the chapel, along with a cute little bouquet. We even got to choose three Elvis songs for our ceremony! The whole experience was hilarious and awesome.
Out package also included photographs (there was a special going on back in March when I booked it, so I figured why not?), which came out pretty cute.
After the ceremony, our limo driver asked where we wanted to go. Since it was Friday the 13th, I asked him to take us to a tattoo shop where we could get Friday the 13th tattoos. I've always wanted to get one, and this seemed like the perfect Friday the 13th to just do it! If you haven't heard of it before, a Friday the 13th tattoo is typically a small design, chosen from a set of pre-determined drawings (flash), for $13 + $7 tip = $20 total. The designs typically have a "13" somewhere in it.
After calling a few shops, I ended up choosing
Atomic City Tattoo
on the strip. Our artist's name was Tee, and he did a tiny diamond + 13 design on my arm, and a black spade + 13 on Todd.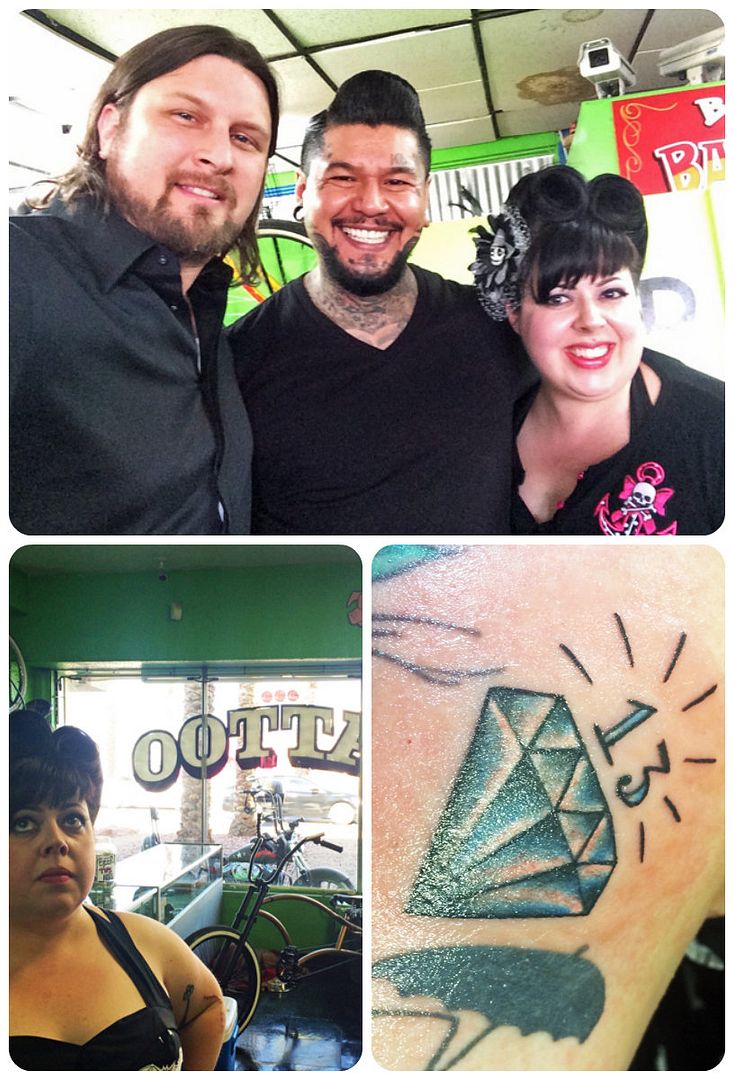 ...Checking stuff off of my bucket list!
After our tattoos, we decided to take the bus to downtown Las Vegas, also known as the
Fremont Street Experience
, where there is a huge arched screen/lights that cover the midway walking area. There are even ziplines that you can ride on!
It was very crowded, but the lights were really cool. This is where you'll find the neon cowboy sign, and classic casinos like the
Golden Nugget
, which is where we ended up grabbing dinner.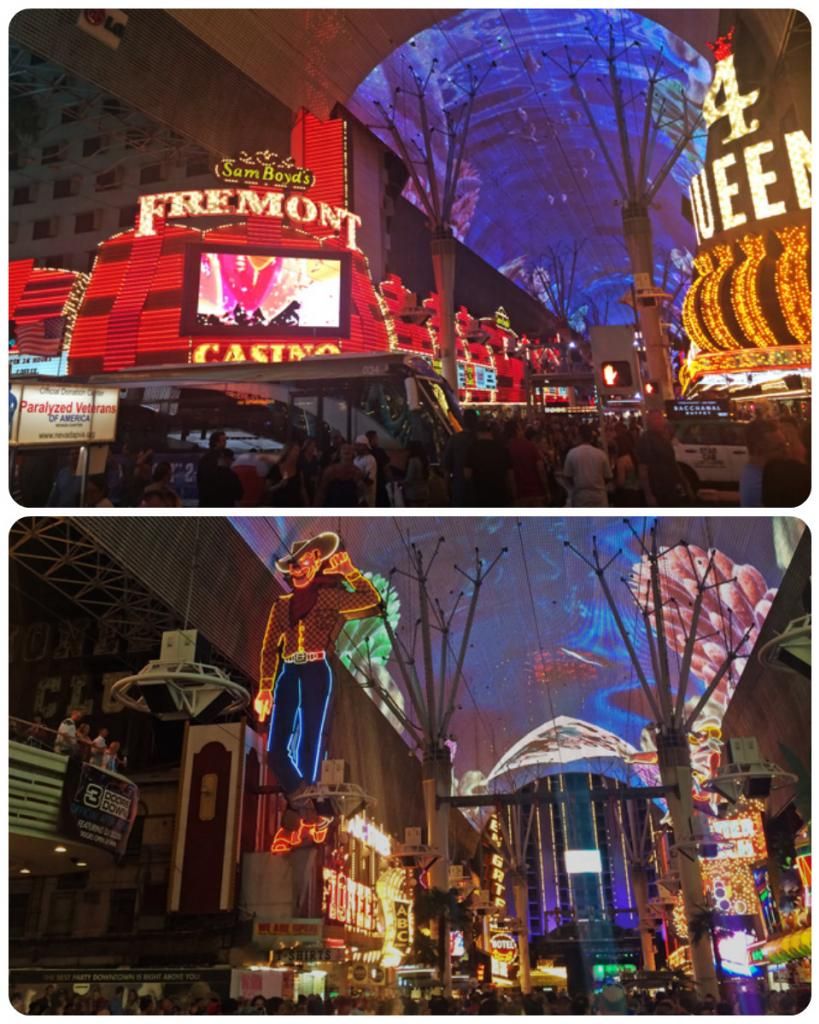 Fremont Street was cool to see, but there wasn't a lot to do outside of drink or buy typical cheesy tourist stuff (light up t-shirt? vulgar t-shirt? necklace made out of giant balls?), so we walked up and down to check out the light displays, but took the bus back to our hotel after dinner.
SATURDAY:
On Saturday during the day, we did some walking outside, and even stopped back at the Fotobar to get some of our wedding pics printed (see Thursday for a pic of the pics!).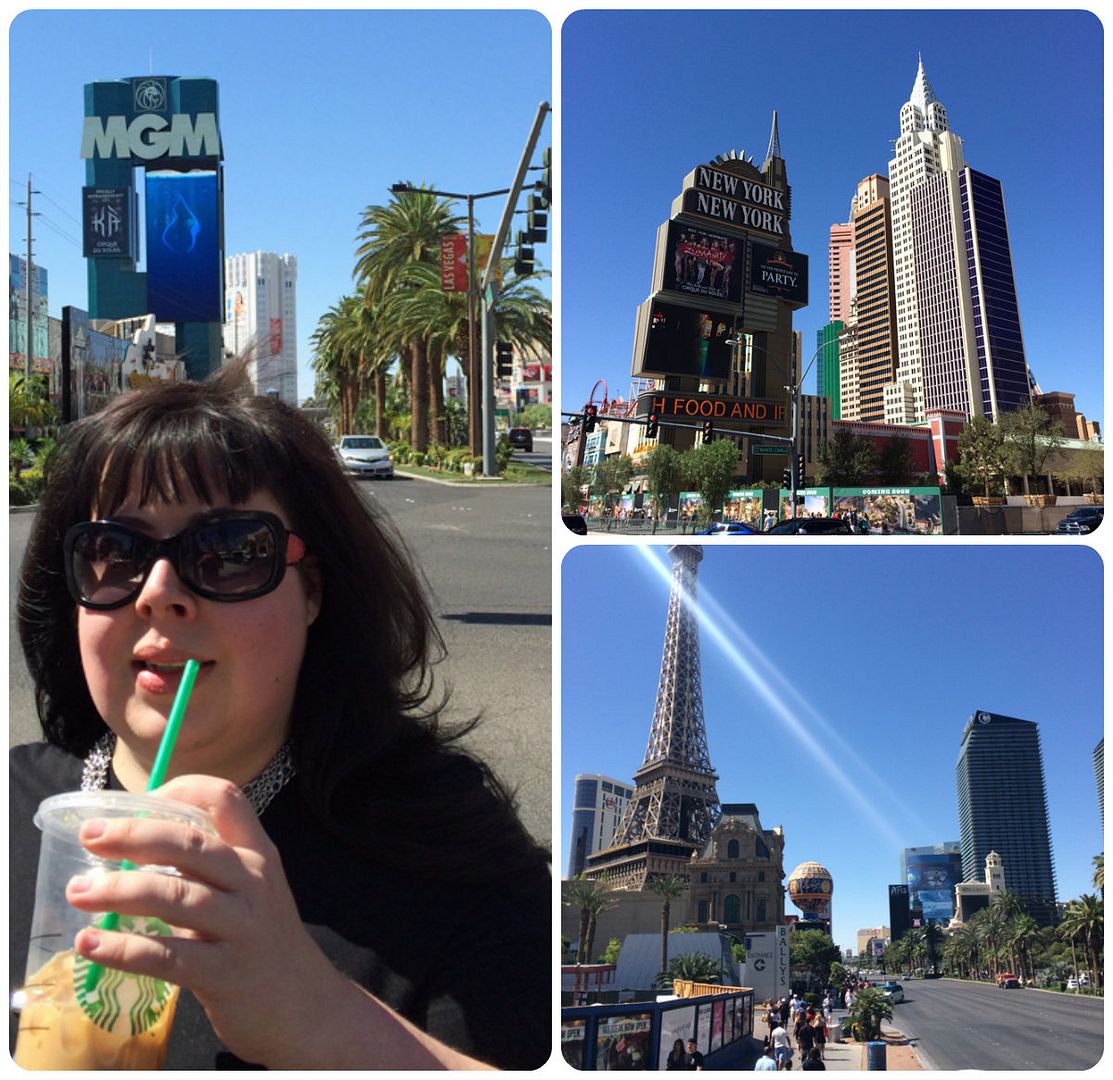 The really exciting event on Saturday was that we had tickets for the
Beatles Love by Cirque du Soleil
at
The Mirage
! I bought tickets online ahead of time, and I tried to make sure that we had really good seats. Now that I've been there, I honestly don't think that there's such a thing as a bad seat!
Before the show (we arrived a little early), we stopped by the
Beatles Revolution Lounge
(technically, just the "Abbey Road Bar" up front) for a cocktail. The giant sculptural REVOLUTION letters outside had spaces within the letters for seating! How cool!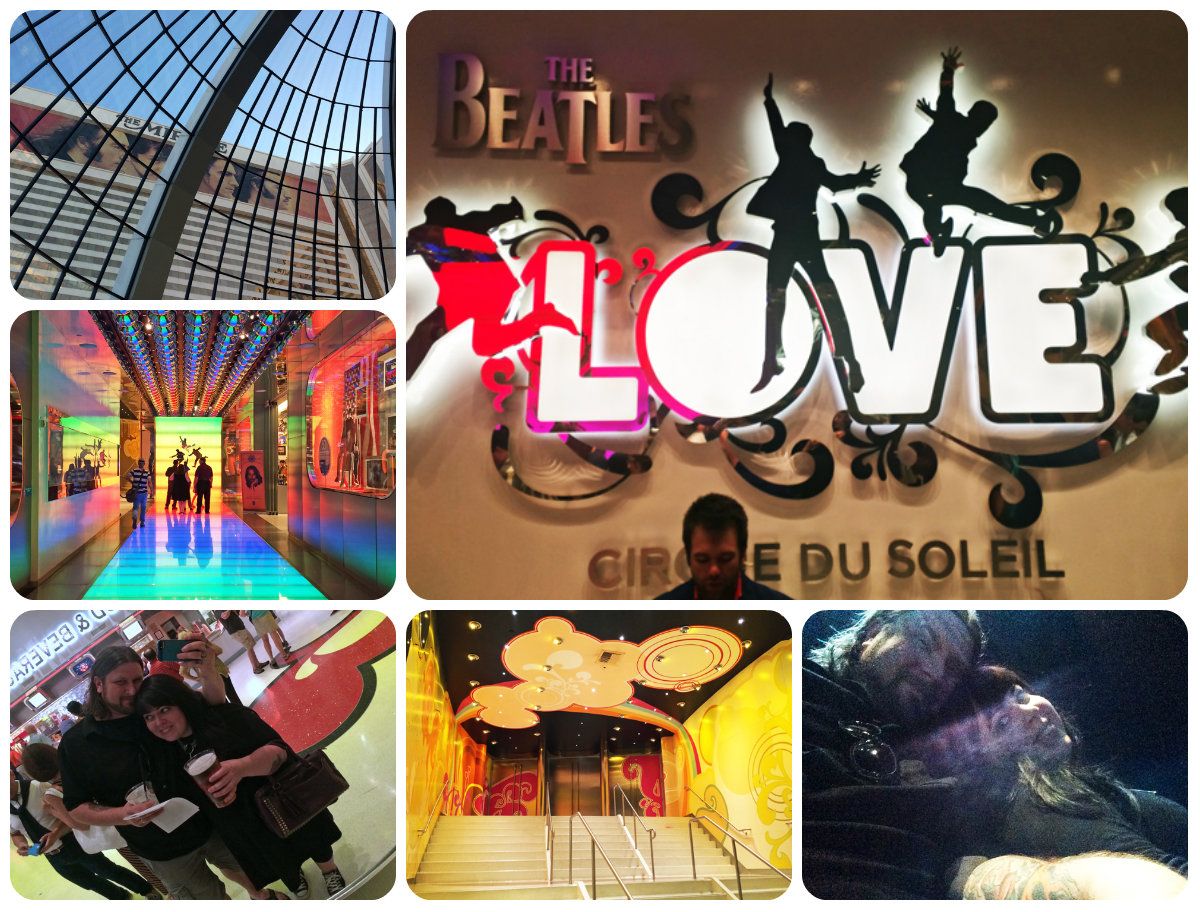 Of course, we weren't allowed to take photos during the show, but I can say that the show itself was absolutely amazing. I cried! There was so much to see, you often didn't know where to look! The stage moved and changed and set pieces switched so fast, everything seemed to operate like magic! This was one of my favorite parts of our trip.
SUNDAY:
We spent our last day in Vegas pretty leisurely. We did finally decide to try to gamble (!!!) by putting $20 each into a slot machine - Todd picked The Walking Dead machine, and I picked Plants vs Zombies. We both lost all of our money within 10 minutes. Bummer.
We also grabbed brunch at
The Pink Taco
at the Hard Rock Hotel. Breakfast tapas! It was super yummy.
We ended our trip with tickets to see
Jake Shimabukuro
at
Hard Rock Live
(on the 3rd floor of the Hard Rock Cafe on the strip). Jake Shimabukuro is an amazing ukelele player, and the show was so much fun to watch and listen. You could hear a pin drop, the audience was so quiet and attentive! And Jake came out to sign autographs after his show, so we stuck around and had him sign our CD from the merch booth to Iggy. Aww.
Wow! Thanks for reading this gigantic recap of our trip! I had so much fun, and although we missed Iggy so much, it was nice to get out and just be adults for a few days.
Do you have any vacation plans this summer?
Rock On,
Jen @ Hell Razor
now playing: