dress - Domino Dollhouse (altered) / leggings - Torrid / shoes - Dansko via Zappos / necklace - Domino Dollhouse
I was one of the girls who was SO excited when
Domino Dollhouse
opened up part 1 of the
Pagan Poetry collection
that I pre-ordered the Wednesday dress almost immediately. I couldn't believe my good luck - a dress with all of the things that I ever wanted, in MY SIZE!
...Then I patiently waited for weeks and weeks and weeks for it to get here...
...and then, on the last day of school, I came home from work to find that it has ARRIVED! I was sooo unbelieveably excited. I went to go try it on. I opened it up, and discover that the white pointed collar is made of a vinyl-y material, and not cotton like I had wrongfully assumed. Whoops. Guess I didn't read the description very clearly in my excitement. No matter. I try it on.
...THE COLLAR STANDS STRAIGHT UP LIKE A CONE OF SHAME!
I am so sad. This is not how the dress looks online. So I contacted Domino Dollhouse, and they are very helpful. I'm told:
"Hello,
Thank you so much for contacting us. Unfortunately, our factory did not tack down the collar on your dress and we are starting to realize that some of the dresses we sent out did not have this done to them. So here is what we can do: if you are able to take the item to a tailor, they should easily be able to tack this down for you. Please then send us an image of the receipt and we can refund you for the cost of having it fixed. If this does not work for you, please let me know and we can try and figure something else out. In addition, please accept the coupon -----------, good for 20% off your next order throughout 2014.

I'm very very sorry for the issue and hopefully this can be easily fixed without much headache to you."
So, I very much appreciate having options, but I'm still not loving the vinyl material of the dress... so I grab my seam ripper and go at it! I should probably also mention that I LOVE the rest of the dress. If I didn't feel this way, I probably would have just returned the whole thing and been done with it, but it's seriously THAT hard to find a dress that I love like this, so it was worth keeping sans collar.
So, since you're probably wondering, here's what this dress was supposed to look like with the collar (when it stays down):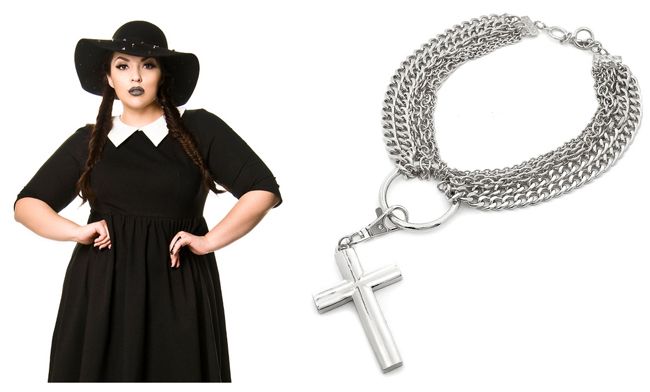 I also purchased my
necklace
(above, right) from Domino Dollhouse, too. This, I LOVE. It wouldn't work with this dress if I still had the collar on, but today, sans collar, it works pretty darn well!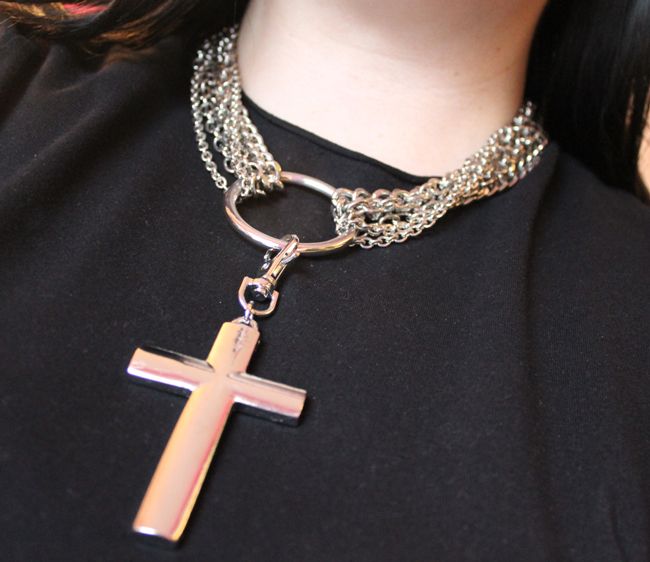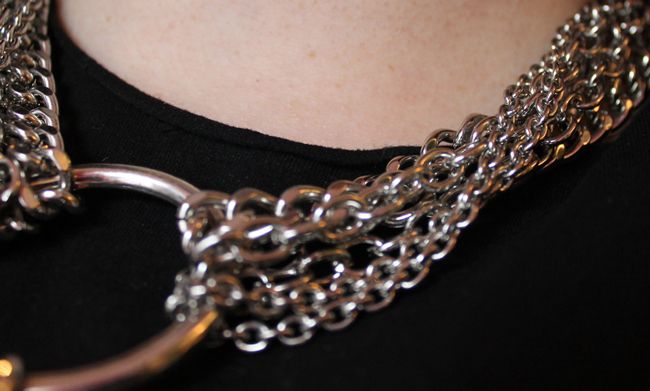 And, because I'm still kind of sad that the dress didn't have a proper Wednesday Addams collar, I purchased this
detachable collar on Etsy
from
Little Bunga
. Can't wait for it to come in and show you how it all goes together!
So, now I'm left with other decisions... I now have a coupon code from DD, and I really like some of these other pieces, like this
Lullaby Dress
... but once I read the description, this has PVC straps! Why all the plastic stuff, Domino Dollhouse? Why not faux leather, or even just fabric? The plastic is a deal-breaker for me. It just feels so cheap. Make me think of sweaty times. See the potential for cute summer outfit options: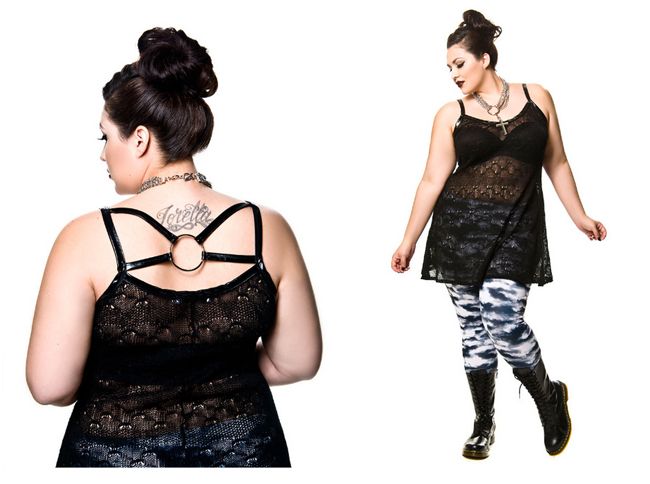 But plastic? Ugh. Seriously, sometimes I wish I could go back in time to college and just go through a fashion design program like I once dreamt about. I was going to make my own plus-sized line of clothing...
I still seriously love you, Domino Dollhouse. Don't get me wrong. But these tiny details are the kinds of things that keep me from buying more from you! Let me give you my money!
Rock On,
Jen @ Hell Razor
now playing: