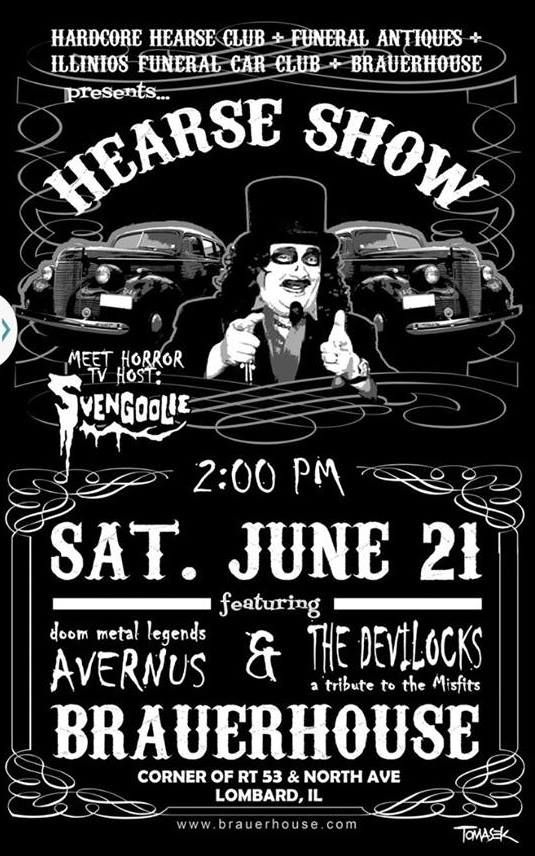 Saturday June 21st was the Hearse Show at
Brauerhouse Lombard
! Our day started out so nice, and ended in horrible rain! We had to close up shop prematurely, cut our losses, and head home...
Prior to that though, things were looking good! Let me tell you all about it.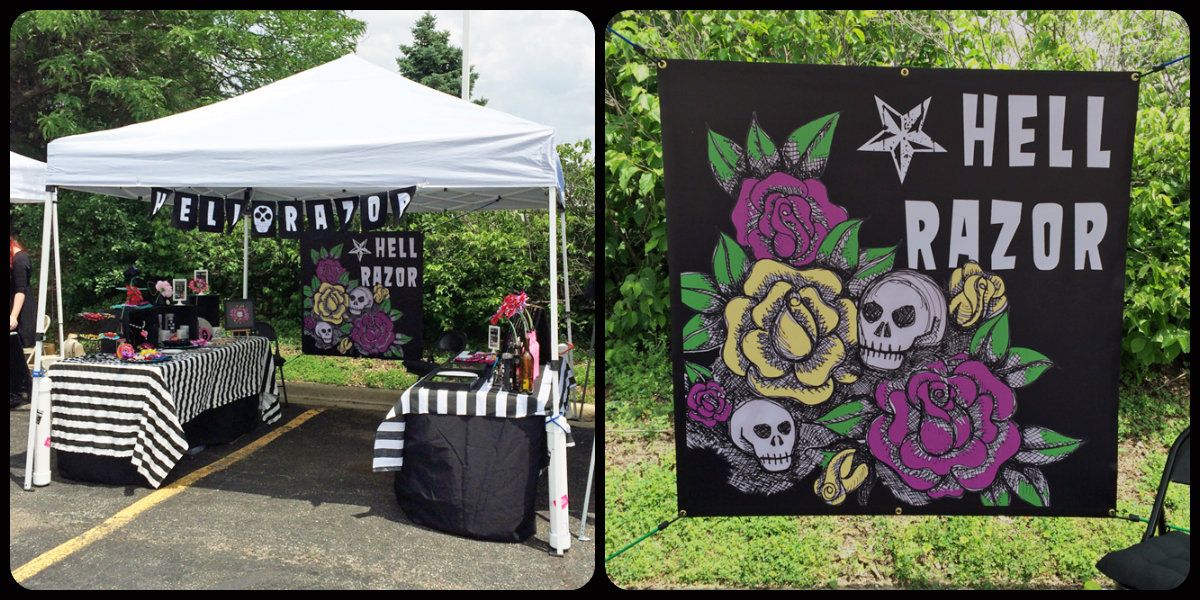 Steph, my usual booth partner, was having a 40th birthday bash for her husband (Happy Birthday Dave!), so she was unable to vend with me on this day. My friend Jessy volunteered to come and help me, though, and she brought some of her awesome artwork to sell, too!
Here's Jessy and I, looking all professional and optimistic for the day:
photos courtesy of Lisa!
I really think that the booth was looking nice! I bought a second folding table and set of linens so that I could use up the 10x10 space a little bit better, and
my new banner
looked great as the backdrop!
Jessy is a great display merchandiser, so I let her make arrangements and groupings of items. The heart plates and mugs are her handiwork!
I brought out my beer bottle vases for displaying stem flowers, but gusts of wind quickly convinced me that it wasn't the best idea... I'm going to have to weight the bottles from now on for outside events.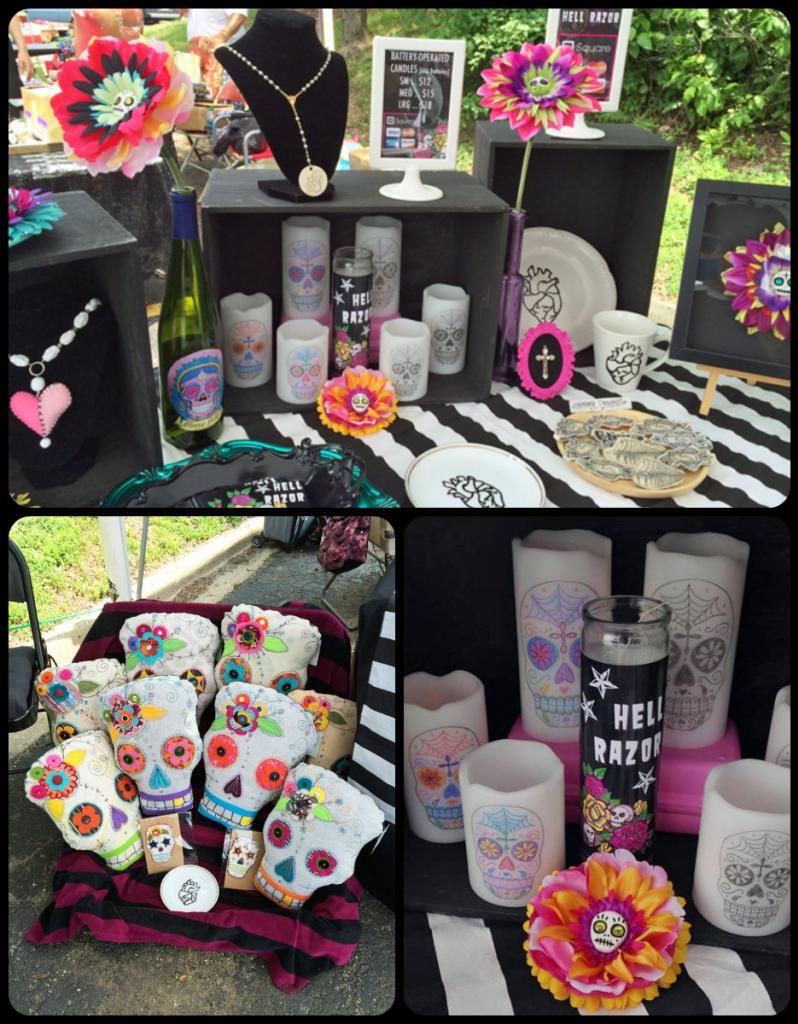 I was excited to premiere my new battery-operated candle designs and framed shadowbox flowers for sale. Jessy brought a bunch of her awesome skull pillows (yep, I totally bought one!) and made a cute display that complemented the rest of the booth.
Things were going fairly well, and we had several special visitors including Lisa and her family, my brother Sam, and my derby friend (and
graphic designer extraordinaire
), Kelly!
Of course, there was much more to see than our booth. There were several other crafty vendors, and even a funeral antiques vendor! And don't forget about all of the awesome hearses at the center of attention!
I just love how hearse owners embrace the halloween design aesthetic. And they tend to have quite a kooky sense of humor about it, too.
Svengoolie
was in attendance, and signed autographs for folks inside the Brauerhouse. Jessy and I even grabbed a take-out lunch from the restaurant, literally minutes before the rain hit us, BAD. Thank goodness I splurged and bought the side walls and zip-up entrance for our tent just a few weeks ago!
Once our tent was all zipped up (thank you for your help, Kelly!) and we were no longer afraid that the storm was going to blow us away, Wizard-of-Oz-style, we decided to pack up and head home. Wah wahhh. It wasn't even 7:00 yet. We could have stayed (and probably made more sales) longer if only the weather had cooperated.
I guess the bands went on later, too, but we didn't stick around to find out. I hope that this event becomes an annual thing, as I'd like to try again next year. Another suggestion I would make is to have some bands play early, and possibly even outdoors to keep the inside the restaurant/outside in the parking lot flow going. Ooh, how about a spooky face painter, too? They could do day of the dead skeleton makeup!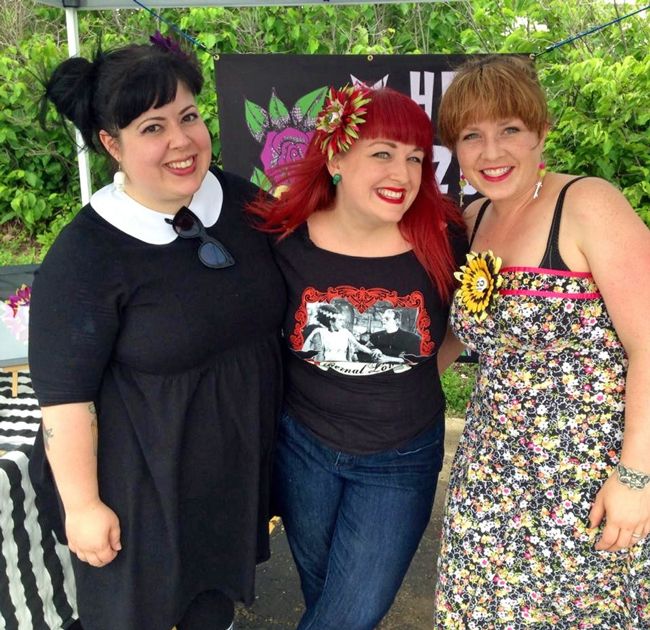 Instead of leaving on a sad note due to the lousy weather, I'll end with this super cute photo of Lisa, Jessy, and I at the tent from earlier in the afternoon. I love this pic!
I also have a lot of stock left over that isn't listed in
the etsy shop
. If you're interested in any Hell Razor items, please check out
this album
from the
Hell Razor Facebook page
and message/
email me
if you're interested in anything, because I'm willing to sell!
Thanks!
Rock On,
Jen @ Hell Razor
now playing: