Hello ladies n' gents!
Are you planning a 4th of July shindig? Why not go for the vintage-inspired Americana look? If you're strapped for cash, it's honestly one of the easiest decoration styles mostly because you can get a little "shabby chic" with it.
This style is also great for sprucing up dilapidated fences and other backyard eye sores. I used them for Dave's 40th birthday party for that very reason (our fence is SUPER ghetto, but we are getting a new one soon). These decorations blended in perfectly and they even stood up to the rain and wind!
Ingredients for this project:
Mason jars
$9.99 OR scour thrift stores for cheapo jars!
Twine
$3.98 for 21 x 525 ft
Pea gravel
$2.58 per bag
Fake flowers (got em' on sale for $3.00) or wild flowers are free!
Wine bottles...I asked my friends to save their bottles and I helped too! ;)
Tea lights (dollar store) or battery powered candles if you wanna splurge - I got mine on sale for $5.99
Fill your mason jars a little less than half way with pea gravel.
Grab your twine and some scissors and make two loops. I wrapped the twine 3 or 4 times around three fingers and tied them off.
Once your loops are finished, thread more twine through the loops and wrap the twine around the top of the mason jar (just under the threads for the cap) with a loop on either side.
When you are wrapping your twine around the top of your mason jar, make sure you reinforce the top because you will be hanging these little guys by the loops. once you're finished, it will look like this (but make sure to cut your twine down unlike the picture)!
Once your twine is cut, place a tea light in the gravel so it doesn't tip over. (*Side note, I'm not sure you should put the cap on the mason jar with an actual tea light lit, but you're good to go with a battery powered candle). As for the wine bottles, you tie them up similarly, but you only use one loop! Just like this!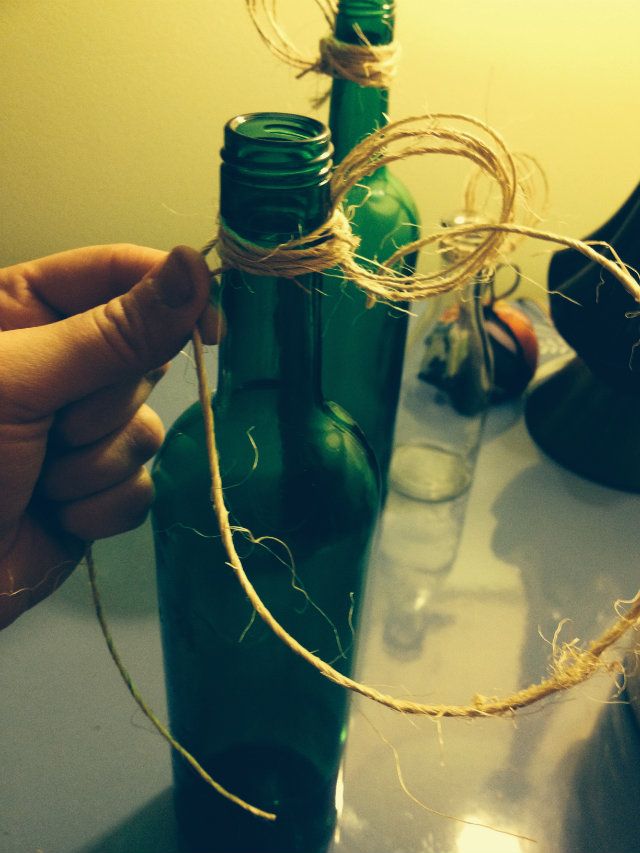 Once your wine bottles are tied up, you can either fill them with water and wild flowers or (like me) you can find some fun cheap fake flowers. You can use the same color wine bottles to create a more monotone look or you can mix it up like below!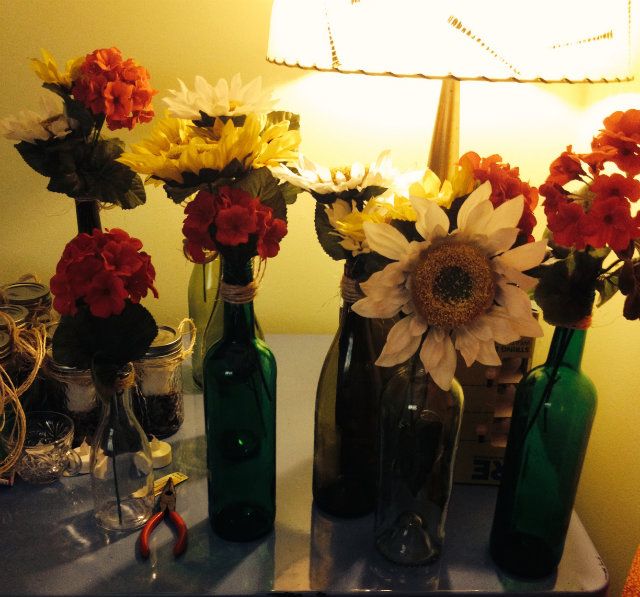 Once you're ready to party, use more twine to hang your mason jars and flowers on your fence! Make sure you use enough twine to support the weight of your jars and bottles!
Uncle Sam approved!!!! ;)
Oh! We also had our buddy Nate bring some straw from their farm in order to keep the mud situation in check, but I think it helped add to the Americana atmosphere. Check out the glow of the tea lights! :)

Happy 4th everyone!!!!
Until next time!
~Steph @ Calamity Layne