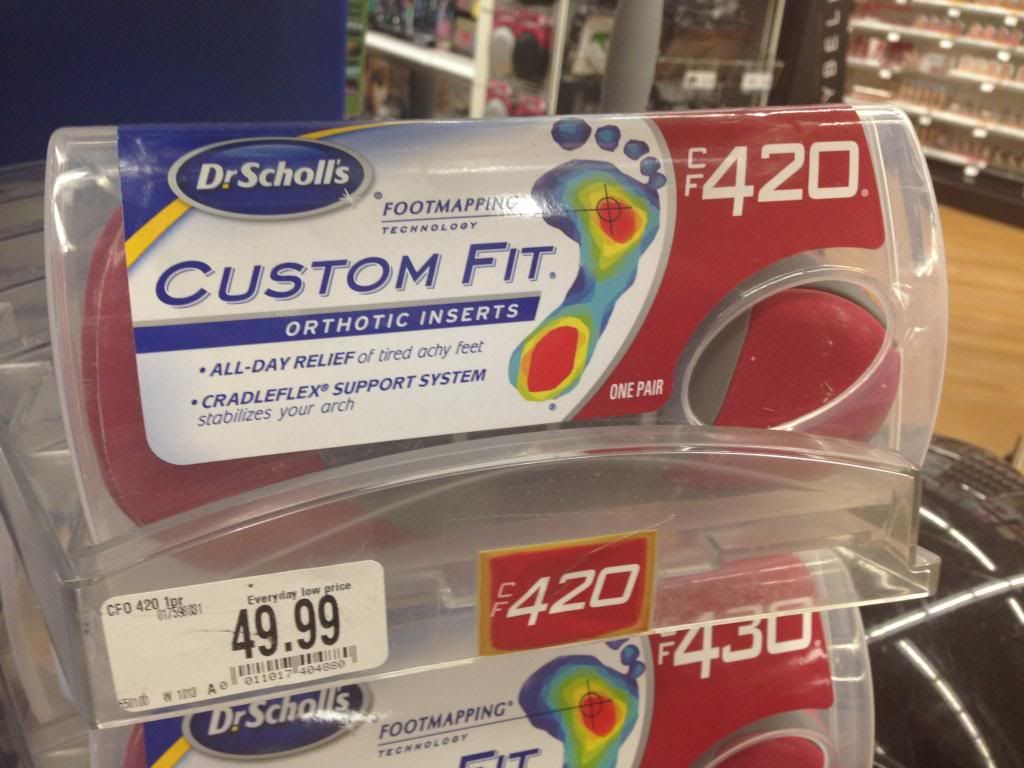 I have mentioned before that I am a "Bzz Agent", which means is that I signed up on this awesome
site
, take surveys regularly about household items, hygiene, kid stuff and whatnot, and I sometimes get chosen for really great campaigns. I was pretty excited when I got the offer for this one. I have TERRIBLE feet. Maybe its from years of crazy shoes, weight gain, bad back, or whatever, but my feet hurt all the time. So I was chosen to try "
Dr. Scholl's Custom Fit Orthotic Inserts
" and I hoped that these were going to be the magic I needed.
I knew my local Bed, Bath, and Beyond had one of the Dr. Scholl's Custom Fit Kiosks which uses "Foot Mapping" technology to test just what is wrong with my feet. It takes only a couple of minutes, just long enough to get over putting your bare feet where others have (I was happy that anti-bacterial gel was kindly attached to the machine!). After feeling like I was doing a balancing act, I got my results...BAD ARCHES. I kind of knew that. My inserts were "CF 420," which should help with my specific issues. I quickly completed my "Bzz Agent" survey when I got home, to let them know which insert to send me, and waited patiently for them to arrive.
I lucked out, as the day they came, I was working my very part time wine job - which entails standing in one spot for a couple of hours! I have to wear closed toe, flats at this job and it kills my feet and back. I quickly popped the inserts and and I was AMAZED! I felt great, my legs were not tired, my back did not hurt as much and my arches did not ache as they normally do after I complete my job. My "Bzz Kit" came with coupons which my fiance quickly took one to get his own "Custom Fit Orthotic Inserts". But since I cannot give you coupons, I can share a
link
to one! They are a little pricey but so worth it. I am lucky I got mine free via "Bzz Agent".
Stay Sweet,
Lisa
now playing: