Today I'm going to teach you my favorite super-easy hairstyle for long hair. I actually get a lot of compliments on it when I wear it like this. But I think of it as my lazy-girl style, because it's good for:
hot weather/when you want your hair off of your neck
bad hair days when you can't figure out what to do with your hair
the day that you really should have washed your hair, but you didn't (no judgment here!)
I was actually pretty darn surprised to only find this hairstyle three times in the blog so far! I guess I just haven't taken outfit photos on the days I did my hair like this, which is weird, because I rock this look a LOT...

Ok, here's what you'll need to do this style: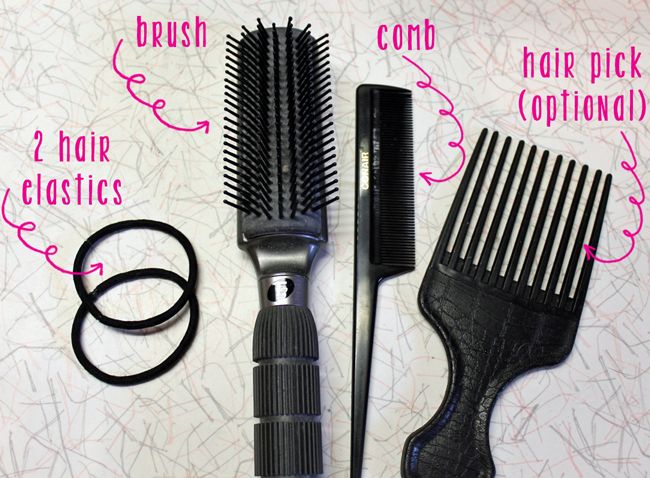 My photo setup is so low-tech, I just shot the whole dang thing in my bathroom mirror. Enjoy.
1.
Brush out your hair, and part it in two equal sections. I use the hair pick for this - for some reason, it's just easier for me this way. Otherwise, use your comb. You can part your hair down the middle, like for pigtails, but sometimes I part it diagonal just because I feel like it.
2.
I forgot to add that I like to use one of these grabby claw clips (pictured below) to hold one of the sections to the side while I work the other section. You might find that useful, too.
3.
Gather up the section into a ponytail/pigtail. When you like the placement/height, use a rubber band to secure it, but
don't pull it all the way through on the last twist!
4.
Instead of pulling the hair all of the way through, keep the pigtail as a "loop" and turn the hair so that the ends stick out at the top of your head, as opposed to underneath the ponytail, as shown below.
5.
Do the same thing with the other section/half of your hair.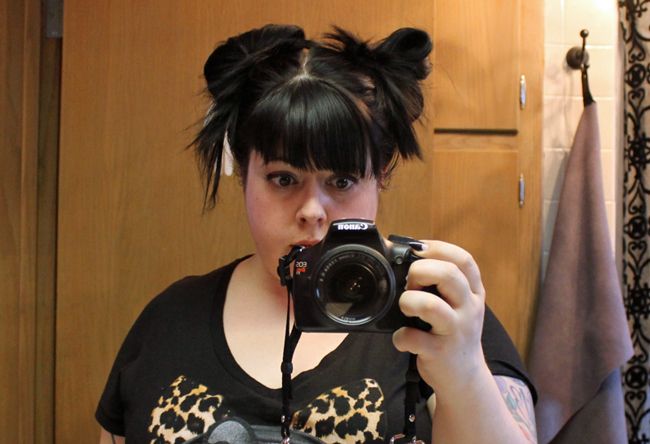 6.
Now you can mess with it a little bit. Tighten and/or loosen the pigtails at the scalp, depending on what is comfortable for you. Comb and style your bangs, pulling out little face-framing pieces, if you have them. Move the ends of the pigtails around until you like how the ends stick up and/or out.
You could also choose to add accessories, like some cute barrettes or bows, or even a bandana at his point!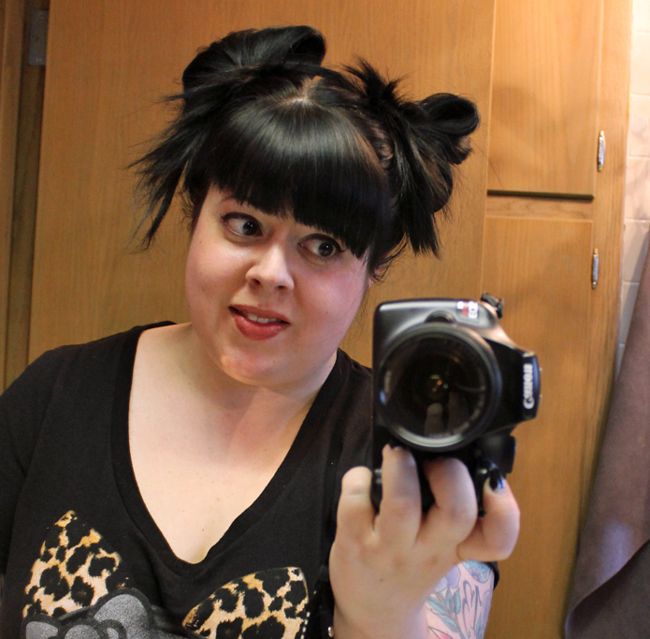 Ta da! Crazy, messy, but controlled hair that is off of your neck for those warm summer days!
Rock On,
Jen @ Hell Razor
now playing: