So, here's the latest in our DIY craft show/vendor booth/vintage fair/tent merchant series of items... a sandwich board sign! I made this little gem for Steph and I at the last
Vintage Garage
event that we were vendors at.
Every time we're at an event, we spend our down time brainstorming ideas for how to make our booth and our brand even better, and this sandwich board is our latest lightbulb. Here's what I did:
I started out with two 1.5'x3' pieces of half-inch plywood (thanks Todd!) and I gave them a base coat of blue paint. I used chalk to sketch out a design for our sign graphics, and painted the design using acrylic paints. If you're not the artistic type, you can create a pretty amazing sign by using stencils, decals, or letter stickers. Have you seen all of the
cool wall decals
on Etsy lately? They'd make for some pretty cool signs!
Here are my final painted boards:
To assemble these boards into the flat-folding sandwich board design, I used the following additional supplies: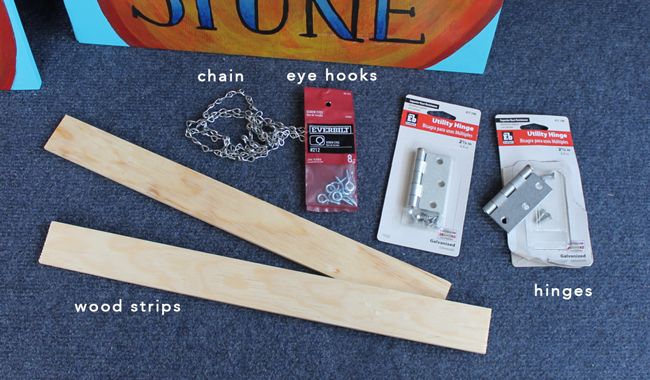 Because the screws for the hinges are a little too long for the boards as-is, the first thing that we did was to add some thin strips of wood to the top edge to increase the thickness of the sign in order to attach the hinges.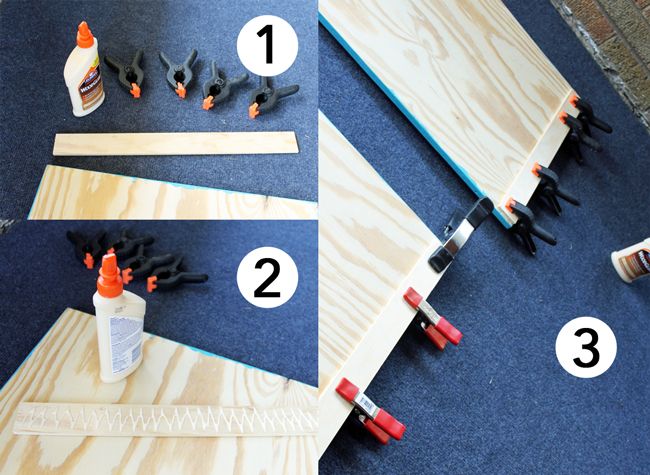 After the strips have been glued, clamped, and dried, you're ready to attach the hinges. Todd measured and marked where the hinges were going to go, and then pre-drilled holes before screwing them in.
The next step was to attach the eye hooks to the sides of the sign. We stood the sign up to measure how high up we'd like the eye hooks and chain to go. We also measured to see how long we should cut our lengths of chain, which keep the sign from opening up too far. Once the eye hooks and chain were attached, our sign is complete!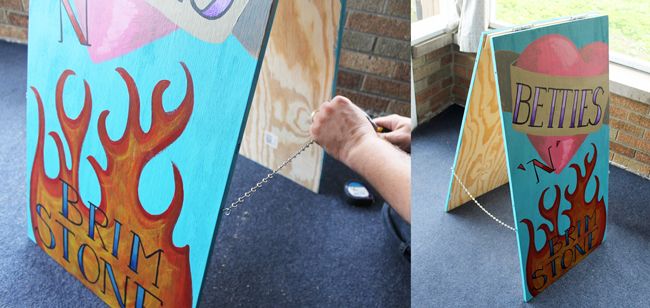 Here is our sign, standing outdoors. You can see how it folds up nice and flat, which is great for hauling around in cars with bins, tents, and folding tables and chairs.
...And here is our sign on display in our booth at
Vintage Garage
on May 18th! I thought it was a pretty cool way to greet visitors as they came into the space.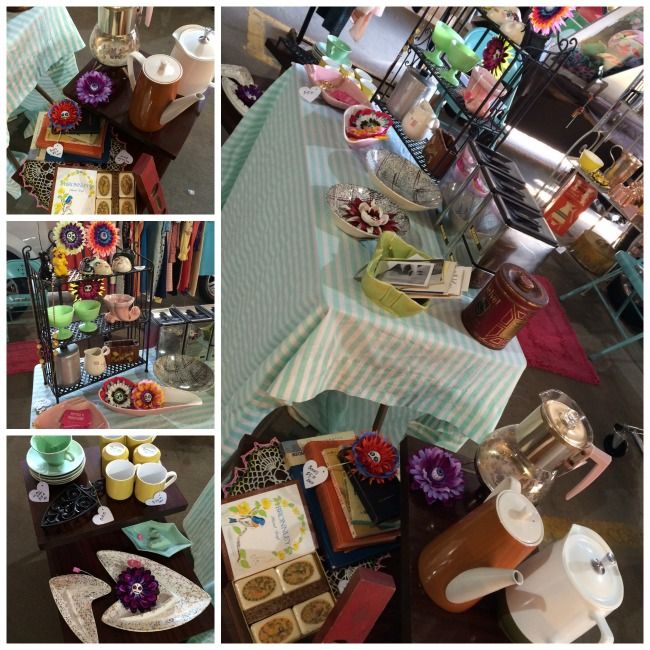 Above are some more photos from our booth. I loved mixing in Hell Razor flowers with Steph's vintage finds. We think that they pair so well together!
Rock on,
Jen @ Hell Razor
now playing: