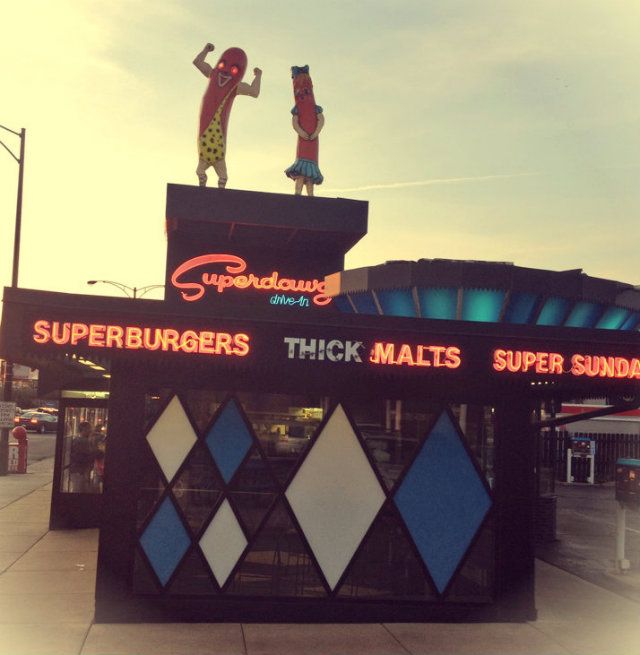 Hiya!
If you have never been to Superdawg you are MISSING OUT!!!!! It's getting warmer outside, so make it a priority to get yourselves out to one of their two locations. The original Superdawg location is at Devon, Nagle, and Milwaukee in Chicago (it's been there since 1948!) and there was a second location built in 2009 in Wheeling. Both are SUPER in their own way...as a matter of fact, I visited both in one night (if you think I'm crazy, you've obviously never had their Supersodas!) ;) I began my Drive-In buffet at the original location for dinner and then made the 11 mile adventure (via my car) to the Wheeling location for dessert!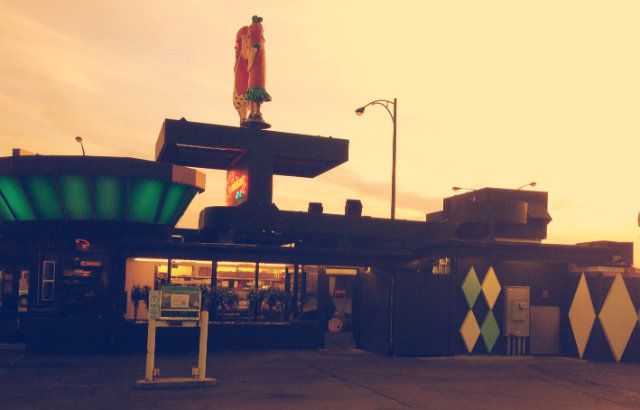 I DO love the food and atmosphere, but I REALLY love the story behind the place. Superdawg was opened in May of 1948 by Maurie Berman and his wife and high school sweetheart Florence (Flaurie). She was a school teacher and he went to North Western to be a CPA so they wanted to open a business that they could operate during the summer months. Thus, Superdawg was born! Maurie designed the building and they named their restaurant & signature dish after the superheroes in the "new" comics that were coming out in the 40s. Even though Maurie received his CPA license in 1950, the couple continued to keep Superdawg up and began running the business year round! Another cool fact, Superdawg remains a family owned and operated today! You can read more about the
history here
! On to the food!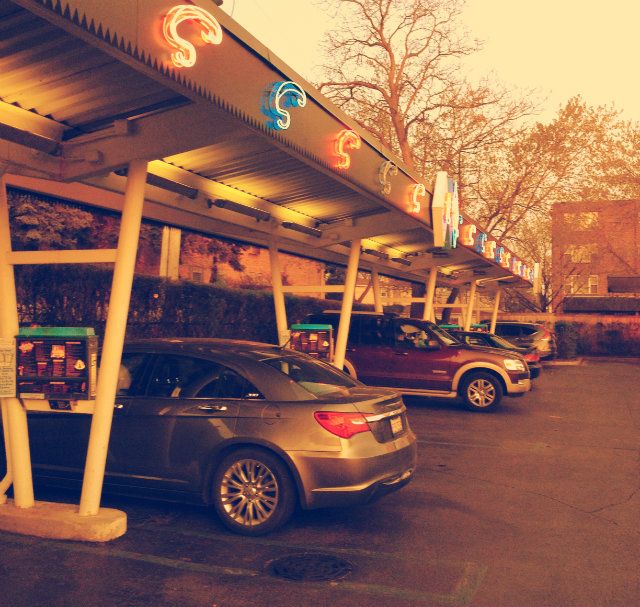 This is the original Superdawg on Milwaukee and Devon. It is on the corner and they're really worked well with the space they have, but it's not a large place. Superdawg is a drive-in and they still have car hops. I FREAKIN' LOVE IT! You just pull into your spot, pick out your food, and hit the button to order. They bring it out to you on a tray that hooks onto your car window (just like the old days!). I think I really enjoy the car hop idea because my grandpa used to take me to a similar place in Ohio when I was about 4 or 5 and it's one of my favorite memories. :)
Anyway, I ordered a Superdawg with everything, fries, and a drink! Mmmmmmm......You can check out their
menu HERE!
My car hop (I feel horrible that I can't remember her name) was SO sweet and was very helpful and the food came out REALLY quick.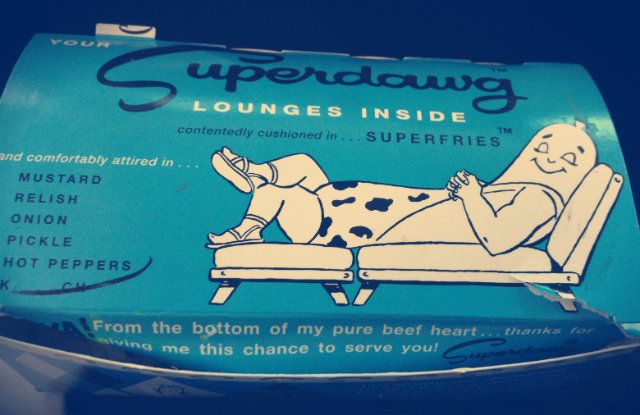 This is how Superdawg comes out...The packaging on all of their products is great. The graphics are fun, interesting, and they go right along with the atmosphere and whimsy of the Superdawg experience. AND the food is TASTY!!!!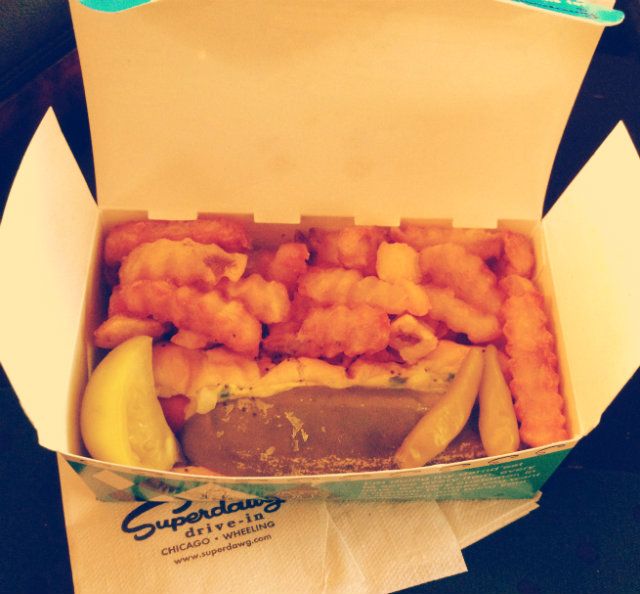 Their secret recipe really keeps you coming back for more! They have a pretty extensive menu for a drive-in with veggie chips, fried onion chips, and a shrimp sandwich! I've gotta say, though....you CAN'T leave without trying dessert!!!! (Ok, I left and went to the one in Wheeling..but you get the idea!!!).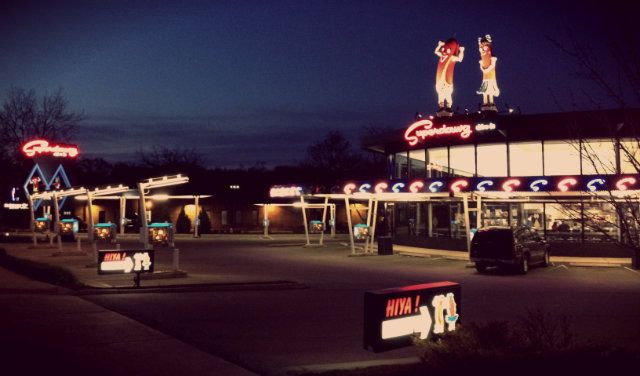 When you drive up to the Wheeling location you can INSTANTLY tell that you're going to have fun. It's HUGE. Much much larger than the Chicago location and they've done a great job of keeping the same fun, whimsy atmosphere. They play 50s music and it is kind of set off closer to the forest reserve, so you feel like you're in your own little drive-in bubble. Ok, ok, time for dessert!
I got a chocolate Supersoda...amazing. It's a 100% old school soda fountain favorite! It's basically chocolate, soda water and ice cream topped with real whipped cream a cherry and a chocolate wafer cookie....delicious. They had extra chocolate soda so they brought that out with it to pour over the ice cream when you start running low. SO GOOD!!!!! They have all of the soda fountain favorites and some brownie desserts that look fantastic.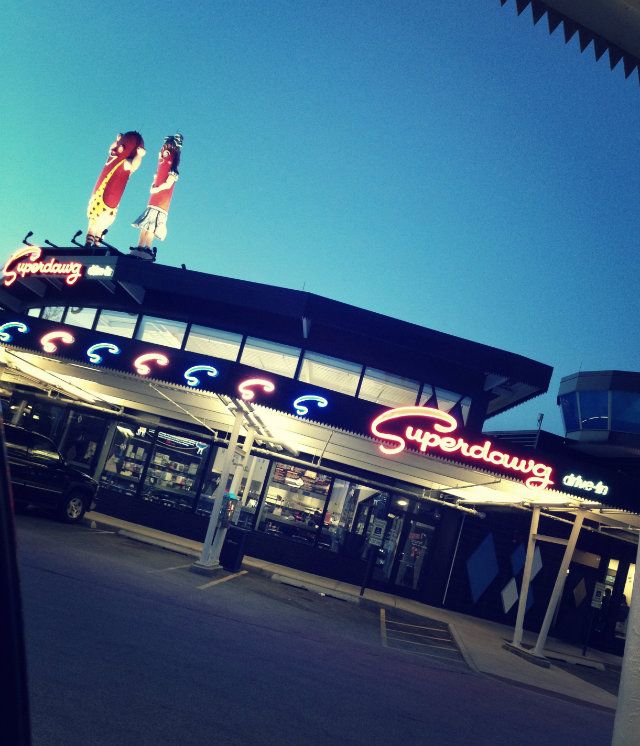 Seriously, make it a point to get to Superdawg soon! You won't be sorry!
The Original Superdawg:
6363 N. Milwaukee Avenue, Chicago, IL 60646
HOURS: Sunday-Thursday 11am-1am
Friday-Saturday 11am-2am
Superdawg Wheeling
333 S. Milwaukee Avenue, Wheeling, IL 60090
HOURS: Sunday-Thursday 11am-11pm
Friday-Saturday 11am-MidnightGo
here for more info!
Until next time!
~Steph @ Calamity Layne