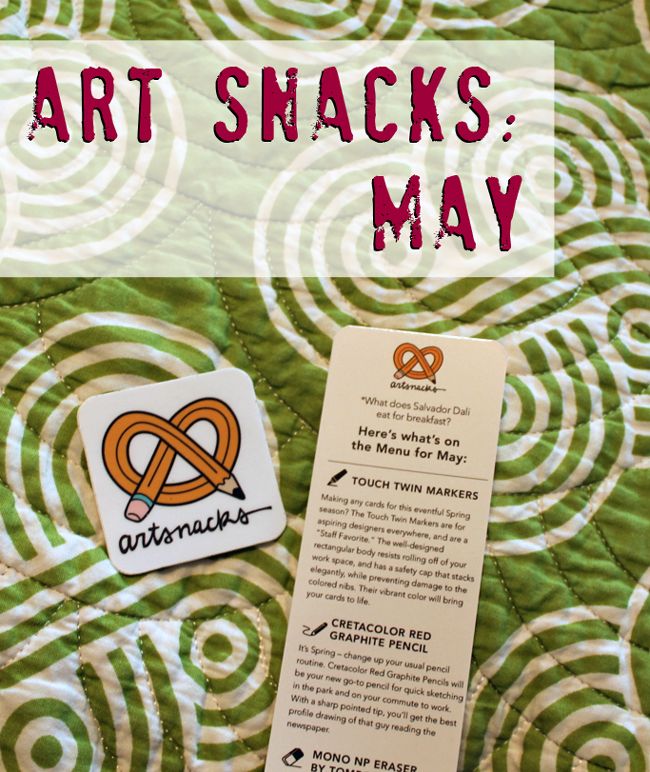 I first wrote about
Art Snacks several months ago
, and I've been a continuing subscriber to the service ever since. I really like it. In fact, I usually forget that I have it coming, and I get home to a fun surprise once a month!
I thought that this month's box was pretty special, so I decided to share it with you. There was a sucker in the box, too, but Iggy snagged it and ate it right away, even before I could photograph the box...
If you're not familiar with
Art Snacks
, it's a subscription box service with art supplies! Every month, you receive 4-5 full size art products, with a nifty little "menu" that explains each item, why it's amazing, and some info on how to use it. Here's what came this month: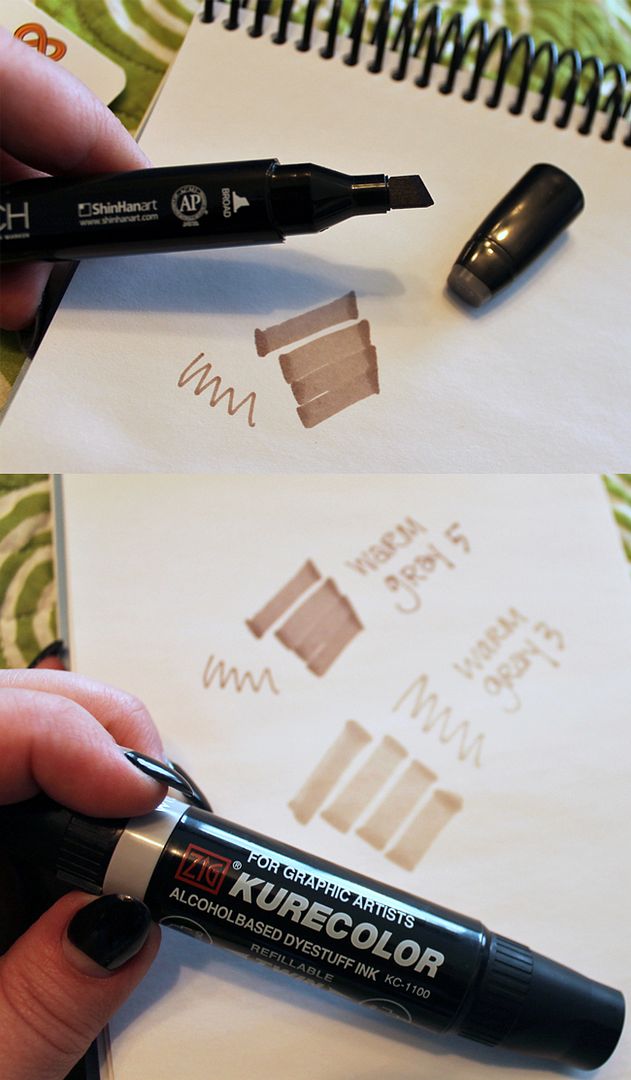 Touch Twin Marker + Kurecolor Twin Marker
I seriously love markers, so I was pretty psyched to get TWO awesome twin-tip items in the box this month. Both markers have a thin pointed tip/wide chisel tip, and both of my markers were warm gray (does everyone get the same colors? I don't know...) but they are slightly different in shades. The Touch Twin Marker has a neat squared-off shape that feels good to hold, and the caps stack really nice on the end while you're drawing. The Kurecolor is a big chunky marker that reminds me of the fat graffiti paint markers, so it just looks cool in that sense (oh, and it says that it's refillable, too!). Both of them remind me of Prismacolor permanent markers as far as how they write/color, but I've only tried them out on regular sketchbook drawing paper as of yet. I kind of liked getting two markers that were so similar, as it gives me the opportunity to really test the two out against each other and decide which one I would prefer in the long-term.
Cretacolor Red Graphite Pencil + Mono NP Eraser by Tombow
I received the 3B graphite pencil, and you can never really go wrong with a good graphite pencil. I think it's good to have a nice collection in your case for sketching. So I'll toss it in with my others, but I'm not really sure if I have a real favorite in brand over all others as far as graphite pencils go just yet... Maybe I just need to be out sketching some more!
The Mono NP eraser sure seems nice. It erases with not much pressure, and appears to remove a good deal of the mark with very little effort. So I have high hopes for this little guy. I'll move him up to my main sketch bag.
Baggu 3D Zip
Speaking of sketch bags, check this out! I was pretty excited to get a pencil case this month! I love cute little zipper bags! I just bought myself a bag from
Jet Pens
not too long ago, but hey, you never can have too many, amirite? The awesome thing about this is how much it expands! It looks very small and unassuming, and folds up really tiny. However, this bag unfolds to hold a TON of stuff! The menu from Art Snacks claims that they were able to stuff 52 pens and pencils into the body. So, yeah... big.
Have I convinced you that you need
Art Snacks
yet?
Go get some
!
Rock On,
Jen @ Hell Razor
now playing: