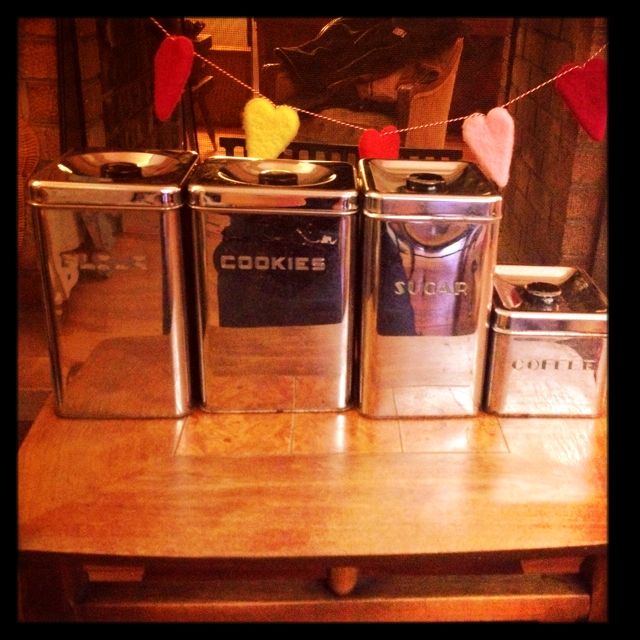 Happy spring, everyone!
Have you ever surpassed those AWESOME looking vintage kitchen canisters because you couldn't think of a use for them? Well, look no further! Check out these 5 new uses for vintage kitchen containers!
Use #1 - Crafting Supplies Containers
I use vintage kitchen containers for all of my loose craft supplies. Tea and grease containers are the perfect size for crayons and chalk. Coffee or sugar containers make great colored pencil holders and flour containers are great for your larger or longer items such as paint brushes or spools of ribbon. I even use a set of 50s kitchen containers for my beading supplies.
Use #2 - Bathroom Item Organization
You can designate a canister for each item you need to organize. Tea or grease tins are great for bandaids and antiseptic supplies. Coffee tins work as a container for hair accessories such as scrunchies, hair ties, and barrettes. You can also use coffee tins for deodorant or other hygiene product storage. Flour, sugar, and cookie tins will hold hair spray, toothpaste, and hair tools like brushes, combs, and possibly straighteners.
Use #3 - Inside Herb Garden
Fill your containers with soil and plant an indoor herb garden. You can even paint your canisters different colors and add a little chalkboard paint to decipher your herbs. It will spruce up your kitchen decor as well as your cooking!
Use #4 - Tool Storage
Use tea and grease tins for nails, screws, and other small items. You can separate them by type in small containers and place them in the tin. Use coffee tins for smaller tools like screw drivers and other miniature tools. Flour, sugar, and cookie tins can be used as larger tool storage like hammers and wrenches.
Use #5 - Family Odds and Ends Holders
Want to keep your home tidy? place your tins in an accessible and aesthetically pleasing spot in your home. Then, designate a tin for each person in your household. Throughout the week, place small items you find laying around the house int hat person's tin. At the end of the week, they can gather their items and put them away at their leisure! To make it a family affair, you can have each person decorate their own tin before you start the process.
Until next time!
~Steph @ Calamity Layne