dress - thrifted / leggings - Torrid / cardigan - Target / boot - Target / Adventure Time socks - gift
This is one of those outfit posts where I was looking at the photos and I was all "ugh I don't even want to post these" kind of not liking myself sort of days. But I'm posting them anyways in an effort to just push through the funk. And because I was a bad outfit photographer this week and didn't have anything else to share with you. But the story of this dress is pretty cool.
I went out for an epic thrifting day with Steph on the Friday of spring break that I was off, and I always casually look through the clothes racks but never really expect to find anything worthwhile in my size. But I found this dress, marked size "L," but I could tell that it was super stretchy, and I thought "hmm just maybe..." so I bought it even though it was marked $8 (I know! $8! That's scandalously high in thrift shop land! What the heck!), and crossed my fingers.
Well, it fits! So that's awesome, because I did not waste my $8. And it's black, so I know it goes with um, every single thing that I own, so that's also a good thing. Like my black cast. Ugh. I hate this thing. And all I can think of every day that I wrap it in a garbage bag before I step into the shower (where water STILL leaks into it anyways) is that this had BETTER fix the problem with my ankle so that I can just be normal again. And skate again. Because all I do right now is sit. I've never been someone who enjoys exercise, but when you can't do anything, all you want to do is to get up and move. And now the weather is getting nicer, too. That doesn't help. Blarrrrrrrrgggghh.
My mismatched Adventure Time socks from my brother have proven to be priceless in my current situation. They're single socks anyways, so that's good, but they're also super stretchy, so they fit over the end of my cast and keep my toes warm. Iggy likes to identify and announce which character I have on each morning when he wakes up.
So, besides a super cool dress on EPIC THRIFTING DAY, I also found some other excellent items. The main item I was on the hunt for was some Pyrex in turquoise blue, or with blue patterns on it. We walked into Savers, and I was like Woo Hoo! Score!
Steph also spotted (ha ha pun intended) this cute little Pyrex bowl with orange dots. She let me snag it though. And then I also picked up this amazing wood carving of a sacred heart: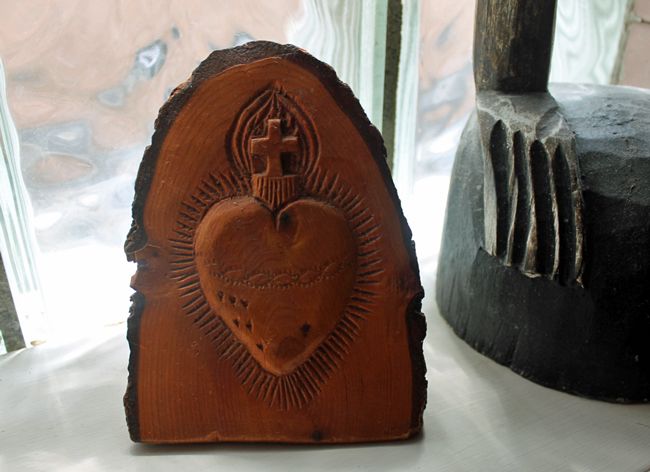 Right now it lives in
my little bathroom
alongside my statues of Mary and other assorted skeleton/skull things. I love a good thrifting day, don't you?
Rock On,
Jen @ Hell Razor
now playing: