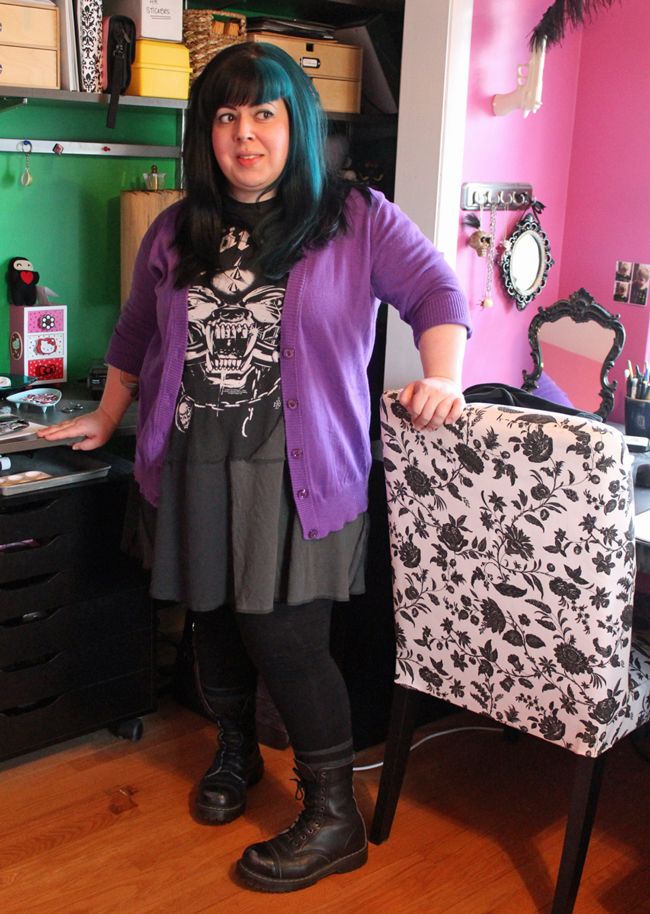 cardigan - Torrid / boots - MooShoes / socks - ? / leggings - Torrid / dress - I made it!
I've been pretty busy at work the past few days, but I've taken an hour or so in the middle of the day to work on this project in the Home Ec room... a t-shirt dress made from a bag full of old t-shirts I couldn't bear to donate or get rid of. I mean, Motorhead? Could you?
Men's t-shirts are just cut so badly for women... and I really wanted to preserve the awesomeness of the Motorhead graphic, along with some of my other fave t-shirt designs that had shrunken (or that I had, ahem, gotten too large for). So I cut them up and serged them together into something awesome and new! I love that dang
serger
machine!
Here's the basic idea, but keep in mind that I didn't have a pattern or anything, I just kind of made it up as I went: I took the Motorhead shirt, which I knew I wanted to be the main front element, and I cut it up the side seams all the way up including through the underside of the sleeves, so the shirt was only connected on the top by the shoulders and top of the sleeves. I then started piecing together bits of other t-shirts to make the front and back of the original shirt triangular (think of an A-line dress shape), and once I thought I had enough fabric connected, I put the neck hole over my head and began to pin the side seam back together the way I wanted the dress to lay...
I folded the dress over to make both side seams match and serged the sides up, then tried the dress on again. This whole process described above was a lot of back and forth; I had to add more fabric in places, and make the bottom longer in others...
Then, another teacher helped me to mark the bottom hem with pins. It helps to have a partner for this part. Then I was able to cut and serge the bottom hem.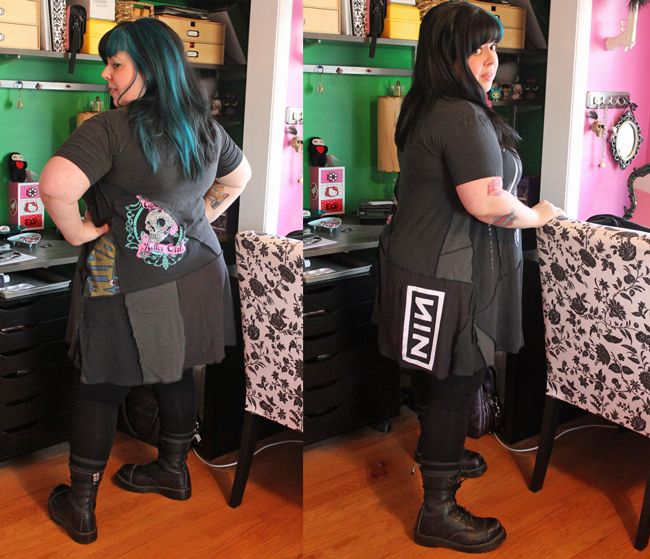 (notice my bootleg NIN shirt? not even official. some weird screenprinted thing from the Salvation Army.)
Obviously, I sewed the dress together with the serged hems facing outwards on purpose. I like the aesthetic of it. I also like that I stuck with a monochromatic neutral black/charcoal/gray theme for the overall colors. I'm so happy with the end result, and now that I've got one dress under my belt, I'm sure that the next go-round would be much faster. I'm so proud of myself that I did this!
Have you ever made your own dress?
Rock On,
Jen @ Hell Razor
now playing: