On the eve of Easter 2014, Todd and I went to go see GHOST! I've been wanting to go see them for a long time, and I was very excited when I saw that tickets were only $24, and that the show was going to be at the Vic Theater! I love this venue because: it's small, there are lots of seats in the balcony, and you can SEE from pretty much wherever you end up! Woo hoo!
Bonus is that the date fell right between our birthdays, so it kind of doubled as a little birthday treat for the two of us. :)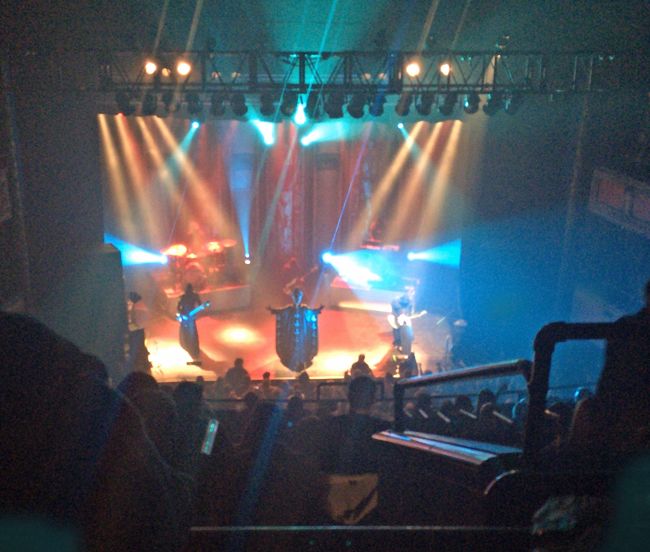 Ghost is a swedish metal band, and their songs are more of the doom-metal, 70's-ish but with a modern feel and a shock-rock imagery bent to it. Kind of hard to describe. The second album has a lot of dance-y riffs, too, which I sort of love. If you listen closely to the lyrics, you'll hear a lot of satan references, and you cannot ignore the lead singer (Papa Emeritus II) and his skeleton-pope look. It turns off a lot of conservative religious types for sure.
If you can understand the humor behind the sentiment and not take the religion thing too seriously (hint: they're not actually satan worshippers), then you just might fall in love with the music, as I have. I can't stop listening to it.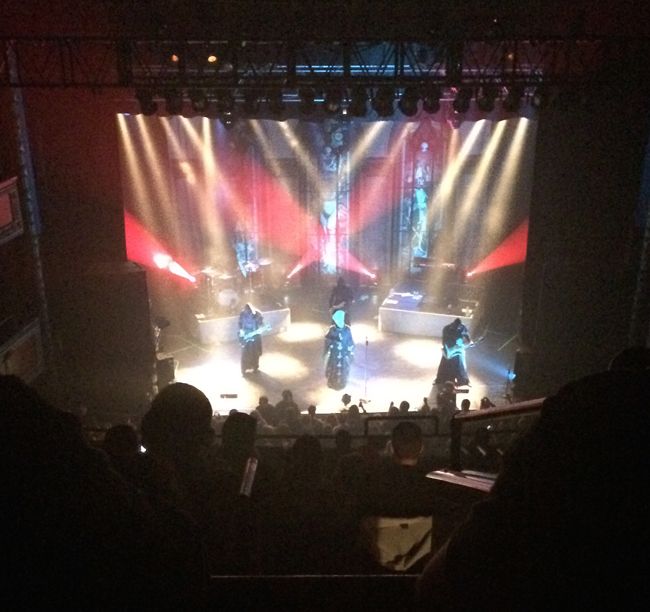 The stage was set with faux church-like stained glass window panels, and the other band members (referred to as the Nameless Ghouls) wore dark robes to conceal their identities. All I could think of the whole time was "it's gotta be freakin' hot under there!"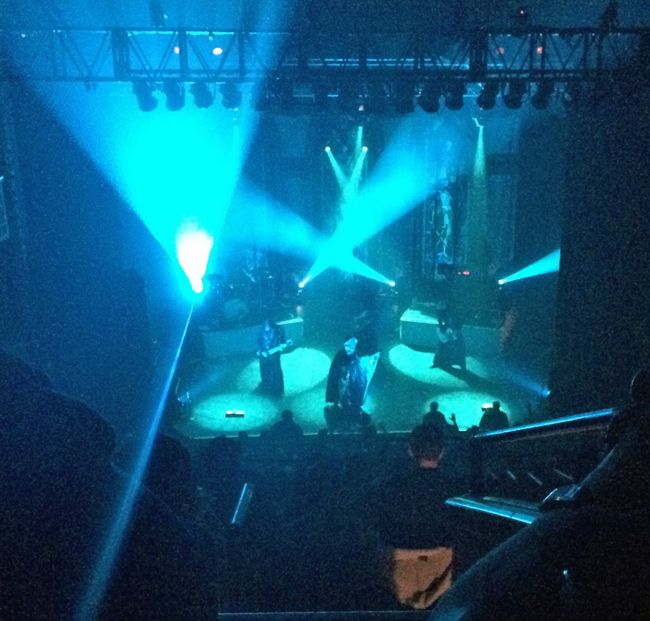 This show was so good. There wasn't a lull in the set, I felt very engrossed in the show the entire time. The only negatives about the entire experience had nothing to do with the band (which is kind of my usual experience, isn't it?)...
I swear I'm a jerk magnet. Most everyone around us that I could see in the entire balcony was decent enough, save for some visible drunkeness, except for one guy, RIGHT NEXT TO ME. Literally. Decides to lean into me. Like, touching me. And take a "selfie" with me. Ew. Didn't ask or anything. And, he wore sunglasses the entire night. Do you see how dark it is in the venue form these photos? Uh, yeah... sunglasses? And nasty long, tangled, unwashed hair. As in, "Hey, sunglasses guy... the 80's called. Motley Crue needs their junkie roadie back."
Thankfully, Todd switched seats with me, because it was giving me a major anxiety attack. But the rest of the night went by without incident. And we entertained ourselves with the super excited and "into it" dude in front of us who was dancing, playing air guitar, and throwing up "worship arms" (that's the only way I can describe it) throughout the show. Even his date was laughing at him. Pretty awesome.
Here's a video clip from Todd:
Rock On,
Jen @ Hell Razor
now playing: