skirt - ASOS / leggings - Torrid / t-shirt - Ghost concert / denim jacket - Torrid / boot(s) - MooShoes
The main point of this blog post is to say how frustrated I am with t-shirt options at concerts. Granted, it's better than it's ever been... but it's not good
enough
. Gee, thanks for having girl sizes, but, um, they stop at XL, which is actually a junior's XL...
"Uh, yeah. I guess I'll just take the guy's tee in XL. Do you have it in XXL? No? Nevermind then, just the XL."
That was pretty much my experience at the merch table at the Ghost show a few weekends back. Except that when the girl explained that the "girl" shirts stopped at XL, she quickly added that they were OUT of the XL anyways, so... yeah.
On one hand, I like that I've figured out a way to wear these "dude shirts" at all... paired with a skirt, and layered with a jacket/sweater, it's not too bad, right? But I really want a damn girl-cut shirt in MY size!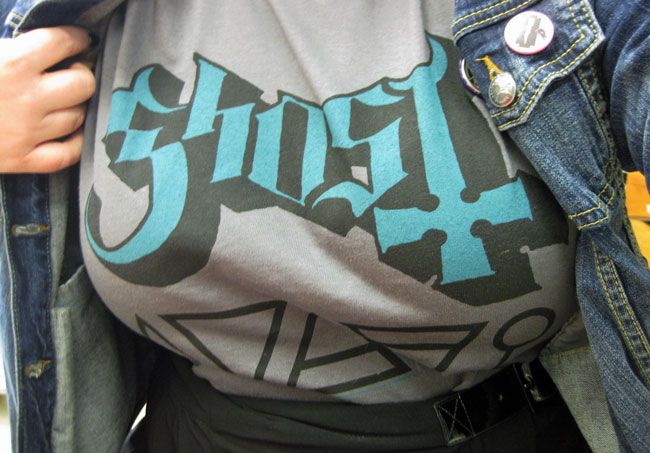 Here's an awkward boob shot so that you can see the design on my shirt. This feels weird. Hey, buddy, my eyes are up here. Or, down below in the next pic, because I cut them off in the photo up here.
Have you figured out yet what else is different? That picture above is a big clue. No more blue hair. Now I'm all goth, all the time. All black errything. It's hard to explain the motivation. I was just done with it. Over it. And it needed to go, so it went. I'm happy with this.
...and, I couldn't handle the chipping nail polish, so I went for it. I mentioned that I was thinking about it in my DIY goth/retro nails post, and I just decided what the heck. I haven't had fake nails since high school. Ha ha. But I'm kind of in love with them. I'm thinking that I'm going to ask to have them filed even pointier next round. The nail guy is likely to think that I am insane, but whatever.
Do you like my sweet Lego phone case? My phone contract was up the day after my birthday, so I upgraded to the 5S, and bought myself a little phone case present, which has an actual Lego plate on the back that you can build off of! I love Lego.
Rock On,
Jen @ Hell Razor
now playing: