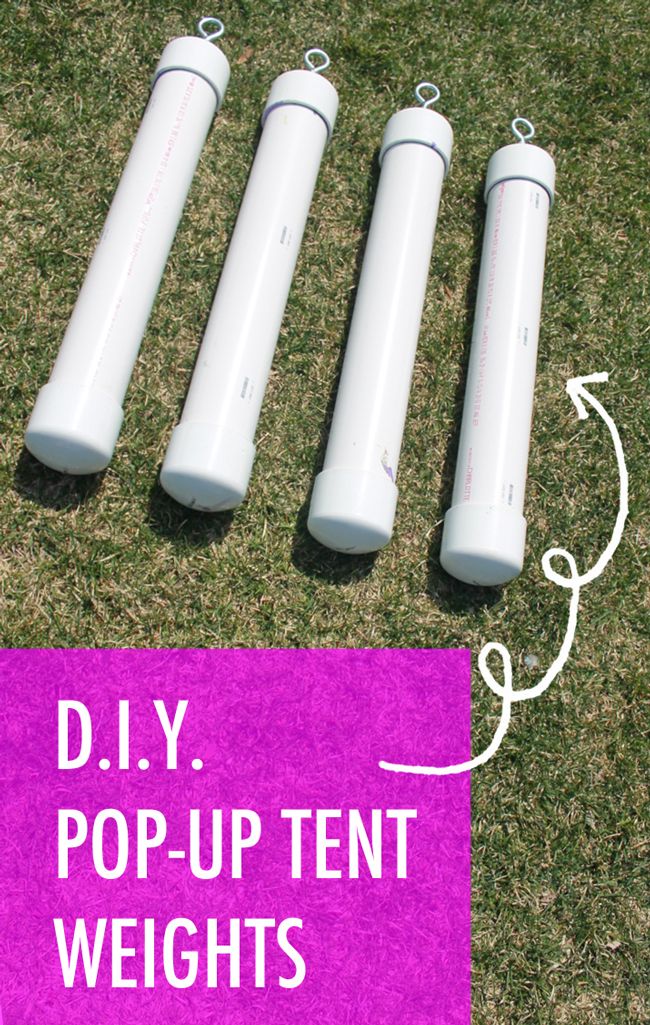 Last year was the first year that Steph and I started doing some outdoor events, and we bought ourselves a pop-up tent, also sometimes referred to as an
EZ Up tent
. What we didn't realize was that you need to weight those suckers down, or they'll go flying away in an instant when it's windy! Whoops. Several gallons of cat litter later... lesson learned.
This year, we plan on being prepared. So Todd helped me make weights for our tent legs out of PVC and cement. I'm pretty proud of them. Check out our DIY below!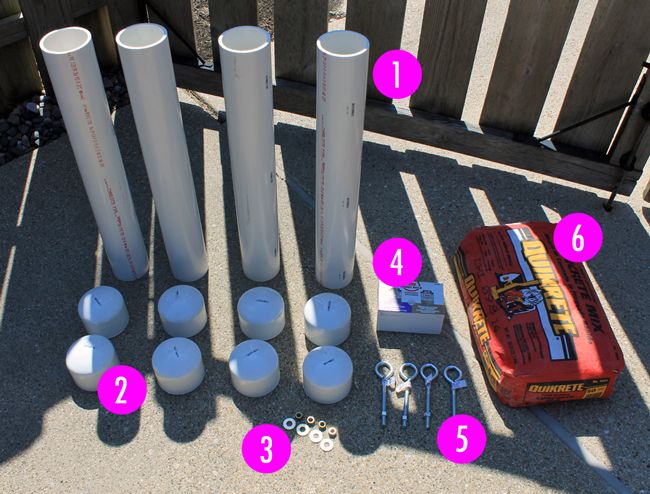 Here's what you'll need:
4 - 2 foot PVC pipe sections (one for each leg of the tent), 3" diameter
8 - PVC pipe caps (my hardware store only had the rounded caps, but feel to get the flat ones if you can find them)
16 - 5/8" nuts and 8 - 5/8" washers (please note: there aren't enough pictured here!)
PVC glue/primer
4 - eye bolts (these are also 5/8")
Fast setting concrete mix (we found that a 50# bag was just enough!)
Not pictured: a drill with 5/8" bit + one smaller sized bit; 5 gallon bucket for mixing concrete; a shovel/trowel for scooping concrete into PVC pipes, a sharpie
I was able to buy all of my supplies for less than $90.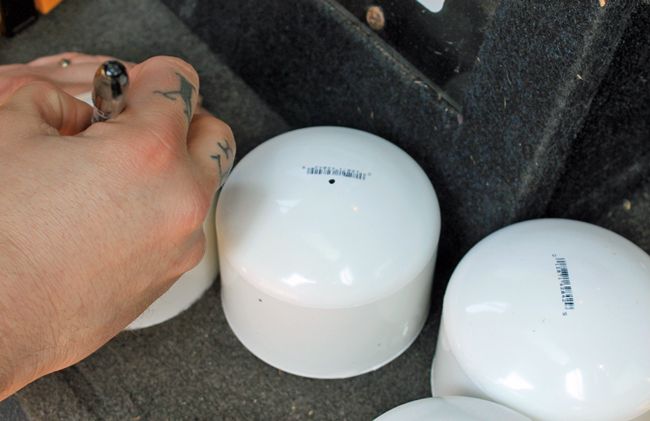 The first thing that we did was to mark the middle of four of the PVC caps, which will be the tops of our weights, and need the eye bolts sticking out of the tops.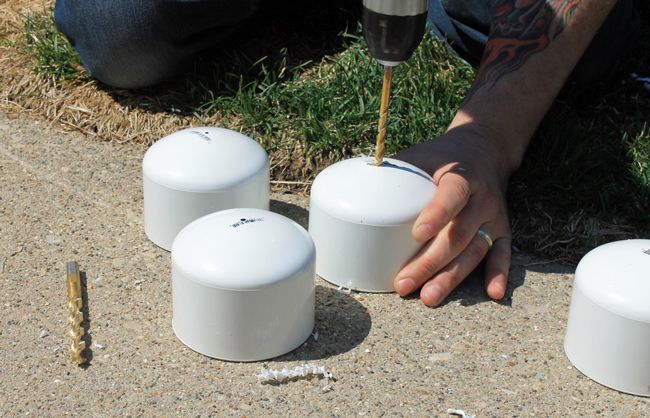 You will need to drill a 5/8" hole into the center of each cap, but we found that it works easier if you drill a smaller pilot hole first in each cap, and then use the larger bit to enlarge the hole. Check and make sure that your eye bolt fits through the hole that you made.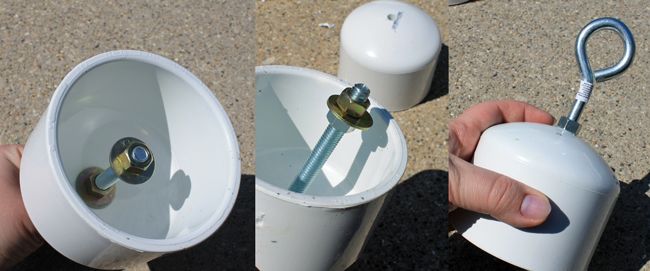 Now, assemble all of your hardware bits, as shown above. We used a nut on either side of the cap with a washer sandwiched in-between to close up any space left around the bolt so that we could pour concrete in without worrying about leaks. at the end of each bolt, I added another nut/washer/nut combo, which will become embedded into the concrete when it is dry, and keep the bolt securely in place. Once you've done this to all four caps, it's time to glue them onto your PVC pipe sections!
PVC needs a purple primer liquid before the glue gets applied. We bought a little pack at the home improvement store that came with both containers together. Read your directions, but basically, you swab it on with the little brush dauber that's inside the can. Then smush the pieces together once it's all glued up.
Todd is a good helper when it comes to tasks that require a little elbow grease. Check out our finished glued-on end caps below!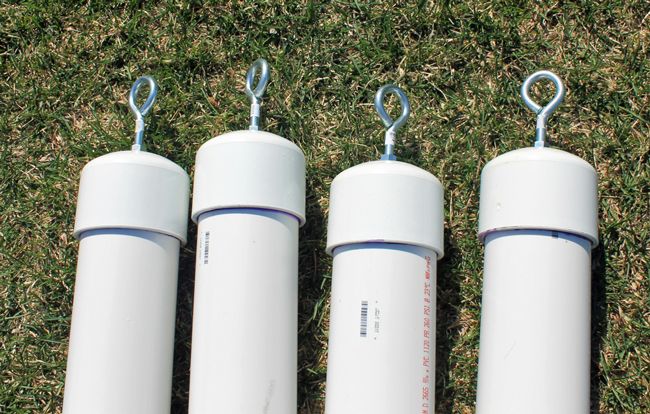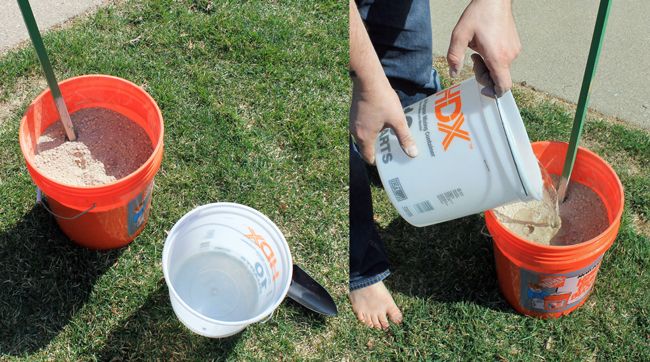 Ok, now it's time to mix up your concrete. Read the directions on the package for your concrete-to-water-ratio. We probably mixed too much too fast. Next time, I'd do half the package at a time, just to make the mixing easier. So consider that if you can. Also, you only get like 20 minutes before it starts to set up, so take that into consideration, too.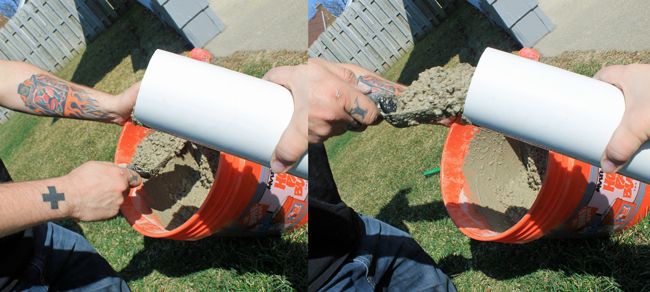 This part really requires two people. I held the PVC pipe (upside down, cap with the eye bolt into the ground), while Todd scooped concrete into the pipe. Every few scoops, I'd tap the pipe down to let the concrete settle down in the pipe better. And just fill them up to the top!
Here (above) are our four PVC weights leaning up against our garage wall to set up and dry thoroughly. Just to be on the safe side, I let them stay like this overnight. They were solid as a rock by the next day!
Not pictured is what comes next: you'll want to use your PVC glue to attach the other four PVC caps to the ends of the weights, to close them up. What Todd and I discovered though is that you will have to drill a small air hole into each of the remaining four caps, or they will not go on due to air having nowhere to escape from the pipe! So, use that smaller drill bit from the very beginning of the project (we used like a 1/8" bit, not large at all), and drill a hole to let air escape. Then, use your PVC glue and glue those puppies down!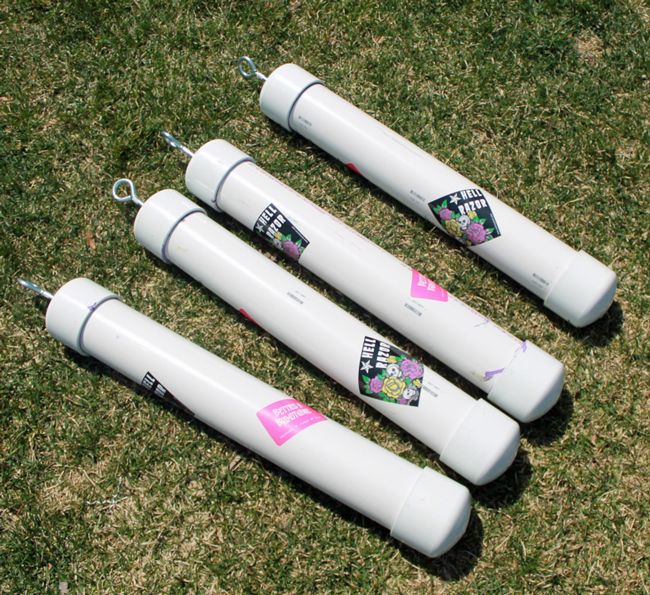 Here are my final finished weights! Todd gave me the idea of putting some stickers on them for easy identification/free advertising, and I thought it seemed like a pretty good idea.
These weights can be attached to each leg of our pop-up tent by bungee cords, straps, or even zip-ties.
EDIT 2/2/15: I've had some inquiries as to how much these weights actually weigh - I tested one of them out, and it came in at just over 17 pounds. I put one of these one each corner of my pop-up tent (I hang them via bungee cords), and I've been through at least two nasty WINDY and rainy storms with great success thanks to these weights! However, if you'd prefer even heavier weights, I'd simply use PVC with a greater diameter (size up on your caps to fit, too!).
Rock On,
Jen @ Hell Razor
now playing: